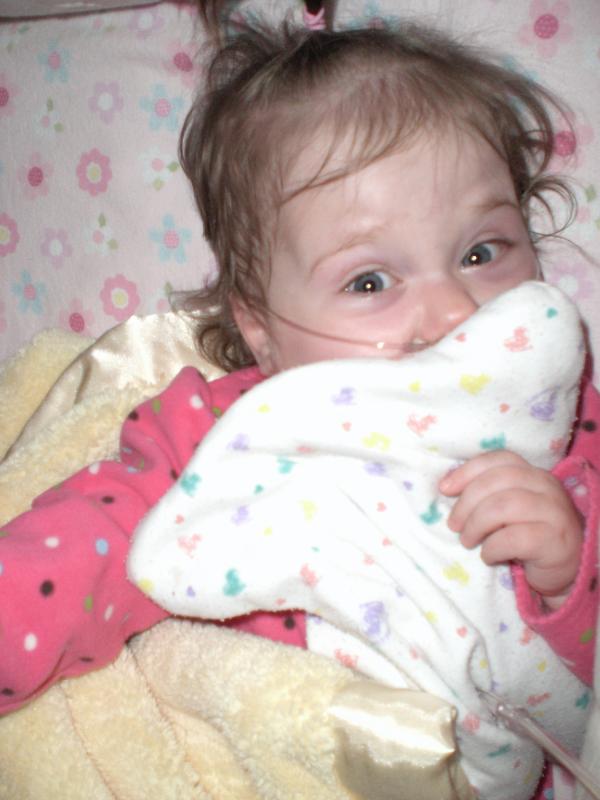 Ella had a great day – she was so happy and full of smiles.
It seems like we have figured out the mystery to her diuretics…for this volume of food (768ccs total each day). If I think about it, she still has her challenges with retching and waking up at night, but she has been a lot more stable since her last downturn. Once we gave her the extra doses of Bumex and dried her out, she has been in a better place (since about Thanksgiving). It's been a nice, long stretch for the Bun.
We are getting labs done this Thursday before we see the pulmonologist. I'm hoping that things won't need to change too much since she seems to be in such a good place. But yet, I know that she needs more food/calories. As soon as we change the volume of fluid she intakes, it can throw off her proper dosage of diuretics and she may get "too wet" which causes her respiratory distress.
The bigger challenge: she has not really put on weight since she left the hospital. Yet, it will be 2 months on Saturday. Something tells me that her food volume and meds will need to be adjusted so she can gain more weight. And this typically means some rough days ahead for Ella. I'm making a note to enjoy the honeymoon while it lasts over the next couple of days.
Josh went to a Avalanche hockey game tonight with Ella's Grandpa. Looks like they had a good time.
It is so great to have Christmas time. The holiday season always brings certain cheer and memories to mind. I can't wait for Ella to get old enough to enjoy it and make her own memories too.
It was not fun to drive in this morning on the way to work because we accumulated about 6-8 inches of snow overnight. But as I drove amidst the cars, the sun shined brightly. The snow glistened back and more snow continued to fall. It was beautiful.
Romans 15:13 (NLT)
I pray that God, the source of hope, will fill you completely with joy and peace because you trust in him. Then you will overflow with confident hope through the power of the Holy Spirit.