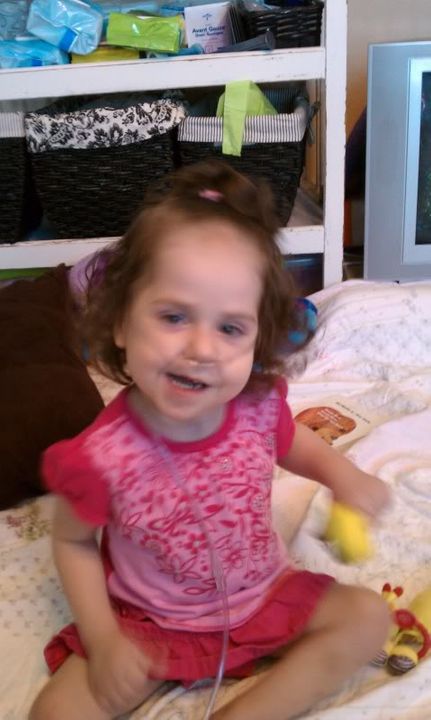 Great news! We are still finalizing all the details with the school district, but Ella does qualify for school services in our home due to her medical needs. That makes me very happy. She needs occupational therapy, physical therapy and speech therapy. So we will be getting likely 2-3 hours per week from licensed providers in our home that work for the school district. Since we are still finalizing the IEP, services have not started even though school has started.
Apparently, getting the verbiage on the IEP is very important. I secured an advocate from ARC (a non-profit organization that supports families with disabled individuals) and she has been an invaluable resource. The advocate and the school district are still at odds as far as some of the verbiage in the IEP. But once we can work that part out, we should be good to go. I know that therapy in the home setting is the best choice for Ella right now based on her health issues. I hope that someday she can be healthy enough to be around kids every day and I do think we'll get there, but I know that she is still too medically fragile for a classroom setting right now and so do her doctors!
We've still had GI challenges with feedings. Once we saw more army green colored bile coming from Ella's g-tube, we backed off of food for a day or two. Now, we've started slowly introducing food back into her diet (more diluted with water than normal) and are working to get our way back to full feeds. Apparently, the break for her intestines did wonders. It is like starting over and having her feel good, no discomfort with feeds, etc. I can tell if I've added too much food or pushed her too hard because I get discomfort, fussiness and/or loose stools. So, it's a challenge but at least giving her a break is an option for now. It also seems to have slowed down and/or eliminated the angry dark green bile. I guess that is her system's way of telling us to back off or else!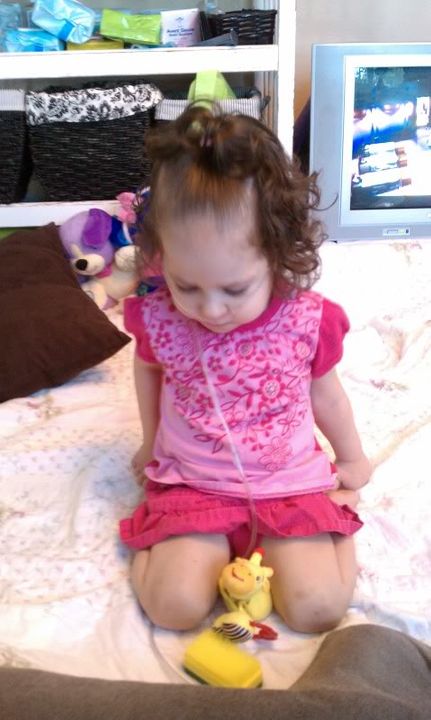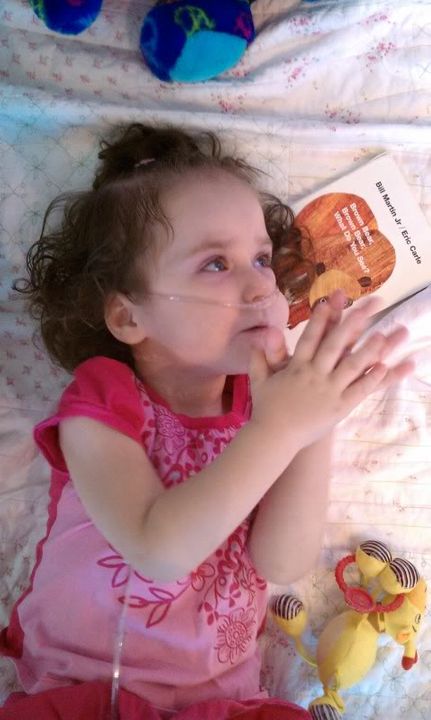 We're waiting to hear on her Medicaid Waiver approval/denial. We did get a letter from the state noting that they received Ella's Medicaid Disability application and that they do consider Ella disabled, according to the state's definition. That is another step in the right direction for securing Medicaid. Did I mention it is hard to read a letter that states that your child is officially considered disabled?
This verse hit me recently:
Psalm 37:3-6
Trust in the Lord, and do good;
dwell in the land and befriend faithfulness.
Delight yourself in the Lord,
and he will give you the desires of your heart.
Commit your way to the Lord;
trust in him, and he will act.
He will bring forth your righteousness as the light,
and your justice as the noonday.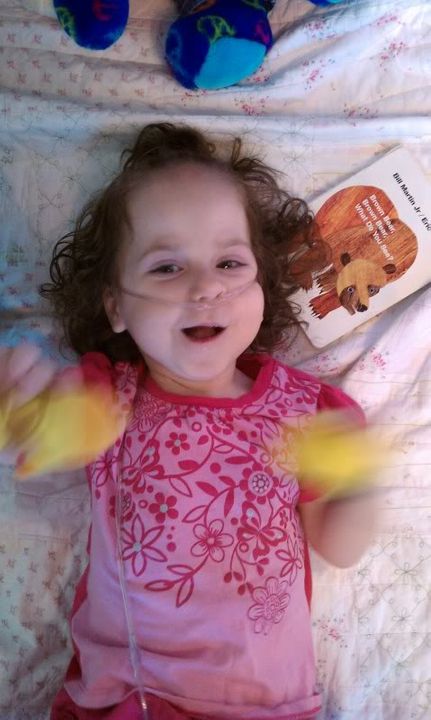 Along those lines, Ella and I spend time in her room in the mornings after her first feed. We cuddle and listen to the local Christian radio station together for long, lazy mornings. God always uses songs to speak to my heart. It is His way of telling me to continue to believe…to not throw the towel in when I have those really challenging days…to continue believe in Him and His promises no matter what the physical world and circumstances might tell us.
I love my little girl so much…and I know deep down that He has a plan for her.
This song is by Kutless. You can listen to it below (there is an intro advertisement).
What Faith Can Do
Everybody falls sometimes
Gotta find the strength to rise
From the ashes and make a new beginning
Anyone can feel the ache
You think its more than you can take
But you are stronger, stronger than you know
Don't you give up now
The sun will soon be shining
You gotta face the clouds
To find the silver lining
I've seen dreams that move the mountains
Hope that doesn't ever end
Even when the sky is falling
And I've seen miracles just happen
Silent prayers get answered
Broken hearts become brand new
That's what faith can do
It doesn't matter what you've heard
Impossible is not a word
It's just a reason for someone not to try
Everybody's scared to death
When they decide to take that step
Out on the water
It'll be alright
Life is so much more
Than what your eyes are seeing
You will find your way
If you keep believing
I've seen dreams that move the mountains
Hope that doesn't ever end
Even when the sky is falling
And I've seen miracles just happen
Silent prayers get answered
Broken hearts become brand new
That's what faith can do
Overcome the odds
You don't have a chance
(That's what faith can do)
When the world says you can't
It'll tell you that you can!
I've seen dreams that move the mountains
Hope that doesn't ever end
Even when the sky is falling
And I've seen miracles just happen
Silent prayers get answered
Broken hearts become brand new
That's what faith can do
That's what faith can do!
Even if you fall sometimes
You will have the strength to rise