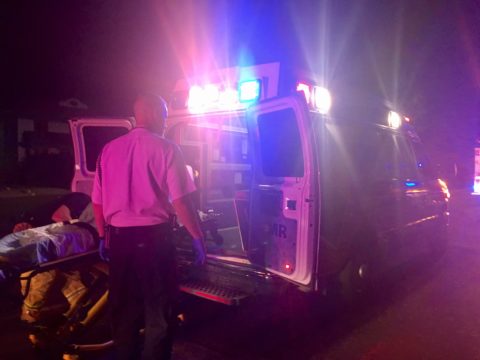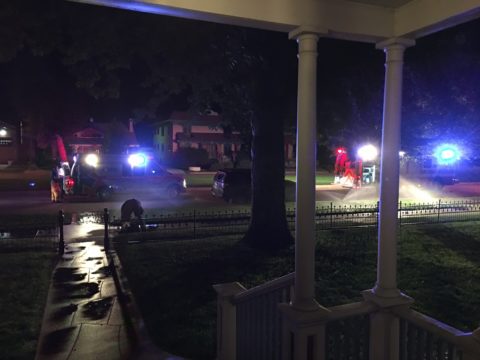 It was Thursday night, 8/24 and everything seemed normal. Put the kids to bed, even somewhat early which is a miracle.
At 1am, Isaiah wakes up, screaming but it sounds weird. We can hear him through the baby monitor in Ella's room, with her door shut. He started preschool that week and every time he's around a bunch of kids, he catches all sorts of fun illnesses. Josh darts out of bed. Then, ends up bringing Isaiah into our room and it sounds like a seal barking except Isaiah is very worked up and can barely breathe. It's like he was breathing out of a straw normally in his airway that shrunk to a coffee stirrer. It takes the effort of both of us to calm him down so he can breathe again. He has had croup before, but this sounded worse and came on suddenly. It was definitely not expected. We know that cool air can help and it was a crisp night. So we left Isaiah in our bed, sleeping on Josh's side next to the window with it cracked open. He finally falls asleep, but it was apparent that this was not going to be an especially great night of sleep for me.
While we settled Isaiah, I could hear Ella stir and dry cough a couple of times (nothing out of the ordinary). I listened, but it seemed that she must have just rolled over and went back to sleep.
I was not sleeping great, and very much on edge throughout the night. So when Ella started coughing again, a few times in a row, a pause and a few more coughs, I decided that maybe I should check on her and give her some water. It was 3:45am. The boys were both snoring, so I snuck upstairs. Looking back, it was the good Lord prompting me to check her. And the miracle that Isaiah had croup and I wasn't sleeping well anyway.
When I walked into her room, turned on the light and grabbed the syringe to give her water, I could immediately tell something was wrong. She was laying on her side, eyes glazed over, staring straight ahead, then eyes darted back upwards into her head, then back straight. I kept saying her name and she was not responsive. I grabbed the pulse ox and turned it on – she was 89, 85, going down fast. I cranked the oxygen, ran downstairs and thrusted my bedroom door open to ask Josh to come quickly. Something was not right. When we came back up, Ella had desaturated and was turning blue. I dialed 911 and Josh placed the cannulas in her mouth and started mouth-to-mouth resuscitation while I started chest compressions. We were giving CPR to our daughter. What was happening? Was our daughter dying right before our eyes? She had a pulse the whole time but she was not breathing. It was a very long 6 minutes before the EMTs arrived. We were in a fog. What just happened? Ella has been on such a great track. This was coming from left field.
(Dad's perspective: This was the longest and shortest 6 minutes of my life. As I raced up the stairs and we started CPR, the flood of terror of losing our sweet miracle girl was overwhelming. Would Isaiah grow up without a sister? How would this trauma impact him? How would it impact us? Is she going to live or am I about to witness my daughter die before our eyes. This was the most terrifying experience with Ella since her lung suddenly collapsed back in the NICU, but even then, we had a team of nurses by our side. This time we were on our own!)
I'm so thankful that Isaiah was in our room the entire time and fast asleep. If he would have been in his room, he certainly would have heard the EMT crew (about 6 people) working on Ella to stabilize her. The distraction of trying to deal with him while performing life saving measures on our daughter would not have been a good thing. At least this way, he didn't experience the trauma and doesn't know the event happened either.
They carried Ella down the stairs and placed her on a stretcher just outside the front door. I rode in the ambulance with her to the nearby hospital. By the time we arrived at the ER, she had been stabilized, stats were good on her baseline O2, she was breathing, but just lethargic, eyes closed, restlessly moving around on the stretcher. She was still not responding to my verbal cues. I felt this was brain related. Did she have a stroke? or possibly a seizure?
(Dad's perspective: As I'm asking Tina for updates, it sounds like Ella is just not responding. She's stable, but she's definitely not herself. If Ella is alive, did she experience some major brain trauma (i.e. stroke, etc) to where this is now how she's going to be…alive but unresponsive? Such a heavy, heavy thought. This was a incredibly difficult perspective to consider.)
About an hour and a half passed, and like a light switch, she looked at me, gave me a smile and started using her minimal vocabulary – "mom". Then, she asked for "dad", "couch" (she loves to sit on the couch these days), etc. She was still there! I wasn't sure if we had lost her. My heart felt over-joyed. But this quick turn of the episode to her normal self, within an hour and a half….started to seem like a seizure.
Ella had seizures in the NICU when she was only 10 days old and confirmed evidence of brain damage in her right frontal lobe and a stroke in her left parietal lobe. So they gave her anti-seizure meds and it stopped the seizures. From there, they discontinued the meds during our stay in the NICU and we never saw any another seizure….until Friday, August 25, 2017, approximately 10 years later.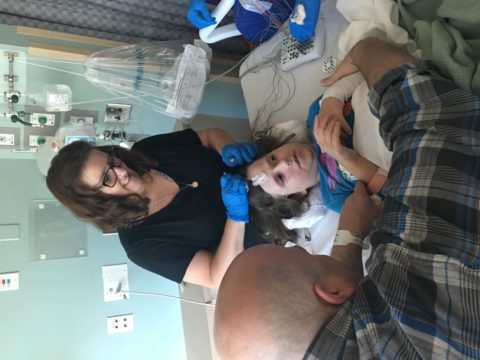 Although Ella looked stable in the ER, they wanted to admit her. I reached out to her pediatrician to see if I should drive her to Denver for a hospital stay at Children's Hospital or stay local in Colorado Springs. He advised to stay right where we were, get admitted and see if they would give her an EEG – this would confirm if Ella had a seizure. We were admitted to the pediatric floor, and that day, they scheduled the EEG. They wanted to keep her overnight for observation to see if she would have another seizure or not.
The next day on Saturday, still no further seizure activity. The doctor walked in with the news: the EEG was abnormal. Ella is having 'spike and wave' seizures on the entire left side of her brain, indicating a form of epilepsy that needs to be managed. Ella would need to start taking anti-seizure meds and so they recommended Keppra. Then, they also would send us home with Diazepram, which is an injectable rectal gel, if she continues to have a seizure that lasts 5 minutes or longer.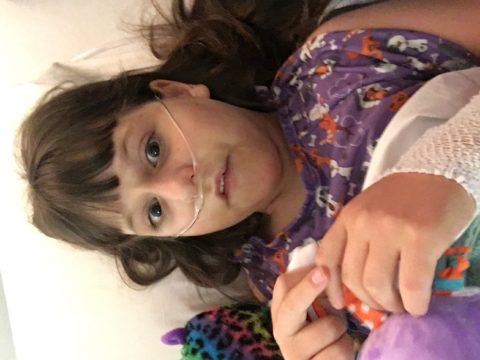 For those of you who do not know: epilepsy is a neurological disorder marked by sudden recurrent episodes of sensory disturbance, loss of consciousness, or convulsions, associated with abnormal electrical activity in the brain. If you have a seizure once and you are mostly healthy, then you have an acute seizure. But when you have a chronic condition that needs to be managed, they give a diagnosis of epilepsy, which can take on many forms. They likened it to asthma and your lungs. Something very manageable but you will want to take meds and precautions to prevent any further damage.
(Dad's perspective: While we are glad that the seizure can be managed with meds, we are not fans of adding any more meds to Ella's regiment. While medications are necessary in instances to help a condition, they always come with side effects, which are never fun to deal with.)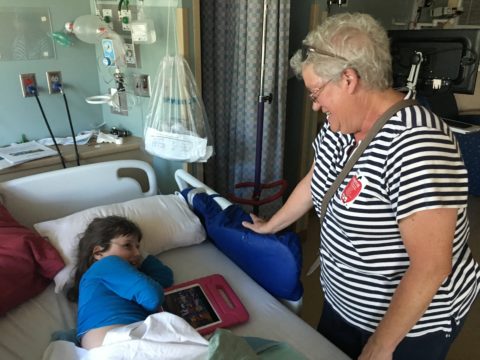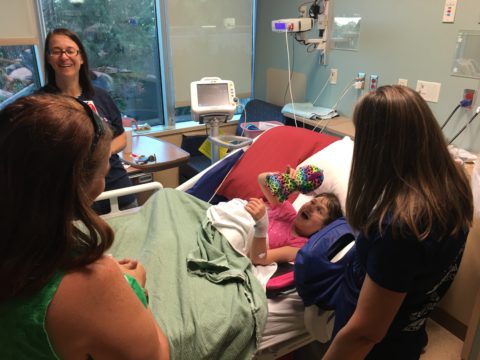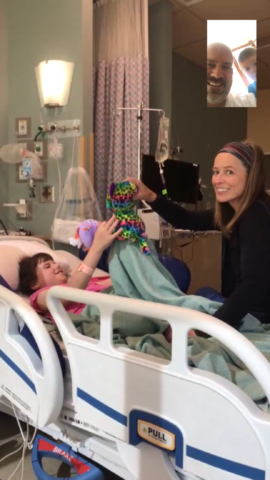 Before we left the hospital, they also wanted to get a new baseline MRI. The last one on file was when Ella was 4 years old. With new technology and the seizure activity, they wanted new images to create a recent baseline.
The MRI was scheduled for 10:30am but they were having trouble finding the manufacturing info for Ella's heart stents. They wanted to make sure that they were MRI compliant because if they were not, it would instantly kill her during the procedure. We knew they were MRI compliant, since they were placed in 2009 and she had an MRI in 2011, but since that was at another hospital, they were not comfortable moving forward. We could have chosen to have the MRI done outpatient but they have to sedate her and we were already there. So I called Josh at home (he was watching Isaiah) and we walked through the filing cabinet until we were able to locate the manufacturer info for her stents. That worked and they were able to confirm the safety.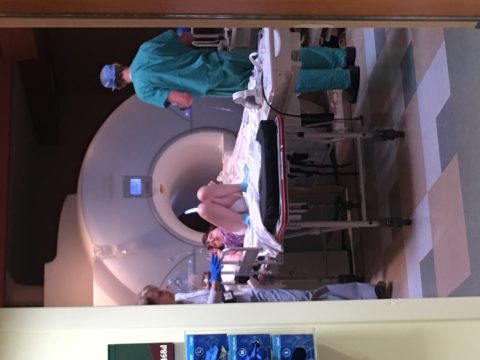 The MRI did not happen until about 3:30pm. In the meantime, she had her first dose of Keppra and it made her drowsy – she fell asleep. When I walked down to the MRI area, I was able to stay with her all the way until they had to go into the room to sedate her. I've had ear surgery and have titanium in my ear, so I was unable to walk into the MRI room. I watched from afar while they attempted to sedate her.
When they called and she was in recovery, Josh and Isaiah had made their way to the hospital so Josh went down to see Ella. About 30 minutes later, they rolled them both up into her room on the stretcher (Josh was laying next to Ella singing her songs). She was a bit out of it from the sedation. Then, Ella seemed to get a stomach ache. I decided to give her some food via g-tube (they did not want her having food before the MRI, so she was empty). The food seemed to help and Ella fell asleep.
We kept asking about discharge. They wanted the results of the MRI to come back, to ensure that there was nothing alarming. Finally, although we had not seen a doctor or neurologist, the MRI must have had the results they expected without anything too alarming because they decided to let us come home and follow-up with neurology. All said and done, we were out by ~6:30pm. I put Ella to bed at home by 8pm, which is early for her. She seemed tired, and tipsy from the sedation. And now, just like when she was little, she will be wearing her pulse ox religiously overnight. Otherwise, how would we know she is having a seizure? For us, the best way is going to be the O2 saturation rapidly declining, along with all the other symptoms. But at least the pulse ox will alarm to tell us to go check her!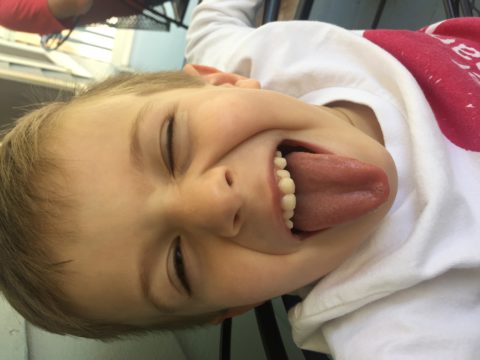 Isaiah has been fine, just a little residual cough and only had the symptoms of croup that one evening. He has not experienced the tightening of his airway since that time. I still think it was a miracle that he had that happen, was in our room at the time, that I was not sleeping real well that night, so that I felt prompted to check Ella when I did.
So far, Ella seems mostly normal….although we have noted a few slight changes. Behaviorally, she does seem slightly "off", which can be a side effect of the seizure medicine. More aggression, louder screaming, banging objects/her head, whining, walking over pronated (especially right side), and trouble keeping balance while walking. The Keppra medicine has only just started with 3ml per dose, twice per day and titrating up. By next Monday, we will be at her full dose of 6ml, twice per day. The jury is out on this one…so far, not a huge fan of the side effects. Holding out slight hope that maybe the brain just needs some adjustment to the medicine and the effects will not be as noticeable after some time. We are also unsure if there was any permanent damage from the seizure. Seizures normally last 1-2 minutes. I walked in her room and it had already started (albeit likely recently), and we were on the phone with 911 for 6 minutes. The seizure stopped at some point when the EMTs were treating her.
All of that to say that it was a fairly traumatic event that Friday morning. Josh and I both thought she was dying in front of us. Now that we are home and the weekend is over, life is trying to resume and its apparent that under the surface, we are both still a little shaken from the event.
And although we don't truly understand, we are confident that He has a plan and purpose in all of it. Just like the first time we received the news of a seizure and damage to the brain, the same song comes to mind:
I Will Praise You In This Storm

I was sure by now God,
That You would have reached down
And wiped our tears away,
Stepped in and saved the day.
But once again, I say, "amen"
and it's still raining.
As the thunder rolls
I barely hear You whisper
through the rain,
"I'm with you"
and as Your mercy falls
I raise my hands
And praise the God who gives and takes away.

And I'll praise you in this storm
and I will lift my hands
for You are who You are
no matter where I am
and every tear I've cried
You hold in your hand
You never left my side
and though my heart is torn
I will praise You in this storm

I remember when I stumbled in the wind
You heard my cry to You
and raised me up again.
My strength is almost gone.
How can I carry on
if I can't find You?
And as the thunder rolls
I barely hear You whisper
through the rain
"I'm with you".
And as Your mercy falls
I raise my hands
and praise the God who gives and takes away.

I lift my eyes unto the hills
where does my help come from?
My help comes from the Lord,
the maker of heaven and earth
I lift my eyes unto the hills
where does my help come from?
My help comes from the Lord,
the maker of heaven and earth

And I'll praise you in this storm
and I will lift my hands
for You are who You are
no matter where I am
and every tear I've cried
You hold in your hand
You never left my side
and though my heart is torn
I will praise You in this storm
This song is by by Casting Crowns. You can listen to it below.
[mp3]music/praiseyou.mp3[/mp3]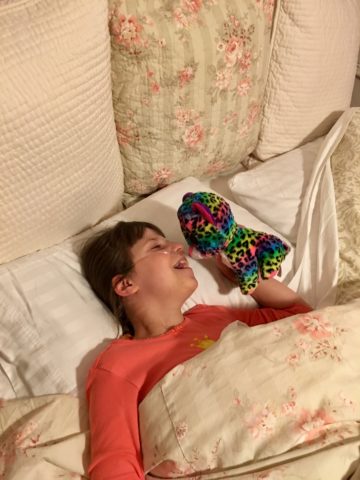 Videos and more photos can be seen here.