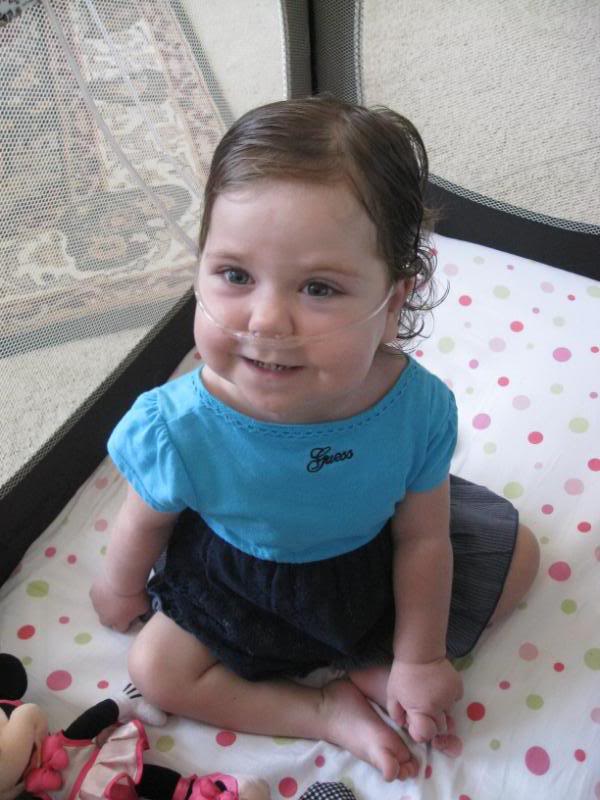 Yes, it is very exciting to see Ella exploring more and testing her strength. When we've been holding her and playing, we've been trying to get her to stand up. Well, she started grasping the side of the Pack-N-Play and trying to pull herself up! As soon as that started to seem like a threat, we decided to graduate her and take away the elevated mattress area. So, now she is down low in the Pack-N-Play and has lots of room to explore, sit up, roll around and test her strength in a safer way!
Thankfully, the sniffles finally went away after about 12 days straight of misery for her. She is finally feeling more like herself. One nice treat: she has been babbling more on her own. Most of the time, she would be vocal for one moment in time and then it might be days before she said anything else. For the past week, every day she has started to babble at random times throughout the day. That is such a positive sign.
We've also played around with her feeding schedule, as mentioned previously. It does appear that smaller feeds of 225ccs, 6 times per day is much appreciated by her little body. She doesn't say much during feeds, which is an indication that she is comfortable with the volume in her tummy. Plus, her stools have gotten back on track. No loose stools or blowouts! It's been a bit tough for us to work in the feedings 6 times per day. Josh has been taking the latest feed, sometimes at 12:30am or later. This isn't a long term solution, so we may try spacing her 6 feeds about 2.5 hours apart during the day and see if that works for her. One thing is for sure: even if she doesn't tell us, her diapers do!
We went to have an echocardiogram this past Tuesday as well as touch base with her pulmonologist. If you remember, we were concerned because the collateral veins on her chest started to reappear. Sure enough, the echo shows narrowing in her SVC where the stints are located. Dr. Abman agreed that it is likely one of the reasons that she desaturates so quickly when she gets upset. He is going to check with her cardiologist, Dr. Fagan to see what the next steps might be. The pressure in the SVC went from a gradient 6 from the last echo to a 20. So, we might be making a trip to the heart cath lab sooner than we would have liked. We'll just have to see. If we do end up having to go down that path, we are going to try and cluster care and see if we can get some other items checked off our list too: like having a dentist check the dark spots on her teeth and having an ABR hearing test conducted. If she is going to be sedated for the heart cath lab, it's best to get more procedures completed at the same time.
One bummer that surfaced this past week is related to insurance. Josh's former company used to provide a 3rd party company, Nationwide Better Health for case management. This was extremely instrumental in getting a lot of Ella's care approved by insurance. Our case manager was an amazing resource for education on the processes involved and an advocate for helping to get services approved for Ella. Unfortunately, his prior company dropped that benefit, so all current employees as well as prior employees using COBRA are impacted. For most families, they probably never used Nationwide Better Health. But when you have high medical needs, you definitely get to know this company! So long story short: their contract ended on 8/31 and this past week, we have been fighting with the insurance company to continue to cover items that they have been willing to cover for the past several months.
Specifically, it appears that physical therapy and occupational therapy will likely not be covered. As a back up plan, we can use the state-funded early intervention program, but the most we can get is 1 visit per week for each service. This isn't ideal simply because Ella can decide that she is not up for a therapy session with regularity. When the therapist only comes 1 time per week and Ella is fussy, you lose that whole week! The progress is slow enough, so frequent therapy visits tend to help Ella. But it doesn't look like that will be a possibility moving forward. It's frustrating because the health insurance policy has not changed, but the case management has changed and so therefore, services that may have been covered before are no longer covered. But Ella's status and medical necessity for these services did not change from one week to the next! And we no longer have a 3rd party advocate to help us fight for services! Right now, Ella has not seen her therapists for 3 weeks (Copper vacation, then sick for a week, then a week of not knowing if services would be covered). We will start next week with the early intervention program, which we have used before and with the same therapists (that's where we found them in the first place!). But it's just a bummer for Ella.
Thanks for all your prayers related to the job search. Unfortunately after 3 rounds of interviews from one company, Josh was not offered the job. So we are still searching and listening for discernment on the next best steps. We appreciate your continued prayers in this respect.
Isaiah 26:4 (NLT)
Trust in the Lord always,
for the Lord God is the eternal Rock.