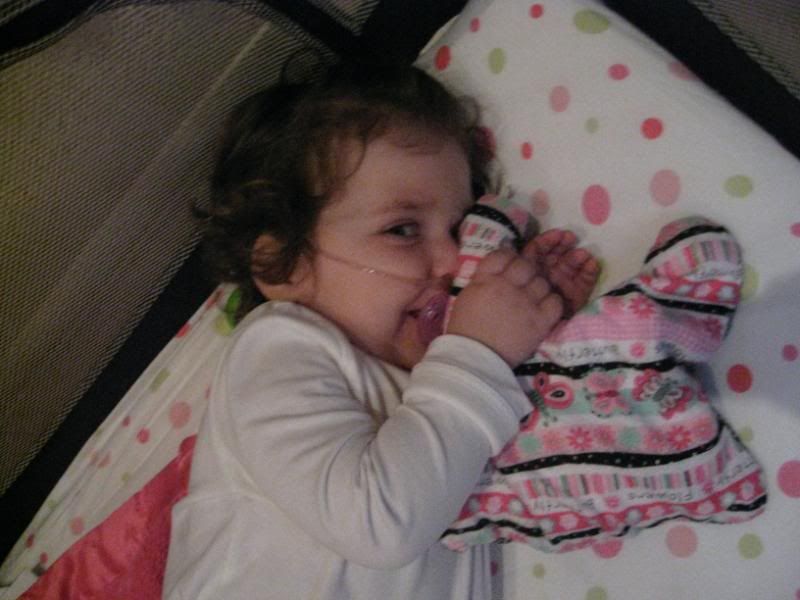 Ella has been doing well since our last update.
We've been able to increase the density of her food to 30 k/cal. We tried 28 k/cal for 6 days without issue, so we increased to 30 k/cal. We've been on this new diet for about 6 days now too and so far, so good. It's nice for me because it means that I feed Ella only 5 times per day versus 6 times per day, as of recent. It also helps because her food volume has been decreased to 1170ccs. Less fluid is never a bad deal for this girl.
Also, this past weekend we hit another huge milestone. I noted that Ella was laying down in her Pack-n-Play watching a video. I walked into the kitchen, but when I came back out, Ella was sitting up!!! I did a double-take: wait, I didn't put her in that position! Even over the last few days, it has been happening more and more.
Just this past week, her interest in becoming mobile has heightened significantly. I will try and take her out of the Pack-n-Play to give her exercise and play on the carpet. But more times than not, she doesn't seem as interested. The Pack-n-Play is such a safety zone for her. So, she has started to roll over onto, sit up on her own, lean forward to get on her hands and knees. All of this without my prompting, which is the best. She gets herself into all kinds of positions in the Pack-n-Play, exercising a lot each day. She's coming over to the edge. She used to sit there, make some noise to get my attention and hold her hands out, so I can help her stand up and hold the side of the Pack-n-Play. The past few days: she's already over to the edge on her knees, holding the top of the Pack-n-Play with her hands. Then, she gets my attention because she still doesn't know how to stand on her own. The PT advised to grab her by the ribcage and tilt her one direction. Sure enough, the instinct is for her to place one foot flat and then I help lift her. All I can say is that all of this is very good and a huge milestone for Ella. She has turned a huge corner and is continuing to build strength each day.
We ran out of Flovent about five days ago. This is an inhaled steroid that Ella has used for about a year now. The pulmonologist prescribed it to her when she had a chronic cough. We later learned that the chronic cough was a side effect of Captopril. At recent check-ups, the pulmonologist has stated that it is not a bad thing for her to take, but was not convinced that she needed this medicine. I guess we just wonder how much it is doing for her. We've run into trouble with this before, like when we thought that Reglan might not be doing much. But here we are again, wondering if Flovent is really having an impact. So, we are going to try some time without to see if there are any adverse side effects. She is still on so many medications every day that we always want to try and eliminate, if at all possible.
With the latest SVC procedure behind us, Ella is also more tolerant of her therapies. Below are some pictures of a recent OT session.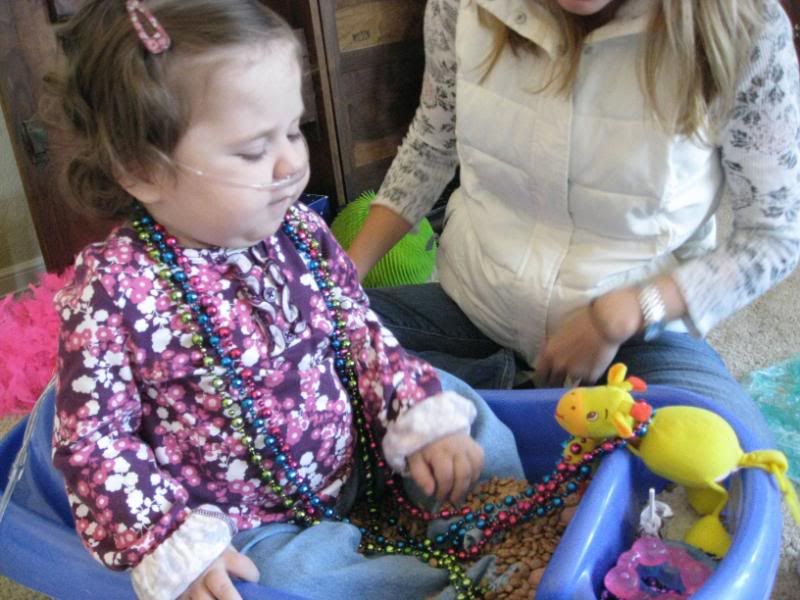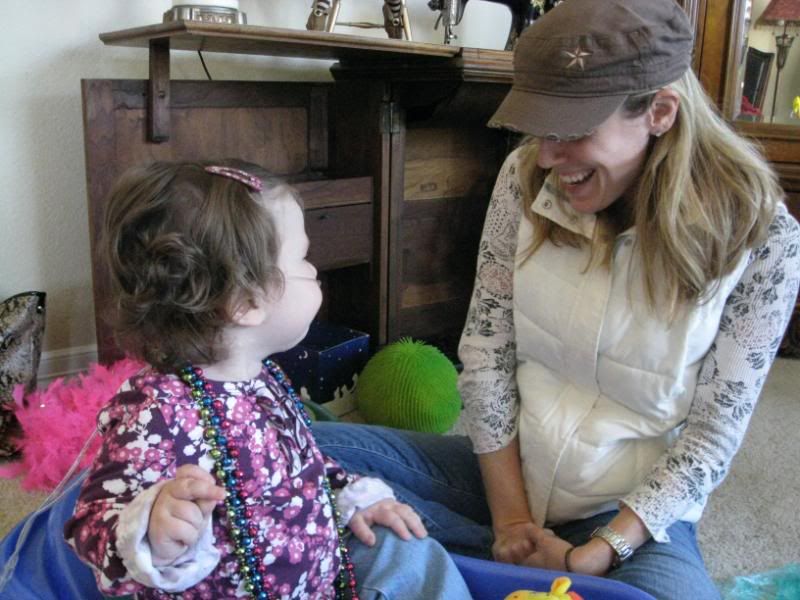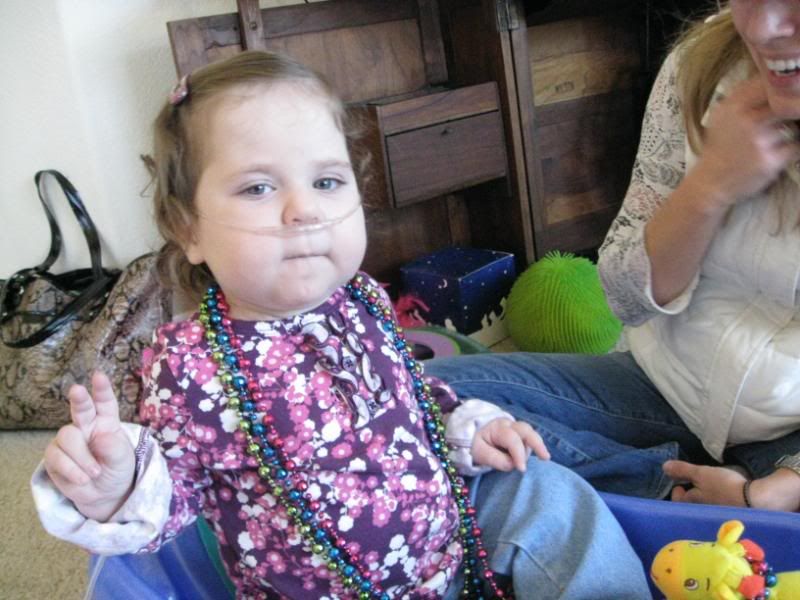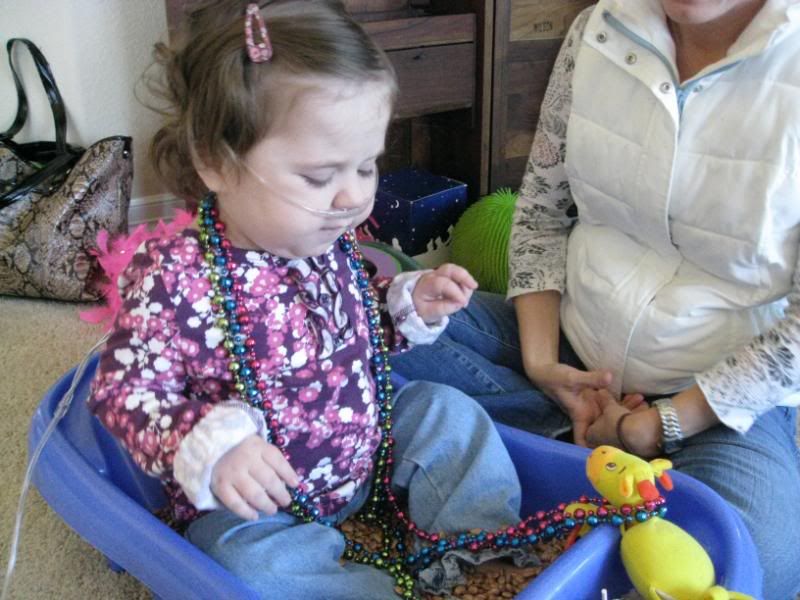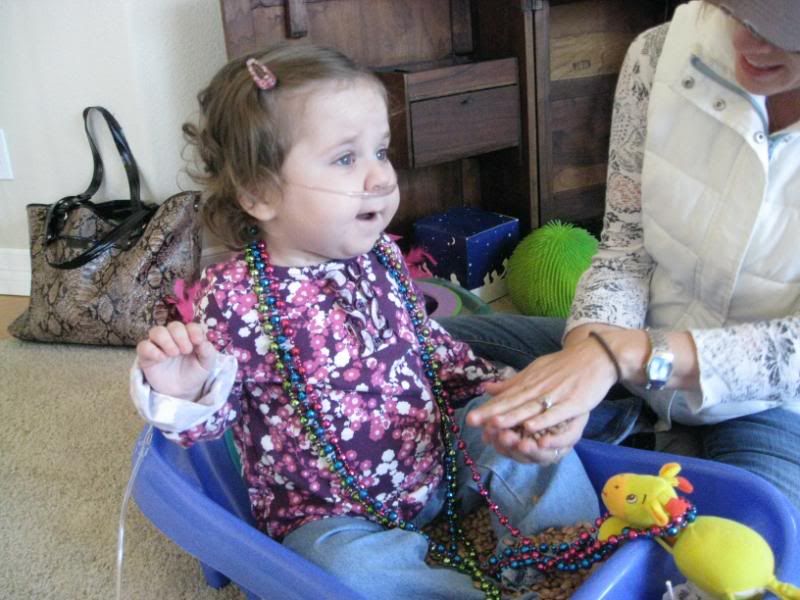 And on an ending note, some more cute photos of the Bun playing on the floor with her computer!