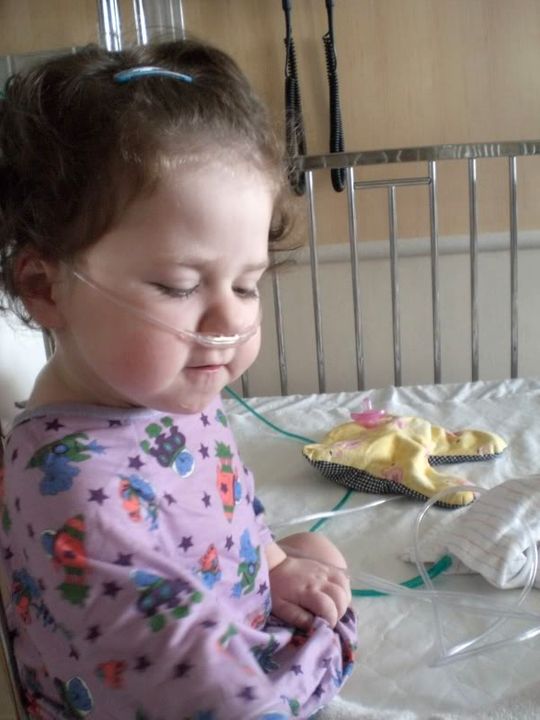 Ella made some great progress today.
First, the IV did not make it overnight. That wasn't a big deal because we were no longer using the IV drip. So for me, it just meant that we could take out the IV this morning and make the Bun more comfortable. Also, this morning because the IV was gone, we were able to give Ella a bath. It is the first time that Ella has ever used the hospital bathtub. During prior hospital visits, she was much younger and we were still using an infant/toddler bath. So that was a fun time cleaning her up since it had been 5 days since her last bath! Her curly hair appreciated it too!
At 8:15am, we saw the first stool. Afterwards, they administered another enema. This time, the combination of MiraLAX (she had two doses yesterday and three doses today) plus the enemas helped move things along further. By noon, she had passed a good amount of stool…enough stool that they were confident starting Ella on food.
The dietician came up with a food plan after consulting with the pediatrician. It is a 1:1 mixture of "30k/cal EleCare" (her current food) and "Nutren Jr with Fiber" (our goal). So by 3pm, we gave her first bolus of food, 60ml of formula +120ml of water. Within ten minutes, Ella was up crawling around the bed. So I definitely think that she was not experiencing any discomfort. The second feed at 6pm was 110ml of formula +120ml of water. Again she did well with this feed, however, her stools became very loose. The plan was to give her a fourth dose of MiraLAX tonight, but asked to hold off and start with further dosing in the morning.
As I type this, I just gave her the 9pm feed which was 160ml of formula +75ml of water. She seemed to take it fine. About 10 minutes later, she had another round of runny stool. Right now, she is crawling around the crib and watching a video. She does not seem like she is experiencing any pain or discomfort.
For now, we will not feed her all night and start again at 9am (just like our routine at home). Finally, her last two feeds for this test will be 9am and 12noon tomorrow, both with 200ml of formula + 75ml of water. If she passes this feeding test, they will want us to try feeding her 200ml of Nutren Jr with Fiber (no more EleCare), 5x/day followed by a 75ml flush of water each time. This process will take another 24 hours taking us into Sunday afternoon. If we get through this food transition on her normal bolus feed schedule and Ella is still doing well, they will let us go home! Part of this test will also be figuring out the right amount of MiraLAX to give her, so that we keep her cleared out but we don't have constant diarrhea.
Thanks for all the support and prayers. We're so thankful that Ella is doing well, better than we had ever hoped. We give Him all the praise and glory for bringing us through this time.
Psalm 46:5 (NASB)
God is in the midst of her, she will not be moved; God will help her when morning dawns.