I know, I'm completely guilty of not sending any updates lately. I wish I could tell you that it has all been smooth sailing. We are still definitely dealing with some issues, mostly GI related but we've had some other great highlights too.
Let's start with the more fun stuff. We decided that it was summer and the time to take some more calculated risks, so we've started attending church together as a family. We're going on Saturday nights when it is less busy and we can sit off in the corner of the large sanctuary with Ella and her stroller. We've done this twice now and it's worked pretty well. We'll see what happens as she ages – I'm not sure she'll stay quiet enough. But we have really missed this part of our lives and felt it was time to start again. We just hope and pray that Ella does not catch any infections! One thing is for sure: she does not have any stranger anxiety with the youth pastor – as a matter of fact, she LOVES him!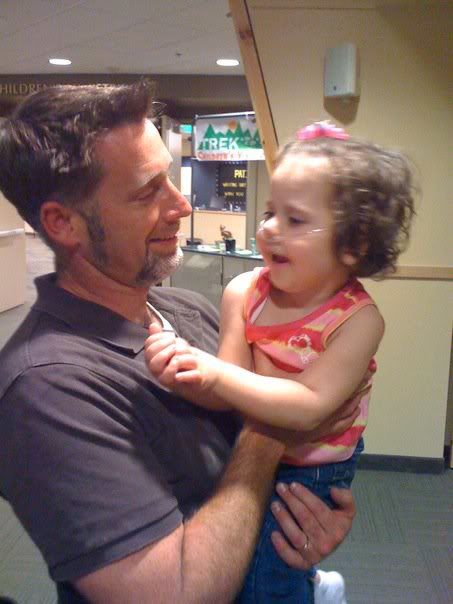 Josh has started his job hunt again since we've been home and he is very excited for a specific opportunity. The in-person interview is this Friday – please pray that it goes well. It's been nearly a year of unemployment and we really need medical insurance. COBRA has sustained us, but it is expensive and it will run out. With bills like you saw last post from just CHOC along with all her daily expenses, insurance is a really important part of our survival. But finding a new opportunity is a key part of our family survival too – financially and emotionally. Please pray that this opportunity will go through and if it's not the right one, that something even better is around the corner.
Ella has been doing great in many areas. We had a 6 month review with all her therapists and the Early Intervention program to update her file, and she met all the goals that we came up with for her 6 months ago. And the biggest surprise: even though we were gone for 2.5 months and she was hospitalized for a good month of it, she did not regress. All the therapists were pleasantly surprised with the advances that she has made recently. Part of this evidence is in the bumps and bruises since we arrived home. She has been roaming and trying out different things with her crawling and balance. The bruises seem a bit worse and more exaggerated because of the blood thinners, but we'll take them as a good sign of Ella's mobility and willingness to try new things. The PT even had Ella trying to climb up and down the stairs at the last session. I can't even imagine when that really starts.
One project we worked on this week: getting pictures with words of many of her toys, placing them in plastic bins around her play area and trying to get her to touch the picture with her hand to get the object. Again, trying to make some forward progress in the communication realm with the idea that eventually she could point to pictures to tell us and others what she needs/wants.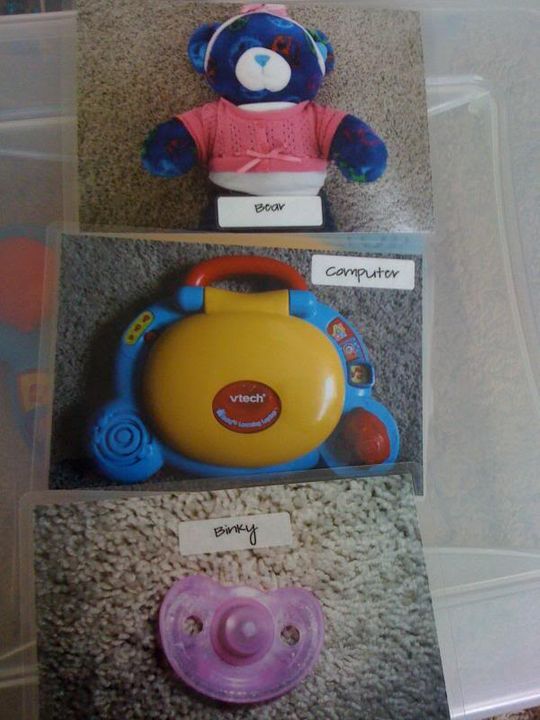 We're still dealing with narcotic withdrawal symptoms. At times, it seems like more neurological signs: blinking alot, squinting eyes, making funny faces, stretching her jaw funny and just acting like she's had a few too many beers. Both the methadone and ativan are being weaned. Her pediatrician does think that many of these ticks could be coming out while we're weaning the narcotics. If this continues once those are out of her system, we may have an MRI in our future.
Pulmonary-wise, Ella has been making good progress. She is stable on 1 liter and we have been able to wean the Bumex to every other day. We're in contact with the pulmonologist and hope to wean even further as the days progress. Although her latest echo showed a higher pressure gradient in her SVC, one thing we'll be looking to see is if we can wean the Bumex and get back to where we were before surgery…which was no Bumex. We don't want to stay on the Bumex too much longer either because last time it caused nephrocalcinosis on her kidneys (excess calcium deposited into the kidneys) and the deposits already formed usually cannot be eliminated. Nephrocalcinosis can lead to kidney stones and acute/chronic kidney failure. Pray that she'll be successful as we wean the Bumex.
We were finally able to see Ella's pediatrician on Monday. We caught him up on all the latest medical happenings with the Bun. He recommended Aquaphor around Ella's lips when the exzema breaks out because it can provide a true barrier to her saliva which is probably breaking down the skin further. Also, he's calling in a prescription for Desonide which is a mild steroid cream that is safe to use 2x/day and around her face and hands. Apparently, this one is safe enough even if she ingests a little and will help with the skin conditions when they arise.
Also, he was not too concerned with the lump in her neck. As he suspected, it is her lymph node and the bump that has appeared can stay for months or years. He noted that kids can have them up until they are 7 or 8 years old. As long as it is rubbery and moves around, does not get larger, show redness or becomes painful for Ella, it is no big deal. That was reassuring.
We also discussed how food has been challenging the past couple of weeks. We've gone from 1/2 Peptamen Jr and 1/2 Pedialyte. We made it to 2/3 strength and 1/3 Pedialyte. Progress halted at that point. When we went to try 3/4 strength and 1/4 Pedialyte for about 4-5 days, we had increased fussiness and food intolerance. At the same time, we ran out of probiotic, Lactinex. Since it is over the counter and costs about $90/month, we asked the GI doc if there were any other solutions. He recommended Peptamen Jr with Prebio because that way the probioitic agent is directly in the food. We just started that on Sunday and ran into other problems again: loose stools and discomfort. We've tried to isolate and determine if it is truly the food or not and we're still in the process of making that call. Right now, we're trying to see if she can tolerate the new food at 1/2 strength. We'll really be able to tell over the next few days.
Last Thursday, we rec'd a phone call from the GI doctor's office. Ella's stool samples had come back and instead of having a follow-up appointment at 4 weeks, they wanted one sooner. The nurse was not able to give me a bunch of info – I just knew that it couldn't be great news. When you call to make a regular appointment, you're told 4-6 weeks. If it was Thursday and the doctor was finding time to see us Monday, there had to be a good reason. When I asked the nurse about the stool samples, a few came back negative. These are the tests that would indicate infection. Unfortunately, one came back positive: lactoferrin. Lacto-what? I asked her to spell it out for me so I could research on my own before the appointment. This is a marker for intestinal inflammation. Many times it can be a marker for IBD (inflammatory bowel disease) and a cause for further investigation.
Fortunately when we saw the GI doctor this past Monday, he did not mention being concerned about IBD. But he did note that this is not something that usually comes back positive when there is no infection present and it means that there is a part of her intestine that is inflamed and not happy. I asked if it was possible that her intestine was still just healing from surgery. He noted that her intestines are still healing, but a kiddo that has had surgery 2 months ago would not normally return a positive result for elevated lactoferrin. So, we just need to figure out what is going on with her intestines. The GI doctor explained that many times there can be adhesions from surgery or a kink and there is not enough blood flow getting to part of her intestine. The elevated lactoferrin levels along with the fact that we have not been able to successfully increase feeds leads him to believe that there is likely something going on. So he ordered two more tests to be done over the next couple of weeks: a barium enema and a upper GI small bowel series. They will insert contrast from her butt and g-tube (two separate appointments one week apart) and take pictures every 30 minutes or so for 2-3 hours to assess the function of her intestines until the contrast moves through from one end to the other. If there is nothing evident on these tests, then they will provide a good baseline and it might mean that we just have to be extra easy on her intestines and go through intestinal rehab related to feeds. If not, it could even be another partial obstruction.
I know that there are some other details, but those are the major ones coming to mind. Please pray for Ella's health and her progress forward with feeds, weaning narcotics and Bumex. Also that Josh will do amazing at his job interview this Friday.
Matthew 6:25-34 (NIV)
Therefore I tell you, do not worry about your life, what you will eat or drink; or about your body, what you will wear. Is not life more important than food, and the body more important than clothes? Look at the birds of the air; they do not sow or reap or store away in barns, and yet your heavenly Father feeds them. Are you not much more valuable than they? Who of you by worrying can add a single hour to his life? And why do you worry about clothes? See how the lilies of the field grow. They do not labor or spin. Yet I tell you that not even Solomon in all his splendor was dressed like one of these. If that is how God clothes the grass of the field, which is here today and tomorrow is thrown into the fire, will he not much more clothe you, O you of little faith? So do not worry, saying, 'What shall we eat?' or 'What shall we drink?' or 'What shall we wear?' For the pagans run after all these things, and your heavenly Father knows that you need them. But seek first his kingdom and his righteousness, and all these things will be given to you as well. Therefore do not worry about tomorrow, for tomorrow will worry about itself. Each day has enough trouble of its own.