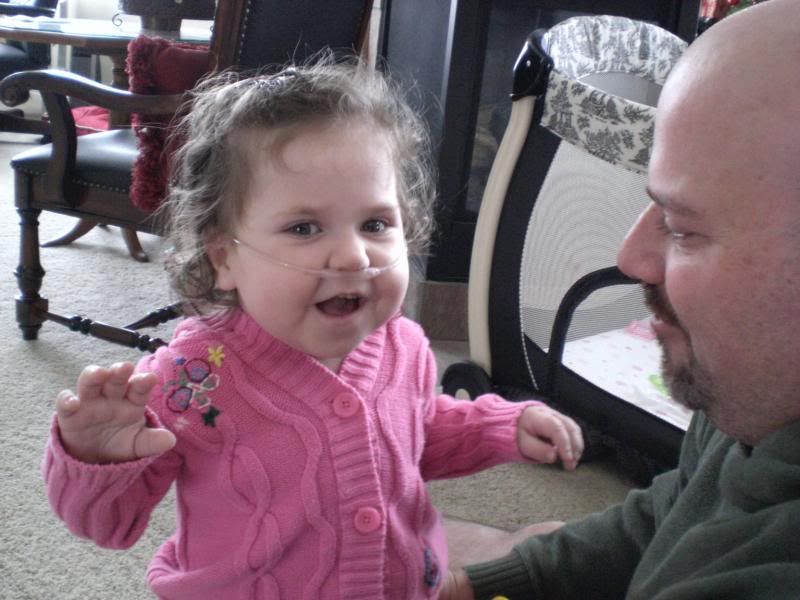 We've been trying the combo of Prevacid and Nasonex to see if that will help with Ella's secretion challenges. So far, it hasn't. I'm bummed. Nasonex takes up to 2 weeks to reach its maximum effectiveness when taken each day. So, we still have another week to see what happens. Last time, we didn't notice a change until around that time, although she also got a real bad cough too. So, the doctor wanted us to try Nasonex again in combination with the Prevacid. We're hoping the Prevacid will block the reflux and that the acids from her tummy will not have a chance to travel up her throat and cause a cough.
It does seem like Ella has been running dry these days. The upside is that her saturations seem good and her heart rate is lower overall. She tolerates more things, like occupational and physical therapy. When she feels better, she is in a great mood. The downside is that she gets really thirsty. It got to the point where she was waking up several times per night and many times wanting water via the syringe. So her sleep has not been the best. She seems to be waking up a lot each night. Last night, it was only 2 times, but Christmas Eve into Christmas Day, she was up 10 times! To try to see if we can balance her out, we have been skipping her night time dose of diuretic. We will see if this helps this week too. Mom hopes so…I like my shut-eye.
Aside from that, Ella is definitely gaining weight. For her, this is a good thing. Gaining weight and getting bigger is what is going to help her lungs grow. I just weighed her and she was 14.25 kg or 31.4 lbs! She was just 27.5 lbs at the beginning of October. Yikes! And with the weight gain, she is fluctuating between a size 3T-4T. I can't believe it. Again, this is great except for the fact that she cannot crawl or walk, so my back is feeling it for sure! The hardest is lifting her in and out of her Pack-n-Play (which sits on the floor). She is getting stronger and moving closer to mobility. However, with her weight gain the past few months, we're not sure that her muscle strength has kept the same pace. So in some ways, we think the weight gain might be slowing down her mobility goals. She still seems like she is 6 mos-1 year away from any type of independent mobility.
Here she is enjoying her new turtle from Christmas. Over time, we're hoping to convince her to sit down, hold on and try out the wheels on her own!