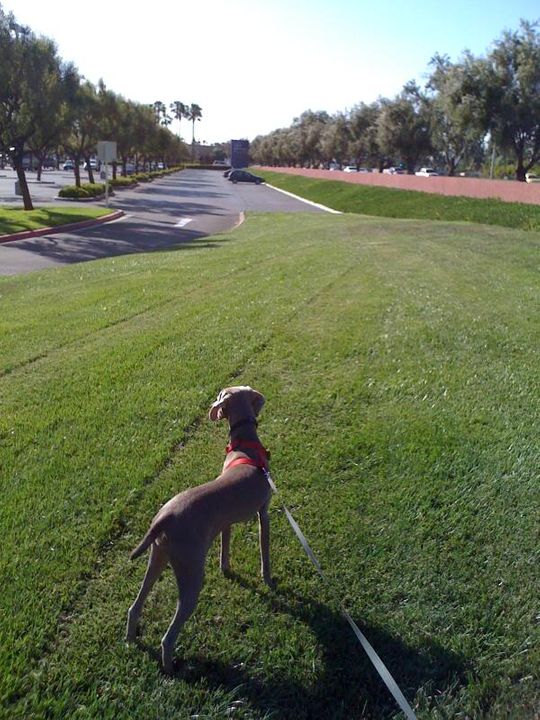 The last couple of days have not slowed down.
We thought Lola was getting better, but as it turns out, she is still sick. Josh was up several times last night taking her out to go to the bathroom. She is still eating and drinking water, acting like herself. But her poops are still way too runny. You can't even pick them up. We're trying to monitor closely and taking turns walking her. In the meantime, it requires two people to care for her and Ella. It's not like we're at home and can just open a sliding glass door to the yard and tell Lola to go outside and take care of things on her own. Maybe Lola just has sympathy pains for Ella?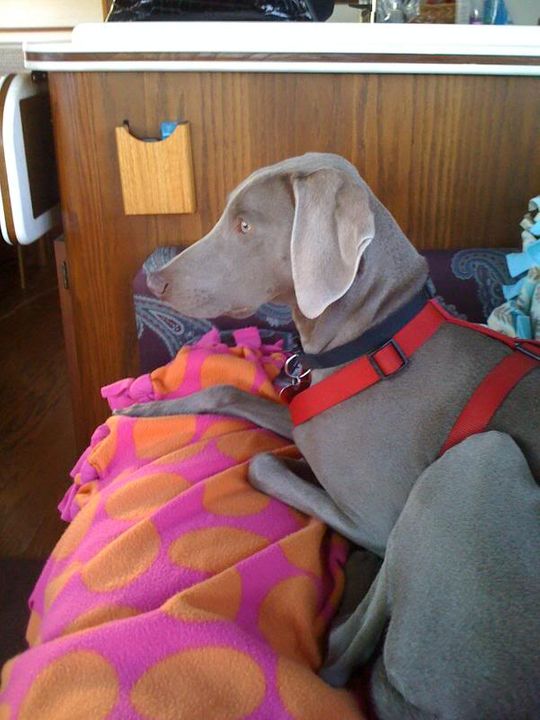 On that note, Ella's had runny stools the past 2 days. We're still dealing with the art of how much Miralax to give her. After trial and error, we're going to try 1/4 capful per day starting tomorrow and see how it goes. When we gave no Miralax, she was constipated and would not stool for days. When we gave 1/2 capful over the past few days, she's had runny stools. Now, we're going to try in the middle to see how that works.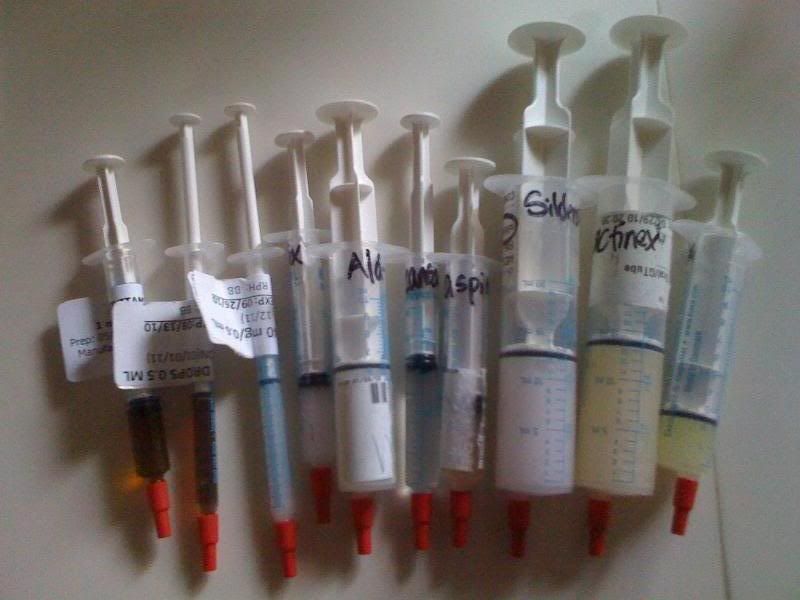 We took a picture of just Ella's first round of morning meds at 9am. These don't even include 2 that she gets at 6am or the long list of meds the rest of the day. Can you believe this is just one round of meds for the day? We turned one of our gift baskets into a med basket; this doesn't even show the meds that are in the refrigerator. Wow, crazy how medicated our child has become these days.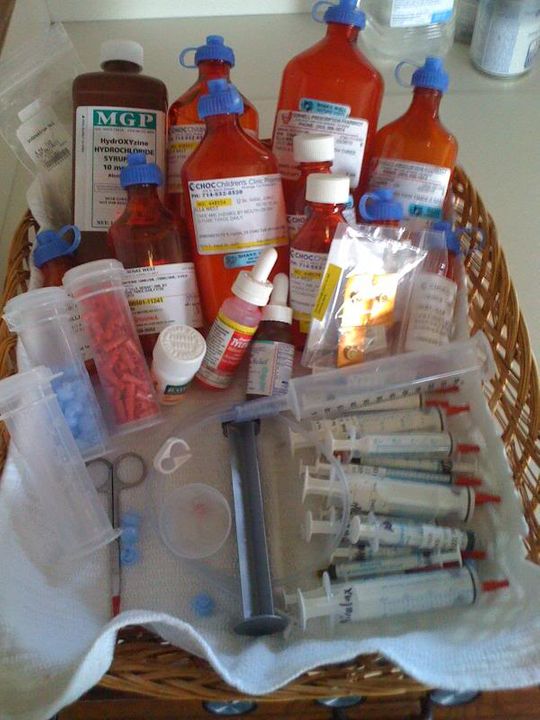 We've had so many nightmares in dealing with CHOC the past couple of days. We've run into all kinds of problems with the pharmacy – they've overcharged us for items, inadvertently charged our credit card twice, etc. One example: there was a 30 day prescription that costs $40. Then, there was a charge for $14 for the same medicine. When we asked, they explained that the $14 charge was for the portion of that med that was given to us at discharge. First, the cost of $14 for 2 days worth of meds doesn't calculate right if a 30 day supply is $40. Second, I have never had that happen. When you get discharged and they give you enough for a 24 hour period, it is part of the hospital bill that they charge the insurance company as part of the hospital stay. Last, we asked what happens if we went to another pharmacy to get these prescriptions refilled. They admitted that they would need to write off the cost and not collect the money. So, we've already spent ~$200 on prescriptions and will spent hundreds more when sildenafil gets resolved in a couple of days, and yet if we would have gone to Walgreens, for example, they would not have been able to collect that extra money. So we are getting punished for giving them our business? Plus, they did not disclose that they were charging us for the meds on discharge date. We only found this out when we examined the receipt and called back, escalating it to the Director of the Pharmacy. This is only one example of the types of things that we've encountered.
The saga continues as we are trying to still get Ella's sildenafil (Viagra) prescription refilled. We've contacted Josh's prior employer for their help with the pharmacy insurance coverage. They agree that although this medicine is not normally covered, they've given exceptions the past 2 years for Ella since it is medically necessary. It's been 2 days and we are still waiting for the red tape to get settled between the company and the pharmacy insurance provider. In the meantime, we only have a few days left of this particular med so I've been calling a few times a day to see if we can get it resolved. One thing is for sure: this medication is medically necessary and we cannot pay $2,500 just for a 30 day supply of one med! Hopefully once we get the insurance side of things worked out, the CHOC pharmacy will cooperate and submit it with the correct drug code so it will go through properly.
Another nightmare: it turns out that CHOC will not call in an order for us to get labs. They know it is vital that we check Ella's potassium and chloride levels along with her other electrolytes since she is on Bumex and potassium chloride supplements. It turns out that it is their way of ensuring that we go to a pediatrician within a couple of days to get a prescription for a blood draw. Um, we expressed that we do not have a pediatrician locally and that we will not be home for a couple of weeks. Plus, that we want to work with Ella's normal care providers to review results, but the Denver doctors cannot call in an order to the CHOC outpatient lab because they do not have rights to practice at CHOC. I have tried to get this resolved since we left the hospital on Sunday. We even asked the nurse as we were leaving and we were told that we did not need an order – we could just walk in and tell the front desk that it was for a follow-up to an in-patient stay and they would do it. Wrong! Once again, we liked many on the PICU staff but the regular floor staff along with the pharmacy is not real good. It just confirmed how blessed we are with Ella's team of healthcare providers in Denver along with the hospital. Maybe that is one of the reasons we need to stay in the Mile High City for now.
We spoke with Ella's pulmonologist on Monday and finally reached her pediatrician today (he was traveling). We caught up on all the details including the debacle with the labs. He can call and order labs at an independent blood lab called Laboratory Clinics of America. They have locations nationwide. This will work and we are going to go get labs tomorrow. This is ultimately the right solution and what we wanted – but – I'm still floored that CHOC would not give us an order for labs. We're hoping that her labs come back stable because then we can just continue to do what we have been doing the past 3 days. It means that we can go until we get home without sticking her again. If the labs don't look great tomorrow, we'll need to talk to her primary providers, make changes/adjustments to meds, wait a couple of days, then go back for more labs.
As if we don't have enough things to worry about, Ella woke up this morning and she is sick. We thought we heard some coughing and some signs yesterday but it came to full fruition today. She has a cold with a real bad cough. Right now, she is still saturating ok on 1/2 liter of oxygen, but we pray that it does not go into her lungs. That would be really bad and require hospitalization.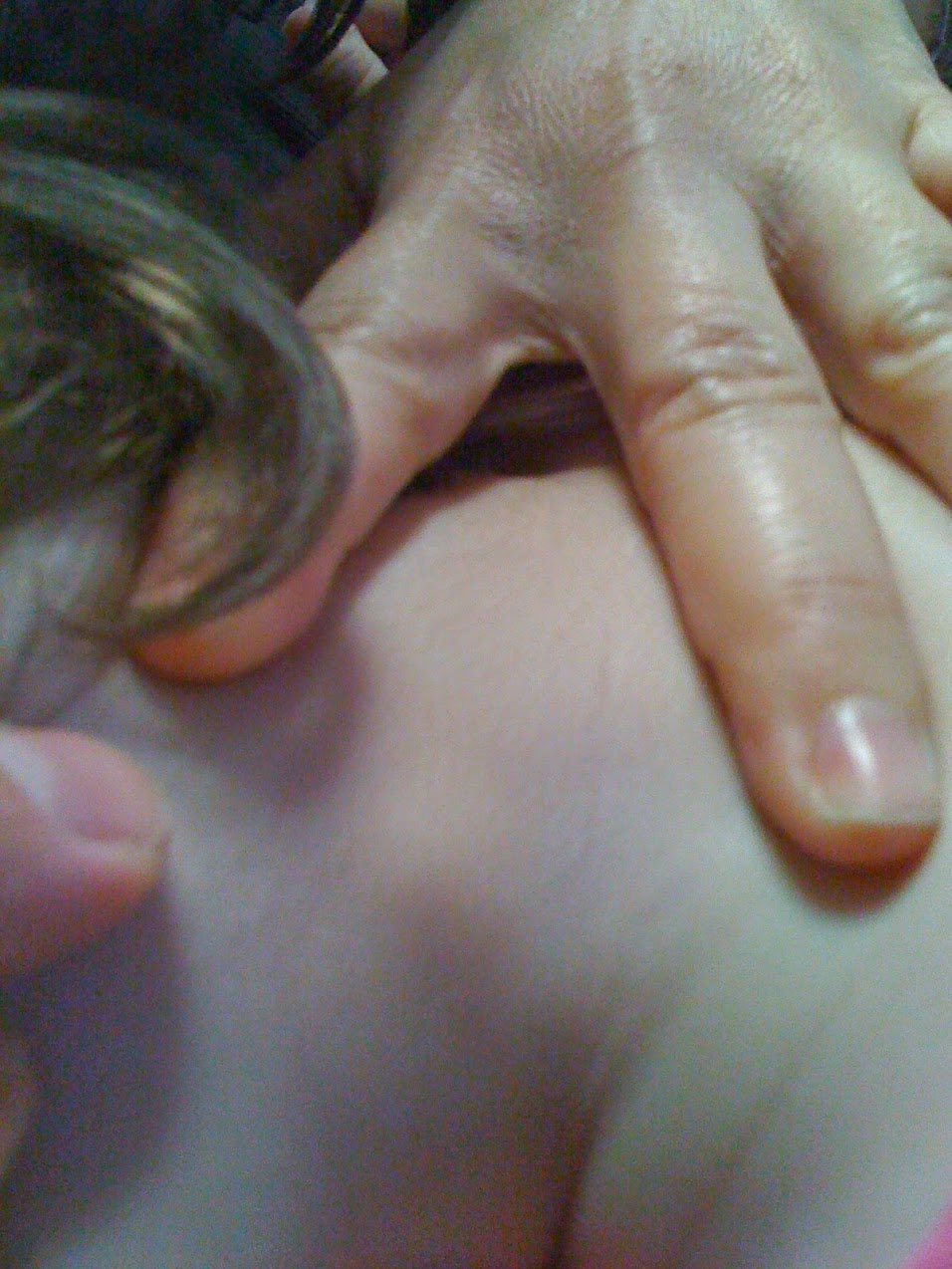 Along with her cough, we also noted a firm nodule under her skin on the left side of her neck (behind her ear near her hairline). When I spoke with the pediatrician today, he reassured me that it is likely a lymph node that is inflammed due to her sickness. Apparently, it is common in young children. Ella's had colds before, but never gotten a jelly belly size nodule in her neck. This was just another thing that made our hearts sink. Can't she get a break? So between yesterday and today, Ella has not been up crawling around like you noted on the last blog. We've had slight grade fevers on and off, coughing, retching, snotty nose, general fussiness. She just doesn't feel good and is resting (or trying to) for most of the day.
We'd like to have stable labs plus make sure Ella's cold is getting better and that she is going in the right direction before we head home. As it looks right now, we'd like to leave Tuesday or Wednesday next week to start the journey. It will still take 3-4 days to make it back to Colorado. We're hoping that everything falls into place.
We did move from the church this afternoon. I still can't believe the generosity of the Orange County First Assembly of God church – they let us park our motorhome at their facility for an entire month! That was truly an answer to prayer and we will be forever grateful for the generosity during such a time of need.
Isaiah 43:1-2,4 (English Standard Version)
"Fear not, for I have redeemed you;
I have called you by name, you are mine.
When you pass through the waters, I will be with you;
and through the rivers, they shall not overwhelm you;
when you walk through fire you shall not be burned,
and the flame shall not consume you.
…Because you are precious in my eyes,
and honored, and I love you"