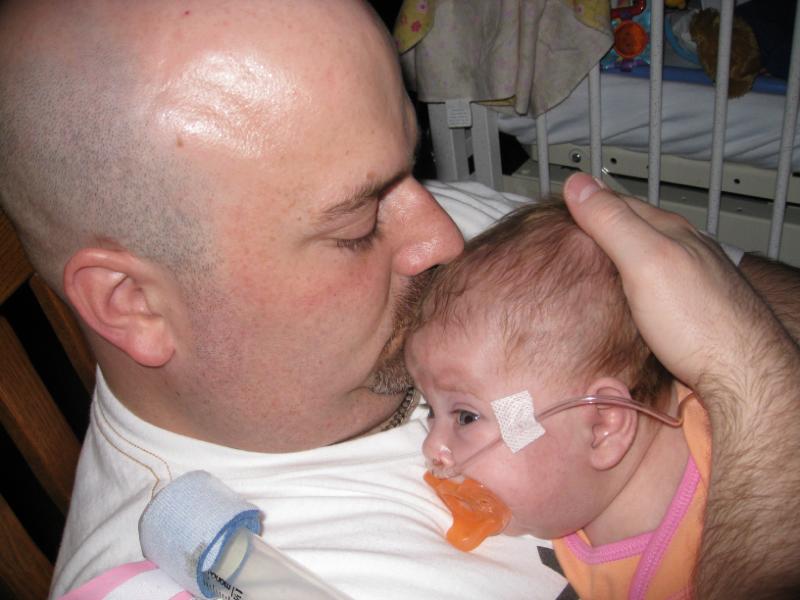 Our girl had a very rough day. One small positive, she isn't running a fever, so maybe the virus is gone. However, it looks like the switch to PO (oral) diuretics, specifically the Lasix, is not doing the trick. Her breathing is labored, her saturations are not her typical baseline, and overall she seems to be working a lot harder.
We thought this might be the case last night when we saw the swelling in her face and her lack of urine output for the day. We were hoping this wouldn't happen, but Ella's behavior today confirmed it. She has been very fussy and not consolable most of the time, an indication of respiratory distress. Even one of her favorite nurses (Ms. Marla) had a pretty rough time with her too throughout the day.
After talking it over with Dr. Kays, the nurse practitioner gave her a IV dose of Lasix at 10am (they did this because they know it works and would provide some relief). Sure enough, Ella had a "huge diaper" shortly after this dose.
We think they've finally recognized that Lasix administered orally is not working for Ella, so they're going to try a new diuretic. Instead, they'll be giving Ella .25mg of Bumex twice a day. We were told that this diuretic is up to ten times stronger than Lasix, and we're hoping it does the trick for our girl, even when administered orally (via her G-Tube).
Ella's CVL (central line) is going to be removed in the next couple days by Dr. Kays. This is not totally trivial and under the circumstances carries a higher risk than normal. Remember that her IVC is partially occluded, possibly by a blood clot, and removing the CVL could cause the clot to break free. If this happens, it could prove fatal. The doctors will be administering anti-coagulants to help reduce the clotting, but this is still risky.
The CVL is how Ella gets any IV medications, so we'd like her to be stable with her new oral regiment before it's removed, but this is not likely. Worst case, they'll get a peripheral IV if it's determined that access is still needed.
Late this afternoon, Nurse Marla had to leave the hospital unexpectedly so we headed down to be with our girl a bit earlier today. She looked better than last night (not quite as puffy), but she seemed uncomfortable. I spent a good amount of time rocking and singing to her. She was calm for awhile, but became more agitated as the evening wore on. When we left tonight she was having a hard time going to sleep. Just called to check in though, and Ella has been sleeping since we left (about 3 hours). Hopefully she'll do a lot more of this tonight.
We can use your prayer support in the following areas:
That Ella's respiratory distress will be minimized and for her to be more comfortable
That our baby girl will respond to the new diuretic (Bumex) that's being delivered through her G-Tube
For safe removal of Ella's central venous line (CVL)
Wisdom and discernment for Dr. Kays and the medical team so they can come up with the best plan for The Bun

Father God, we lift up our baby girl to you. Please send your healing touch, and relieve her of this discomfort. We ask that her body respond well to the new diuretics, and for her lungs to grow stronger. Jesus, keep her safe during the removal of her central line. We pray that no complications would occur, and that she comes through it without incident. Lord, we know that you understand what it will take to heal Ella. We pray that your wisdom be imparted to all who are involved with Ella's care.
We thank you for the blessing of Ella Renae. May you continue to do your work through her. In Jesus name, Amen.