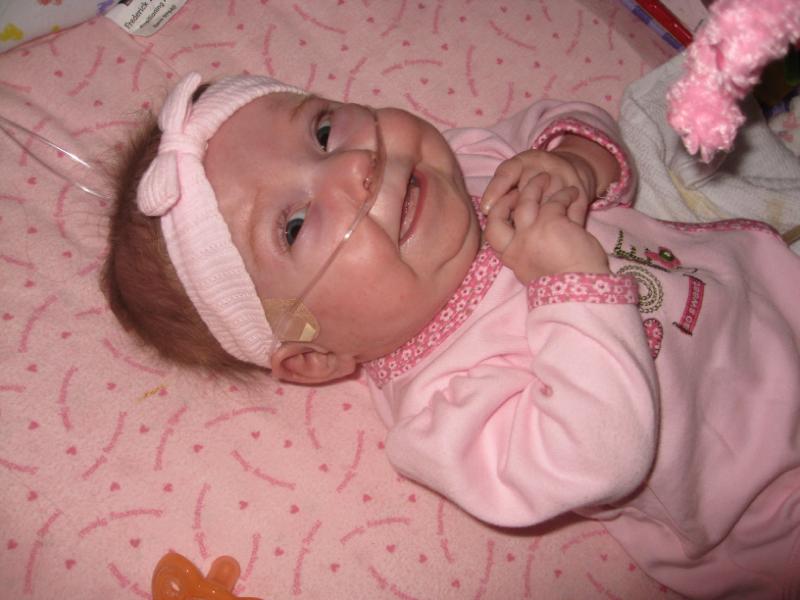 Today was challenging in many respects, but also rewarding.
The more Josh thought about it, the more he knew that he needed to come with me to the pediatrician. Ella is still somewhat marginal; she can get air starved in a matter of seconds. She is reliant upon her medicines, but also the oxygen that she is getting. When the cannula comes out of her nose and/or she gets herself worked up, she gets sweaty and air starved pretty quickly. That would be tough to manage while driving the car. So, Josh resolved to take a longer lunch and work late into the night to make up the time.
It was a wise thing to have both of us present. First of all, the car ride was really tough. Ella doesn't like it – – she would much rather be held. We had to increase the oxygen both there and back as there was not a great way to console her while the car was in motion. And that made her mad!
Once we got to the pediatrician's office, I went inside to complete the paperwork while Josh entertained Ella in the car. I was glad to see that they have a "well kid" room. Those kids that are not sick wait in a different room. That is a great idea and made me feel more comfortable. Fortunately, the office was slow when we arrived and we ended up being the only ones in the waiting area.
The visit with Dr. Kathy Sarantos was amazing. It was apparent why she is so highly respected in the medical community as well as among local parents. Normally, she does not accept new patients, so we feel so fortunate to have the opportunity to have her overseeing Ella's care. She shared that her daughter, Sydney, was also born with a congenital diaphragmatic hernia. Although Sydney's duration was much shorter, we could tell that there was an understanding medically as well as from a parental role. That was extremely comforting.
Many of our concerns were alleviated, such as the stool frequency issue. It is not a problem for Ella to take 36 hours to stool (although she had one this morning, so that was only 24 hours!). However, we brought up a few concerns that she was not able to address directly on the spot, but she is so well connected that she has a way to figure out the answer. One example is Ella's g-tube. We think that there might be something wrong with the valve. Since she does not have a depth of experience with g-tubes, she is going to have a colleague contact us to discuss our concerns.
We are scheduled to see her again in 2 weeks. Before we left, Dr. Sarantos decided to draw blood and analyze Ella's electrolytes and potassium (they were supposed to on the day of discharge in the NICU, but it didn't happen). Checking these levels is especially important while Ella is on a strong diuretic like Bumex. So although Ella is familiar with needles, that does not mean that she likes them. Once again, we had a melt-down moment.
When we were getting ready to leave, Josh mentioned about our journey being recorded on this blog and one of the colleagues pulled up the site on the office's computer. I stayed in the exam room and dressed Ella, but in the background, I could hear a bunch of ladies hovered around the computer ooh-ing and ahh-ing over the recent photos of the Bun. It was sweet of them.
We were almost out the door when Michelle that works in the office pulled us over to a separate room. She had us meet Carol, the office manager. Michelle got teary-eyed and stated that even with the small amount of our story that she has been able to absorb, that they want to do something nice for us. They almost see it as a ministry. She handed us her email address and asked us to think about what they could do for us that would help out.
Josh decided to gather everyone around, including Dr. Sarantos and take a quick photo. All I can say is that I was in a fog while it was occurring. Only now do I realize what was happening…wow. So unexpected and so nice. I'm just speechless.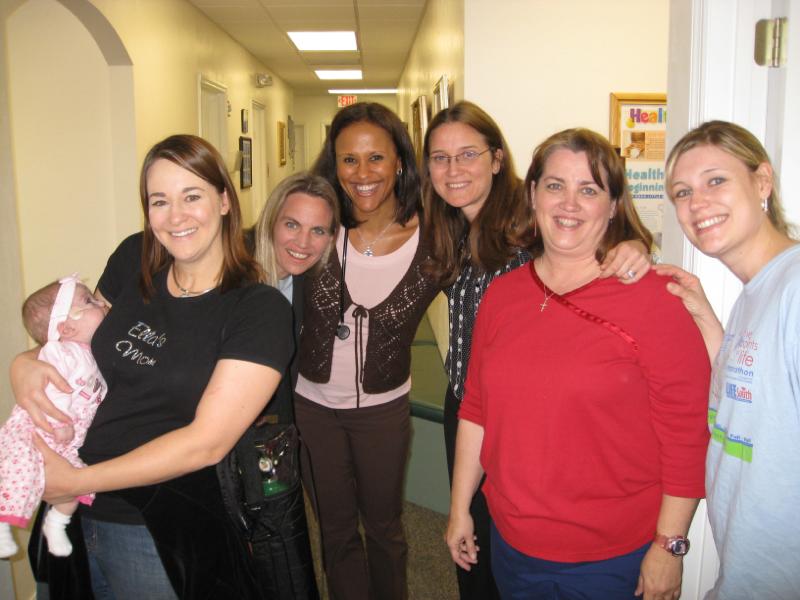 I know that we have a miracle girl that God has placed in our hands. But it amazes me to see when we faithfully share as prompted, how He continues to use Ella to touch lives. This was a clear example.
Once we left the pediatrician, it didn't stop there. Josh was starving so we went through a nearby drive-thru before getting back on the highway. As soon as we pulled out of the drive-thru and waited at the stop light, all of a sudden, the large truck in front of us with a large trailer on the back started backing up into our car. Josh was laying on the horn, but that did not seem to make a difference. The lady driving the truck just kept trying to reverse. Once in the clear, Josh reversed and drove around to the front of the truck to show the lady. She was not aware that she had backed up into the car; she has poor hearing which was evident just by talking to her (probably why she did not hear the horn).
As I tried to continue consoling Ella in the car, Josh was working out the details. I started praying and thanking God for His provision that no one was injured. Also, I started to feel a peace from Him. He ordained this incident too. I began to ask if there was something further that He wanted from us.
When Josh got back in the car, he said, "That was no accident. God doesn't have accidents. I just shared about Ella with that lady and she shared that her granddaughter has cancer, so I just prayed with her."
The Lord works in mysterious ways. It is comforting to know that He will always watch over us, no matter what happens in the day.
Psalm 121:1-3
I lift up my eyes to the hills—
where does my help come from?
My help comes from the LORD,
the Maker of heaven and earth.
He will not let your foot slip—
he who watches over you will not slumber
Please continue to pray for Ella's strength – – her heart rate looks a bit elevated which has not been a good sign in the past. We're hoping that it is nothing and that she is getting healthier each day. Also, for Josh to finish his recent work project timely and for me to enjoy my time with the Bun and fight off any sickness.
Thanks for the continued thoughts and prayers.