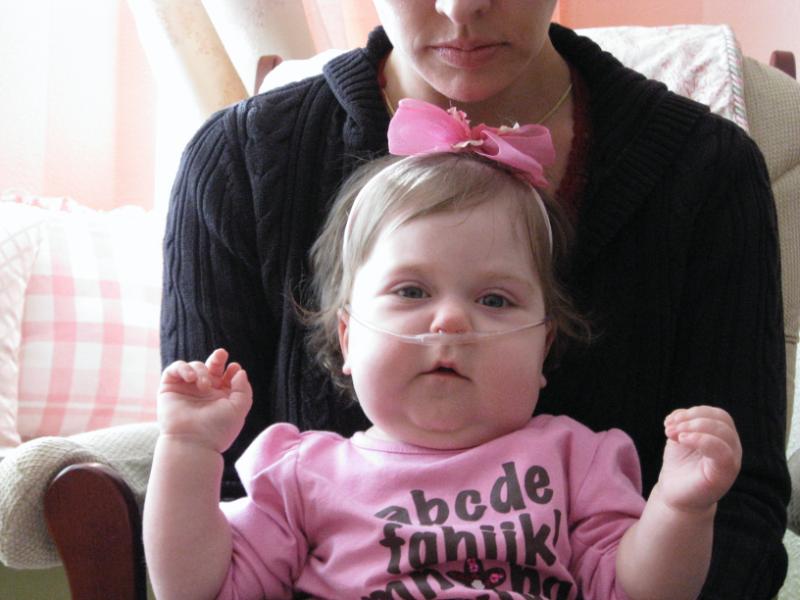 One of the factors this past week that might be causing discomfort was the change in food. We increased her EleCare formula to 28 k/cal. We tried this before a few weeks back and it did not work. But there were other variables at the time that had changed, so it was tough to pinpoint that it was the change in formula density.
Early last week, she started losing weight and not gaining. We can't change or increase her fluid status without permission from her pulmonologist. And at our January appointment, he wanted to try the 28 k/cal formula rather than increasing the volume. This is always a challenge – to manage her fluid status and make sure she is continually gaining weight. So when she stopped gaining weight last week, I thought we would try the 28 k/cal again.
It usually takes a few days for her to show signs. Now, it has been a week and we are noticing the same signs as we did a few weeks back: increased gas, loose stools, fussiness and lack of sleep. So in the middle of the day, we mixed her formula back to 26 k/cal. We're hoping that is the answer.
From a OT standpoint, we've also tried some new foods, a few during each session throughout the day, that could be causing Ella some tummy grief too. And the past few days, Ella has made it very clear that she does not want to eat. Again, it could simply be her overall tummy discomfort from the 28 k/cal formula. But just to be safe, we are going to regress a bit and go back to basics on the eating too. One food per session and if it is new, try it solo for a few sessions to make sure it is not causing Ella any tummy grief.
Ella was up even more last night. I lost count. All I know is that it seemed like every 20-30 minutes and you could tell that she was clearly not happy and uncomfortable. We're hoping for a more restful night at the West household.
On another note, a dear friend emailed and shared that her husband had passed recently from a freak accident. I can't imagine the grief that she is enduring and yet, she was still able to encourage me: "Remember that God is teaching you patience every day, in every way. That is, of course, amongst the other lessons that you are introduced to daily." It certainly put my daily challenges into perspective.
James 5:11 (NIV)
As you know, we consider blessed those who have persevered. You have heard of Job's perseverance and have seen what the Lord finally brought about. The Lord is full of compassion and mercy.