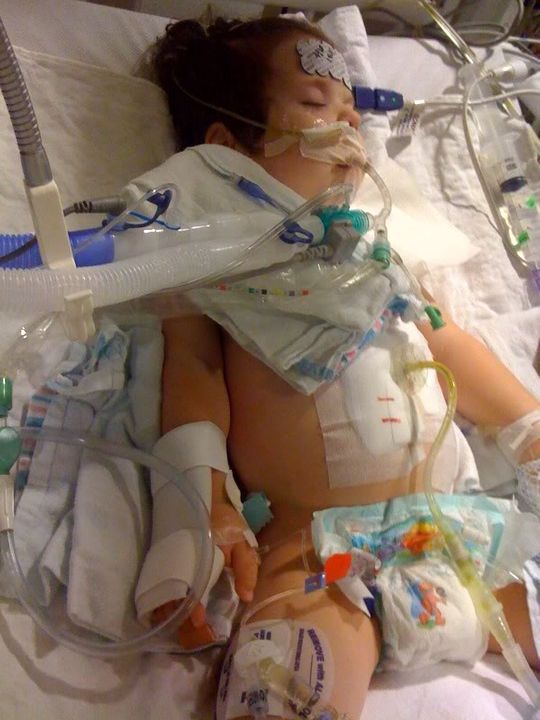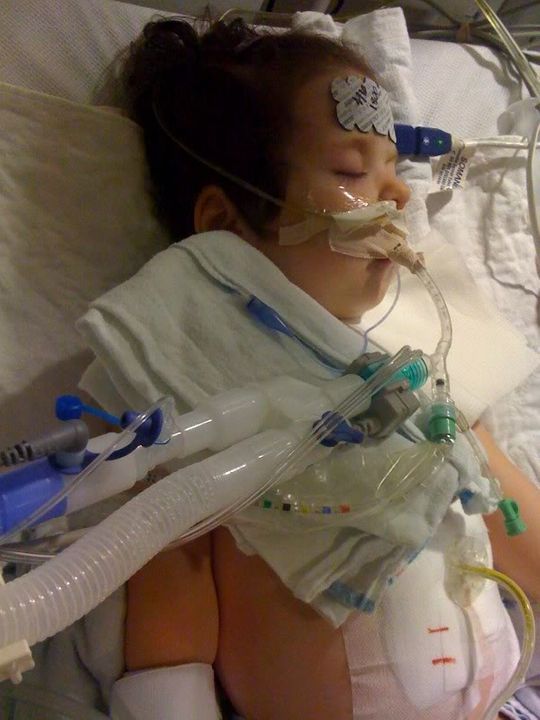 Ella was stable overnight – praise God! We had a great nurse and the doctors already started to learn Ella from yesterday, so there were no strange orders for the night. Since the nurse was so great, I did get some shut eye!
The fever is ongoing and Ella is still battling it. Tylenol seems to help keep it under control, but she still has one even as I type this update.
I did note some red rash started on her pelvis early last night. Later, it seemed to go all the way up and cover her chest. When they looked at it, they assumed that it was just a heat rash. Another symptom: itch. At intervals throughout the night and into today, Ella will move thrash around a lot and try to itch her face (maybe trying to dance?). The attentive overnight nurse put the pieces together. It appears that Ella may be having a reaction to her antibiotic, Zosin. To control the rash and itch, they give Benadryl. The rash would subside, but after the antibiotic was given, sure enough the rash starts to reappear. Fortunately, the surgery team has given the "ok" to discontinue the antibiotic today, so we're hoping to see it dissipate.
You might notice arm guards on Ella's arms today. The guards keep her arms extended and prevent her from itching her face and yanking any tubes. The nurse and RT are even requiring assistance with hands-on most of the time. One thing is for sure, she is a fighter!
There are new docs on this morning. I wish we had the one from yesterday – she was amazing. I think she had lots of experience with pulmonary hypertension patients and had a great respect for moving slow. As all of you know, Ella responds best that way. The docs this morning came in talking about taking her off the vent and extubating her. I asked if they had taken a look at the chest xray from this morning. They had not seen it yet, but stated that most kids come off the vent in 24-48 hours. I took a deep breath and realized it was going to be one of those days.
I fought for leaving her on the vent. I know that Lasix has done really well and that she is negative 675 for the last 24 hours, but she is still 2 liters positive since she was admitted. In real language, this means that she has peed a lot in the last 24 hours (more than what she has taken in by 675ccs), but she still has a lot of fluid on board. Sure enough after looking at the new chest xray, the doc came back and agreed that there is no doubt she needs to stay on the vent for another day or so (ya think?).
All their intentions are good, but it is frustrating when they want to use standard care protocol that they follow with normal, healthy kids. They expect that because Ella's numbers look good in that moment that she should follow all those same guidelines. As her parents, we've learned to go slow and give her more time. You should be 110% sure that she is strong enough and ready for the next step. In this case, she has had major abdominal surgery and is contending with enough much less breathing when she still has fluid on her lungs. Sometimes docs just want to move too quickly. I felt like the PICU doc yesterday understood really well, but not as much the ones today.
I think they are planning on starting heparin this afternoon since it will have been 48 hours since surgery. They will use this as her anti-coagulant for her SVC, until she is ready to take her regular medicines.
Surgery came by and was happy with how she looked. There is still a good amount of bile coming through the NG tube (the tube in her nose) and her G-tube (the tube in her belly). Once there is little to no leakage and/or the liquid is clear, we should start to see her bowels working again. So, likely another 3-5 days. The surgical nurse practitioner explained that once the intestine has gone through surgery, it closes off temporarily and slowly opens back up for operation. We'll be looking for passing gas or bowel movements in the days to come.
Ella had another echo this morning. The goal is to check to make sure her cardiac function is good. If all looks satisfactory, they will discontinue the Mirilone (heart medicine) and just use Nitric Oxide to keep her pulmonary hypertension in check.
Overall, Ella looks pretty good. We're just trying to let her rest, get more fluid off of her (big surprise) and keep her comfortable.
Thanks for all the support and prayers – it means so much.
One last item: if you remember, we came to CA on a road trip in our RV. The hospital does not have any place to park the RV. After Josh dropped me off at the ER with Ella, he drove to the closest location where he could maneuver, which was the Main Street Mall (just across from Macy's). He got permission from security to park there a few nights, but they are not keen on us continuing to stay. We've tried the church connected to St. Joseph's, the Ronald McDonald House, the closest Walmart, various RV parks close by (too pricey plus not real nice/secure). For one reason or another, none have worked out. But now we figured that we would reach out to those locally, as you may have an answer for us! Does anyone know of a church or business near CHOC that would allow us to just park the RV? We take up 2 parking spaces. We have our dog and cat with us, so we need someplace secure and where we can walk Lola. Fortunately, Josh's aunt did loan us her car, so the RV does not have to be right next to the hospital although that would be ideal.
UPDATE 3:15 PM – By Tina
Josh went and pleaded again with the hospital security crew for a place to park the RV at the hospital, the sisters at St. Joseph's, and visited other places nearby to research while I've stayed at the ICU with Ella. Those attempts were not successful. Another place I thought to look: the Crystal Cathedral. It is less than a 10 minute drive and they have lots of room. Josh just sent a text to my phone letting me know that we can stay there for up to 3 weeks!!!
UPDATE 5:30 PM – By Tina
And now, Josh just called because another brother in Christ has been fervent on the phone and has found another church that is willing to let us park the RV for as long as we need (Orange County First Assembly of God, www.ocfirstag.org). Yes, God is continuing to provide in the midst of the storm. Thanks to everyone that was providing ideas and trying to help us. We will update later with the spot where we've landed.
Psalm 46:5 (NASB)
God is in the midst of her, she will not be moved; God will help her when morning dawns.