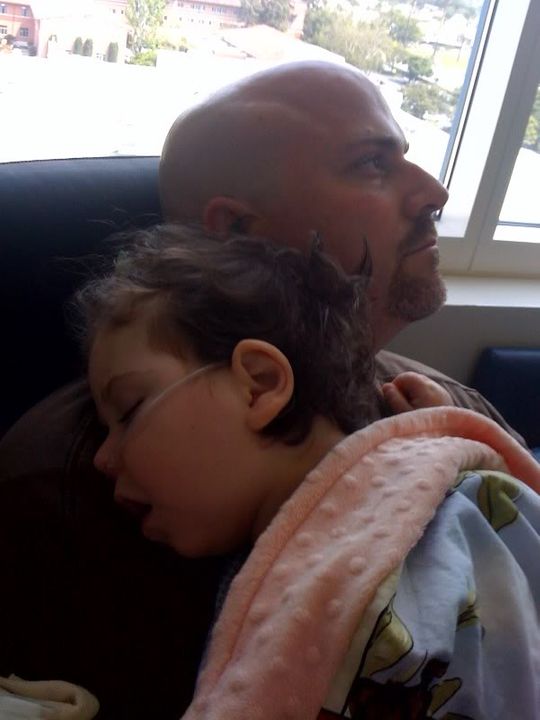 Last night was hard. The medicines to help treat the narcotic withdrawal symptoms plus the itchy symptoms were being administered once every 3 hours. It seems like Ella has already built up a tolerance because at 4am, she could not stop itching and wiggling around the bed. Unfortunately, they could not give her anything to help with the relief. She was wiggling and upset till 6am, when they gave her more meds.
This behavior was shared with the doctors. With this in mind they decided to give a half dose of morphine in between the other meds to possibly help with the withdrawal symptoms. The nurse gave the first dose this morning, and unfortunately, it did nothing for her. One of the docs came by and saw Ella having another episode in the afternoon. They decided to up the dose of morphine hoping it would help. We haven't use it yet, but there's a good chance we will have to later.
Tina and I are upset that they have to pump Ella so full of these other meds just to help her recover from the withdrawal symptoms. Even once the symptoms calm down, we'll have to wean her off these other meds. Granted, we won't need to be in the hospital to do this, but it could still take up to 6 weeks to titrate the methdone and ativan! Uhhhh…such a bummer.
Ella had a echo done yesterday, but we didn't hear the definitive results until today. It looked the same as when she was on the NO (nitric oxide) showing mild pulmonary hypertension. This means that the current dose of sildenafil isn't working like it normally does for her. Our guess is that it's being absorbed in the stomach but not in the small intestine, minimizing the impact. The docs ordered an increased dose for now until her small intestines are back in line. Hopefully this is all it takes to get her pulmonary hypertension back under control.
Tina also reminded the docs during rounds that Ella was on a regular dose of Miralax at home. They admitted forgetting this fact and wrote an order for her to be put back on it. As of this time, there's no set date on when we get to start feeding her. The surgery team came by and confirmed that we should still hold off on the food for now. The head surgeon listened to her bowels and, just by the sound, was able to tell that she's still too distended and not ready. He also affirmed that all the other meds we're giving to minimize Ella's withdrawal symptoms will slow down her motility as well. So for now the kiddo is on a steady diet of TPN and lipids via her IV.
With all the complications still in the way, it doens't look like we'll be moving out of the PICU for a bit. I guess we'll consider that a silver lining.
Thanks to all of you who have brought us dinner, sent cards, delivered gift baskets, and visited. The greatest blessing of being in California during this time is the fact that family and friends can support us with their physical presence. Your amazing love, support, and prayers keeps us sane. We also appreciate all the virtual love and support from our friends and family across the country. Thanks for being here with us!
Please continue to pray for our sweet girl…that her withdrawal symptoms will subside, her body will heal, and the Lords work will be done through the circumstances he's having us go through.
Thank you Lord for bringing us here and for carrying us through this incredibly challenging time. We know you're in control, and we trust in you, but it is hard to see your child go through this. We know you, Father, can relate. Jesus, we ask that you comfort our child and reduce her withdrawal symtoms. Heal her body, and make her whole again. We praise you Lord for the precious child you've blessed us with. Thank you for her. We love her so much. Amen