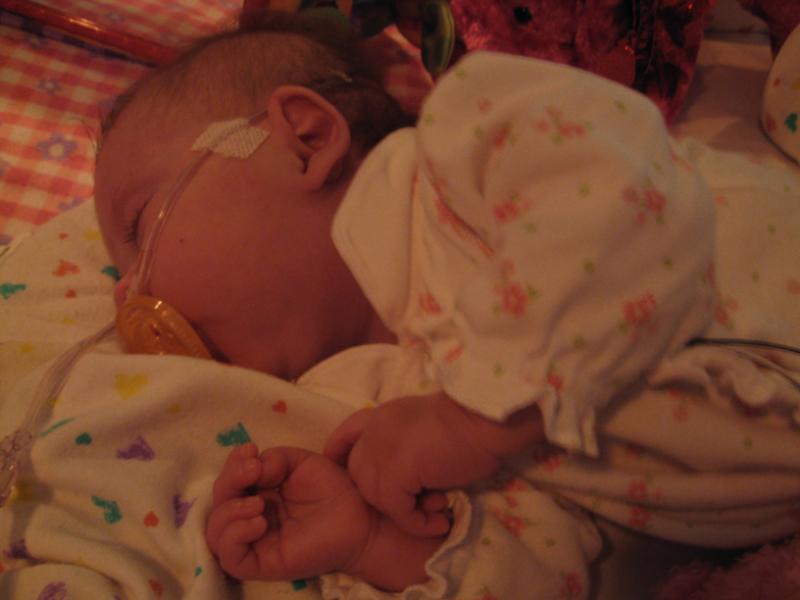 Ella slept through the entire night for Nurse Janet. It was great because at shift change (7pm), Ella was drowsy. But instead of letting her sleep, Nurse Janet some kept our girl up a couple more hours. She did this by doing her hands on assessment, weighing her, and keeping her entertained with stories just to make sure she that would sleep through the night.
We got up early to see the Bun this morning and we snapped the picture above. Yes, we got up early because we have the feeling this might be our last weekend without Ella at home, so…
We decided to take a break and escape to Disney World, about a 2 hour drive from Gainesville. =) We spent the day at the Magic Kingdom park and left there to go have dinner at P.F. Chang's (Tina's mom had given us a gift card for Christmas). We're going to stay the night in Orlando, and have breakfast with our friends (the Boemler Warings) tomorrow morning and then drive back to spend the day with Ella for the Martin Luther King holiday.
When we called throughout the day to check on Ella, she was doing great and having a good time with Nurse Kristen. It is refreshing to have Ella doing so well and maintaining the steps she has taken forward.
With all her great progress from this past week, it felt so good to just to top it off with some fun. We kept up with all the comments on the blog throughout the day from her phone. It was surreal to be at "the happiest place on earth" and to be blessed by everyone's words at the same time.
As the slogan goes, Walt Disney World, where dreams come true. We feel that our dream has come true in the life of our baby girl. We praise Him for creating such a wonderful little girl and we're excited to see how He continues to work in her life.
Thanks to all of you for how you have already participated in her life. As always, may she continue to be a reminder of Him and His call for us to trust Him, every moment of every day.