Wow, our baby girl is 6 months old today. It is amazing to think how much progress she has made already on this journey.
Ella had another echocardiogram today and the results were better. Her medicine is working wonders and they noted very minimal shunting. This means that there is a chance that her heart will be able to close the Patent Ductus Arteriosus (PDA) on its own. She has another follow-up appointment on February 7th.
The occupational therapist worked with Ella today on oral feeding. She gave her a small amount of formula orally through a special bottle that lets you control the flow from the nipple. On the fly, you can change it to have no flow to very minimal amounts while not having to take it from the baby's mouth. Ella didn't do that well yesterday when she first tried, but today she did great. That is a great sign of her potential to feed orally.
We are excited to let everyone know that she is being discharged from the hospital tomorrow! This means that Ella is spending her last night in the NICU at Shands! We're so thrilled. Nurse Michelle is honored to be taking care of her. If you remember, Nurse Michelle is one of the fab four nurses that first made Ella feel at home in the NICU by making a bow and attaching it to her coband (see this post).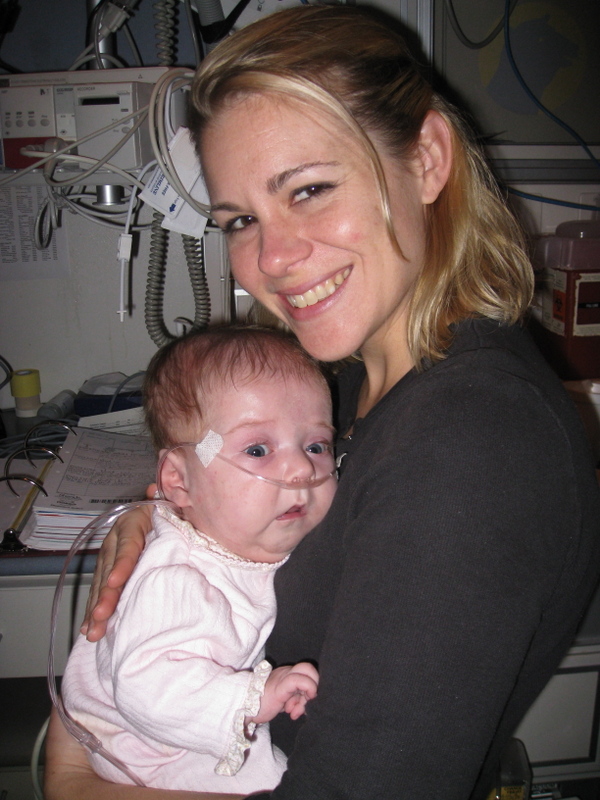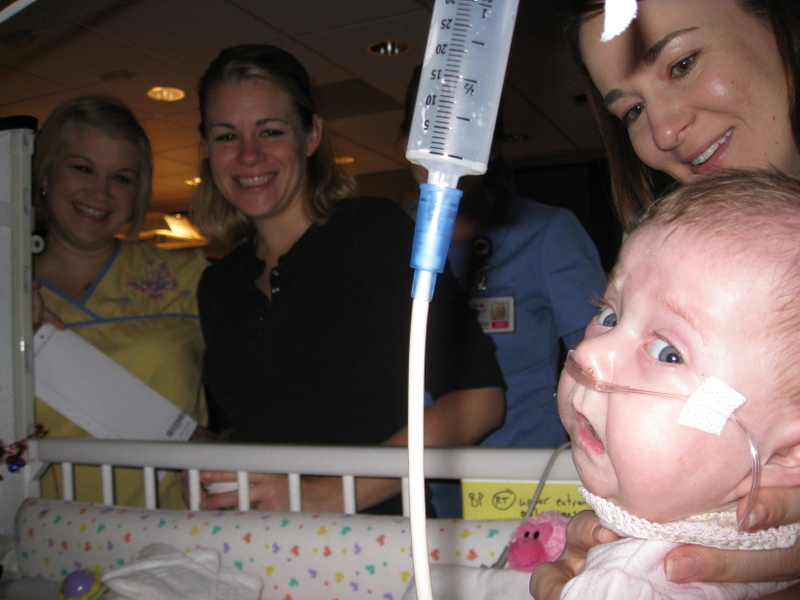 Our appointment for home oxygen training is in the morning at 9am. Normally, it is conducted bedside in the NICU, however they will be doing it at our apartment instead. It will be good to have them show us all the equipment in our own environment.
Once we are trained on all aspects of the equipment, we will be loading up a portable oxygen tank, our prescriptions for Ella and the car seat and heading off to the NICU for the remainder of the day. There are lots of discharge procedures to go through and last minute training topics to cover.
Just to clarify for anyone that has missed prior posts, we have been talking about this day coming for a long time. It is hard to believe that it has finally come our way and that Ella is well enough to go home.
When we say that we are excited to go home, we simply mean discharge from the hospital. Back in December, we prayed a lot about the next best steps. Our desire was to go back home to Colorado immediately. After a lot of prayer and several important things falling into place, it became clear that the Lord wanted us to stay in Gainesville close-by to Dr. Kays.
Our plan is to stay local in Gainesville until the end of July and move back to Denver in the summer. Here are some of the reasons that made our decision easier:
Since Ella has been so marginal during her recovery, we felt it would be best to remain close to Dr. Kays and staff that is so familiar with her history.
There is a great pediatrician local in Gainesville that has first hand experience with CDH babies.
When I originally looked in Denver for a pediatrician and other specialists for Ella, I was running into road blocks. Staying here for the first several months allows me to research and set up a good network of doctors for Ella's future care (this is not going to be easy and will take some time).
We want to introduce Ella to the outside world slowly; Florida weather will allow us to do that while the winter conditions in Colorado right now would force us to stay inside most of the time.
Driving back across the country in the middle of winter is not a great idea.
The altitude in Denver is not going to make breathing easier for Ella. We think it will be better if she has some months at sea level before taking on that challenge.
Taking on parenting is daunting enough, yet we feel that we have more support here in Gainesville for us and Ella. All our friends are staff in the NICU! Another added benefit, many of the NICU nurses will miss seeing Ella and may even want to babysit!

So, although we are excited to go back home to Colorado in the summer, we have total peace about staying in Gainesville for the next several months. We think it is critical for a smooth transition back to our real home in Colorado.
Please pray for our day tomorrow during discharge. We praise the Lord for how far he has brought all three of us and thank all of you for your unfailing love and support.
Psalm 57:10
For great is your love, reaching to the heavens;
your faithfulness reaches to the skies.