Praise Jesus we're home in Colorado. Thank God for our precious miracle of a child. She is so wonderful, and has such an amazing spirit. God knew what he was doing when he created her. We know our Lord is in control. You can't come through what we have and not believe in miracles or the sovereignty of God. The fact that I can sit here, write this, and my baby girl is next to me just blows my mind.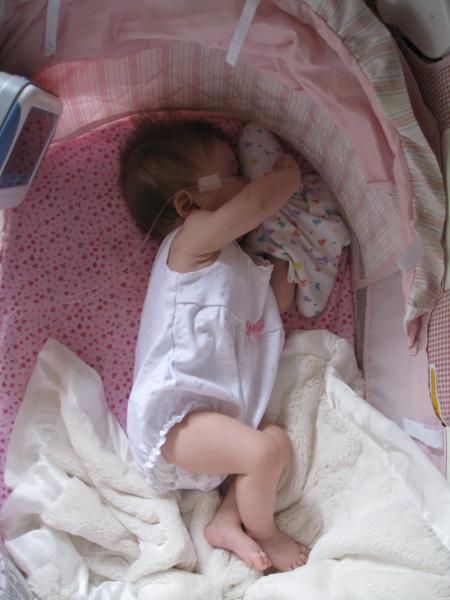 Tina is off running some errands and I'm hanging out with the Bun. It is impressive to see how far Ella has come, considering all she's been through, but…
There are moments where it's tough to see my almost 11 month old baby still not able to roll onto her tummy on her own, or to sit up on her own, or to crawl, or to do all the things a "normal" 11 month old should be doing. I know that even "normal" babies don't always keep on track, and I know she will eventually gain the strength to do these things. I don't say this as if I've lost perspective of what she's been through, or to make people feel sorry for us. I'm just being honest about where we are right now because our posts don't always reflect how we're doing at this level.
When you see your friends babies progressing at a steady pace, and people ask if Ella is doing such and such, it reinforces the fact of how much further she will have to go to catch up. I can always look and say that someone has it worse, because I know that many do, but I'm just talking about where we are right now and our desire to see Ella make steady progress forward. She is making progress…it's just very, VERY slow.
I guess the bottom line is: I just want the very best for my girl…it's hard to see her struggle.
Even getting into a routine at home has been difficult. I wish I could be around more to help Tina during the week and to keep her and the Bun company. To this day, it can still be overwhelming for me to be with Ella alone for extended periods. Of course, Ella's mood plays into this a lot, but this is Tina's full-time job and it's hard for me to fully grasp the impact that taking care of Ella has on her.
And let me affirm, like I have before, that Tina is an amazing wife and mother. Those of you that know Tina understand that she was not cast out of the "suzie-home-maker" mold. God has blessed her with incredible talents that have served her so well in the business world. This is why I am so impressed, even proud, of how Tina has taken care of Ella. She is sooooo patient with her, so loving, and so caring. She has such phenomenal intuition as to Ella's needs and does so much to make sure all of them are met.
Not only is there a good amount to do when it comes to fulfilling Ella's needs (i.e. medications, g-tube feedings, dealing with oxygen, managing doctors, plus the normal baby things, etc.), the things that most moms can do to bring balance to their lives (i.e. escaping to the mall, connecting with other moms in the neighborhood, etc.), Tina can't do because of Ella's risk of infection. This means not being around other children, and being selective of her exposure to public places. Keep in mind that a simple common cold could put Ella back in the hospital, and something like RSV could be fatal (these germs can easily be spread through the air by someone sneezing or coughing).
We don't know exactly when we'll be able to expose Ella more: A very conservative approach would be 4 years, less would be 2 years. This will be an area where Tina and I will pray for wisdom. In the mean time, we need to be so careful, which makes doing a lot of "normal" things very tough.
So this is a different kind of tough…not being in a level 3 NICU for 6 months tough, but still tough.
Even through the times that stretch us, we know that He's in control, but it doesn't make the experience any easier. That's part of the challenge…living out your faith even through the emotions and the circumstances.
We thank Him that we are rewarded every day with her sweet smiles. We are so blessed to have the gift that is Ella Renae.