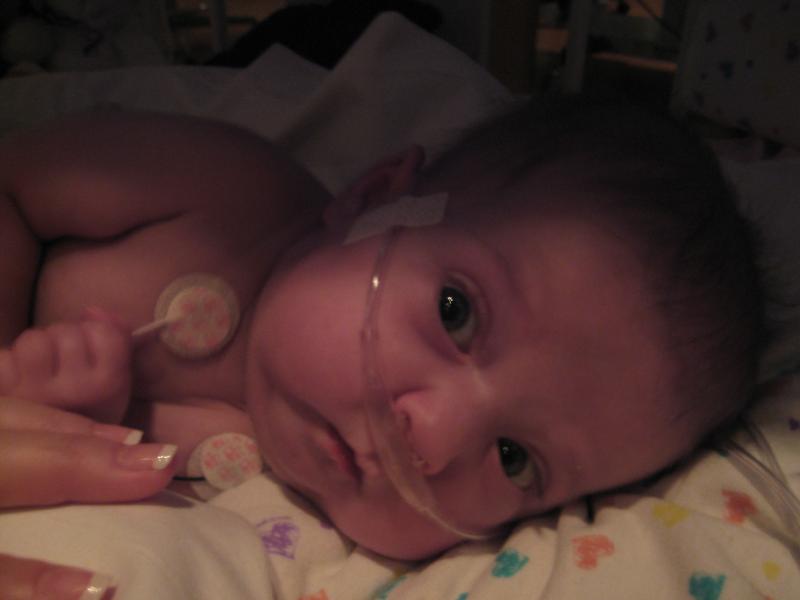 The Bun spent another day on the hot side. Her heart rate continues to be 20-30 beats faster than normal. She was irritated, crying and unconsolable at times throughout the day.
We are still waiting for the final blood cultures to come back to confirm whether or not she has an infection (maybe from her central line). Since the initial CBC came back okay, they are thinking that she might have a virus instead. A new symptom today was loose and discolored stools. This is the 3rd day that she has been warm and not feeling great.
Thus far, they do not think it is teething. Please pray that Ella's little body can fight off whatever has entered her body.
On a positive note, her lungs seem to be healing well. Dr. Kays came by to see her and weaned her lasix back to 2x per day via IV and the oxygen flow at 500ml. This is where she was at early last week, the last time she was stable. She has a chest xray scheduled for Tuesday morning to assess her progress. Please pray that her lungs do not show any signs of atelectosis.
We are so in love with our baby girl. We just want to spend all our waking hours with her. Please pray for our endurance for these last few challenges. The hospital routine is getting tougher as the days pass.
We know that God is in control of her progress and the timing of her coming home. That is how we make it through each day. But we need to seek Him constantly to have that peace. Pray for our endurance as well as Ella's.
Thank you for all the love and support.