Last night was tough. Sleep was not happening. Decisions regarding Ella's care were needed throughout the night.
The day before, we had lots of tummy trouble and struggled with feeds. By the time we got together a new plan to use the Peptamen Jr., we had skipped two whole feeding times for Ella. Her last diaper was at 3pm on Wednesday. As we went into last night, we were discussing her progress and adjusting our plan nearly every hour. Why? Ella was not urinating.
The first concern at midnight, then 1:30am. They were debating whether or not to give her an IV. Her dose of Captopril had increased on Wednesday, but food intake was lower and all other diuretics and meds were the same. With her increased heart rate and lack of urinating, could it be possible that Ella was too dry?
At one point, we compromised to add an additional 10ccs of Pedialyte to her nightly feed along with her formula. Yet after 2 hours, still no urine output. So we had another debate on the possibility of placing an IV. We were trying to think of other solutions that did not involve an IV. It was tough: Josh and I were feeling like our brains were not working. We were just too tired.
At 5am and 14 hours without any urine output, we decided to turn off the formula and switched to her Pedialyte solely. Since it is easier to digest, it would be a more effective agent at getting the fluid into her system. Kidney failure was a brief topic that surfaced. We prayed fervently and drifted off to sleep until 7am. It was agreed that if she did not have any urine output by that time, that we would concede to an IV.
Shift change happened at 7am and no urine output. As 7:30am approached, the nurse was doing vitals and discussed that the IV and labs would be happening momentarily. I think Ella must have heard the nurse talking. As she lifted Ella onto the scale to weigh her, the Bun started peeing! She soaked the blanket. Praise God that she finally took a pee!
The Pedialyte was effective at putting fluid back in to her system, so we continued until 1:30pm in the afternoon without a break. Her labs confirmed that she was dry – the BUN was 30. Since it is not good to be "too dry", they wanted to make sure to get fluid in her quickly.
Ella has still been sensitive to feeds and volume, but we started her back on formula for her 3pm feed. We are able to deliver at a run rate of 40ccs per hour; anything higher causes too much discomfort. Over the coming days, we will need to work up to bolus feeds of 100ccs which was our baseline before surgery. We will make good progress during our hospital stay, but it is reasonable to expect that we may be hooked up to a food pump for a while, even once we go home.
Once again, respiratory status for Ella was great today. She is very dry, so that is not surprising!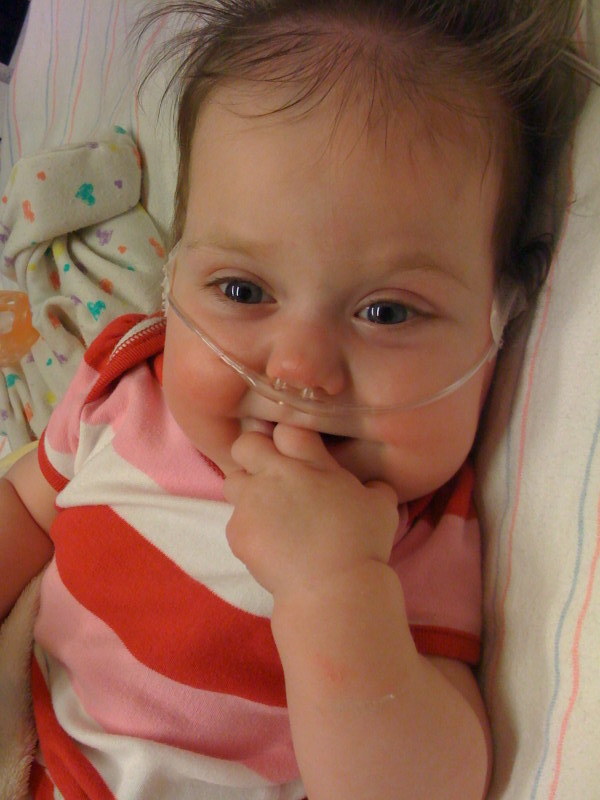 I think the tummy trouble improved today. It was the 3rd day of taking Prevacid and I feel that is what made the difference. At her 3pm feed, I gave her Maalox to help with her discomfort. But during her 6pm feed, she took it fine and did not require any meds (that was a first). I took that as a huge sign that she is getting better with feeds.
Tonight, her overnight feed is running for 10 hours at a rate of 40ccs per hour. We are hoping for a restfull night's sleep and lots of urine output!
Speaking of urine output, we took the first step to change/reduce Ella's diuretics. Because she is so dry, the opted to cancel the Bumex dose that was due at 9pm tonight. We are excited…we're not sure if Ella's body would tolerate discontinuing the Bumex dosage completely, but that's our prayer. The Bumex is just a really strong diuretic and they are concerned that her kidneys may have gotten used to it. So it has become less effective over time due to chronic use, is adding to her nephrocalcinosis and requires that electrolytes be monitored closely (lots of sticks for blood work).
We hope for Ella to urinate tonight and have a BUN that is in the normal range tomorrow (12-18), without any respiratory distress. This way, they can continue to increase the Captopril dose and decrease her diuretics. Also if feeds go well overnight, it will be considered "official" that Ella is tolerating Peptamen Jr. That is another positive step forward.
I can't believe that we have been here 19 days, almost 3 weeks. The "art" of tweaking all these elements for Ella could still mean several more days in the hospital. They have never mentioned discharge, but our instinct would be the middle of next week, at the earliest.
Please pray for the three of us as we drift into sleep at the Children's Hospital tonight. We really don't want another sleepless night in Denver.
We praise Him for Ella Renae. We're thankful for His providence and His plan. We know that He promises to take care of us and is with us every moment of every day. We're so thankful for Him bringing us to this hospital and for all the doctors that are helping in Ella's care. We're so pleased that Ella did so well in surgery and that she is on the path to recovery. We thank Him for all the lives Ella has touched and thank Him ahead of time for all of those she will bless in the future.
Psalm 28:7
The Lord is my strength and shield.
I trust him with all my heart.
He helps me, and my heart is filled with joy.
I burst out in songs of thanksgiving.