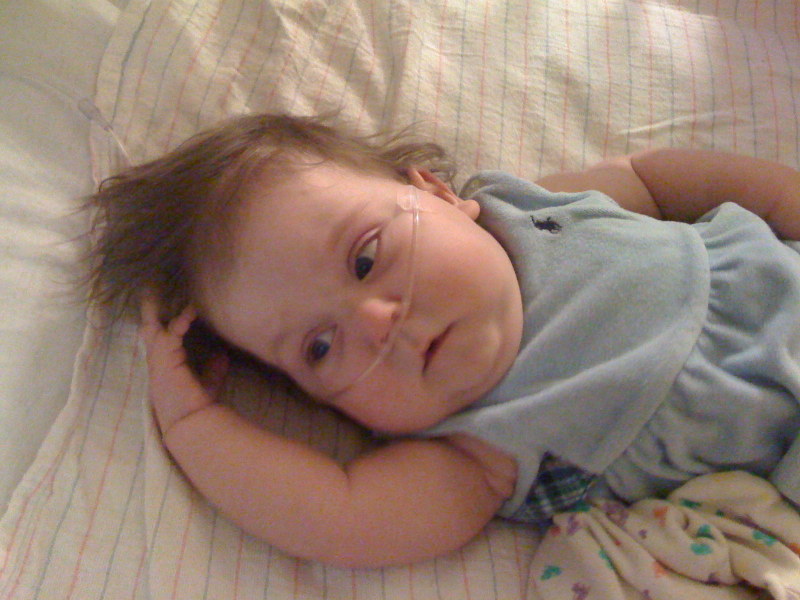 It was another restless night for Ella. By the morning, she started coughing and retching a lot. You could hear the secretions in her airway. Since they discontinued all of her diuretics yesterday, the thought is that now she might be getting a bit "wet" again.
Her heart rate while she was just laying there watching her video was between 175-185. Her urine output for the last 24 hours was down a bit. And then the scale told the story, she increased from 7.7 kilos to 7.84 kilos overnight.
So this morning, the doc went ahead and added a low dose of the combo diuretic back into her regimen (aldactazide). But instead of dosing it 3 times per day, she added it back for twice a day. Once again, just taking the time to figure out the art of the right medications to put Ella in the best place. Now if everything goes great, maybe we can think about returning home at the end of the week.
Since Ella wasn't feeling great, there was lots of fussy behavior. Some days are harder than others and it was one of those days where you wish you could switch places with her, just to give her a break. I can't imagine feeling the way that she does each day. And yet somehow, she finds a way to break a smile here and there.
The Bun is making slow progress with food. The fussiness and discomfort are there but we are slowly adding more food to her daily feeds and stretching out her belly. Today, her bolus feeds were at 80ccs over an hour and a half. Our goal is 100ccs over an hour and a half. Then, we will look to reduce the hour and half on the food pump down to bolus feeds.
We were finally able to give Ella a real bath tonight. I think we enjoyed it more than she did!
After the bath, a manicure was necessary! Josh was taking pictures and it made him reflect on another time that he was taking pictures of this same event in the hospital. Wow, what a difference a year can make.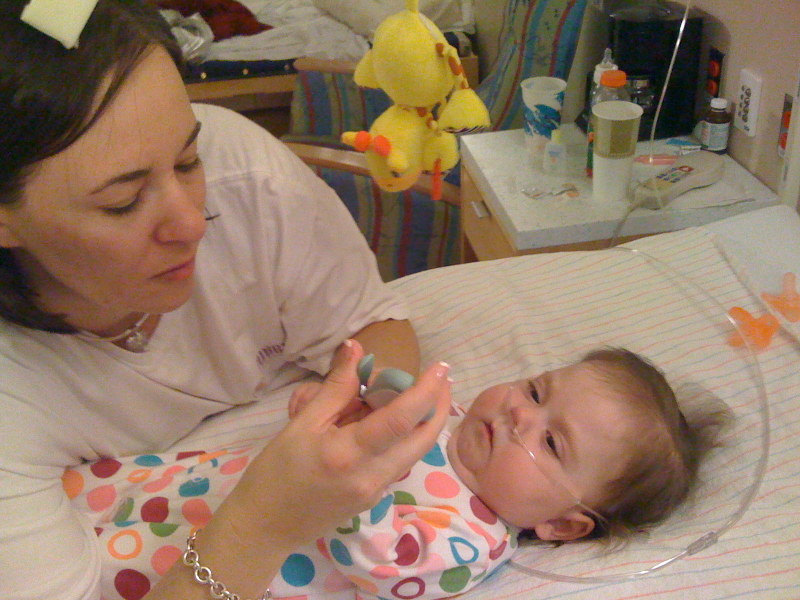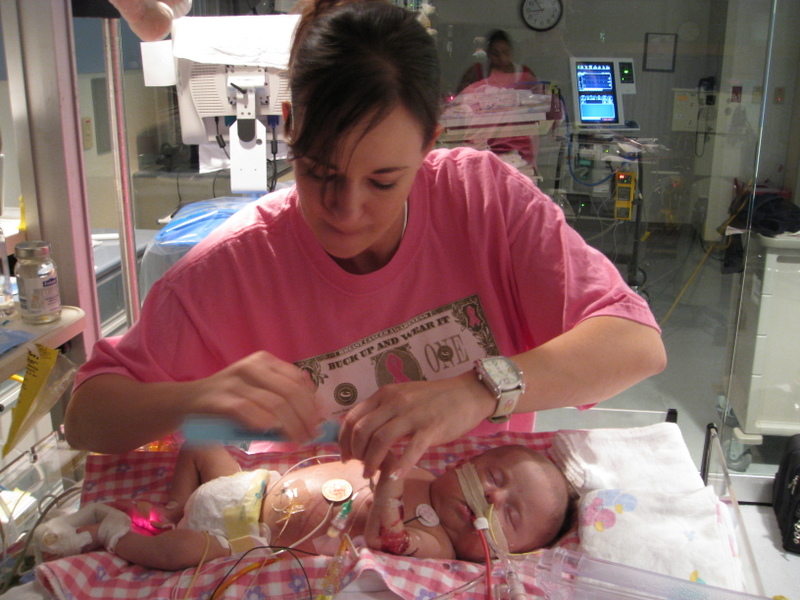 On a personal note, our rental home in SE Aurora has still not rented. We have advertised it for 4 months now. Since it remains vacant, we recently asked God if He was trying to get our attention and wanted something different from us. A week ago, we put both our rental home and our primary residence (our Lone Tree townhome) up for rent. With everything else going on, we cannot imagine having to move. But clearly we want His will to be done in our lives. Please join us in praying that He would make it abundantly clear for us and that if He wants us to move, He will provide the resources to make it happen.
Thank you so much for the support and prayers. Each day we find moments to tell new acquaintances about Ella Renae. We send them to this site to read her story and see how God has worked in our lives during this challenging time. It seems like one life at a time is touched.
Although the journey is hard and the road is tough, our faith and dependence on God has been enriched far beyond our imagination.
Lamentations 3:19-33 (The Message)
I'll never forget the trouble, the utter lostness,
the taste of ashes, the poison I've swallowed.
I remember it all—oh, how well I remember—
the feeling of hitting the bottom.
But there's one other thing I remember,
and remembering, I keep a grip on hope:
God's loyal love couldn't have run out,
his merciful love couldn't have dried up.
They're created new every morning.
How great your faithfulness!
I'm sticking with God (I say it over and over).
He's all I've got left.
God proves to be good to the man who passionately waits,
to the woman who diligently seeks.
It's a good thing to quietly hope,
quietly hope for help from God.
It's a good thing when you're young
to stick it out through the hard times.
When life is heavy and hard to take,
go off by yourself. Enter the silence.
Bow in prayer. Don't ask questions:
Wait for hope to appear.
Don't run from trouble. Take it full-face.
The "worst" is never the worst.
Why? Because the Master won't ever
walk out and fail to return.
If he works severely, he also works tenderly.
His stockpiles of loyal love are immense.
He takes no pleasure in making life hard,
in throwing roadblocks in the way.