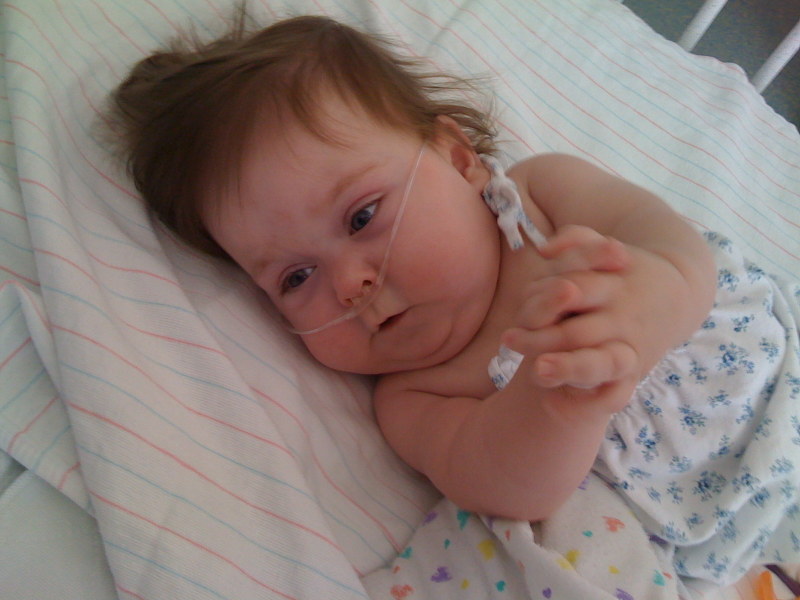 Going into the PICU (Pediatric Intensive Care Unit). Yeah…we should know better with Ella. Things don't always go according to plan.
Last night was rough again. She was retching every 45 mins or so.
This morning, she seemed to be getting worse. Her heart rate was still high, varying from 165-190, while she was just laying in her crib. And like yesterday, her saturations were not great.
When she was asleep for her morning nap, her saturation was 92 with a heart rate of 180 and breaths per minute at 78. I have been trying to tell the docs since yesterday that she doesn't look as good, but I wanted the nurse to communicate the same story. So, I made sure to have the nurse assess her in that moment. The nurse agreed with me, reported back to the docs and even suggested that we increase her oxygen to 1.5 liters, since Ella started saturating in the high 80s consistently.
The echo was completed this morning at 9am. I could tell based on small talk with the technician that her echo did not look great. He even stopped during the test and asked the nurse for her latest blood pressure. I have never seen that done before. My gut told me that something was not right.
When they did rounds, I did my best to articulate my concerns. I told them that the sildenafil had to be making a difference, just based on her behavior. They didn't seem overly concerned and mentioned that they would be back to discuss the plan once they read the results from the echo.
About 1.5 hours later, a somber pulmonologist walked into my room. It was almost like his tail was tucked between his legs. He had the unfortunate task of telling me that he felt that Ella needed to be moved to the Pediatric Intensive Care Unit. The echo shows that she does need her original dose of sildenafil. In addition, they saw some things on the echo that make them question how her heart is functioning. Although they did not go into detail, you could tell that whatever they saw on the echo made them very nervous.
Also, Dr. Abman talked about a cardiac catheter three weeks ago when she had surgery. We always knew it would be a possibility. Now that they have tried playing with the sildenafil and captopril and things have not resolved with just meds, they want to go ahead and perform this invasive procedure.
As a side note, Dr. Abman is traveling today and was in touch with his team to approve this decision. Even though he was traveling in Canada today, he made sure to call the room and talk to me, to see if we had any concerns.
The docs tried to see if the cardiology team could do the heart catheter procedure today. The sooner, the better so her condition can be treated. Once they realized her history and that she is complicated, they decided to wait until Friday. This way, they can check her history and make sure that they know what they are getting into with her anatomy. They also suspect that her vessels in her heart might be narrowed, which might require ballooning them out. This way, they can also schedule a cardiac anesthesiologist and make sure they have the proper staff to handle whatever they might encounter. We have not been given a specific time for the procedure yet.
In the meantime, we are hanging out in the PICU. The room has no privacy (glass walls), is smaller, has a toilet area with a curtain but no shower. Also, you cannot eat in the PICU rooms. Definitely not the living conditions that we had upstairs. This just makes all of it a bit more challenging in the days ahead.
So we are bummed that the heart catheter test is not until Friday. This means 2 days of waiting around in the PICU before we have any information on what will help the Bun. The good news is that they are still determined to figure out what is ailing Ella. Once this test is done, Dr. Abman and his team should have all the information that they need to make an educated decision about Ella's care.
Please pray for Ella's heart and her comfort as we celebrate her 14 months of life today. As always, we're trusting Him through another bump in the road. May He be glorified through Ella's circumstances, as we continue to share and be a witness to those around us.
James 1:2-4
Consider it pure joy, my brothers, whenever you face trials of many kinds, because you know that the testing of your faith develops perseverance. Perseverance must finish its work so that you may be mature and complete, not lacking anything.