Ella had another good day filled with smiles. Clinically she looks great, along with her heart rate and saturations at night. She is still retching quite a bit, which continues to be difficult to deal with, but we're working through it.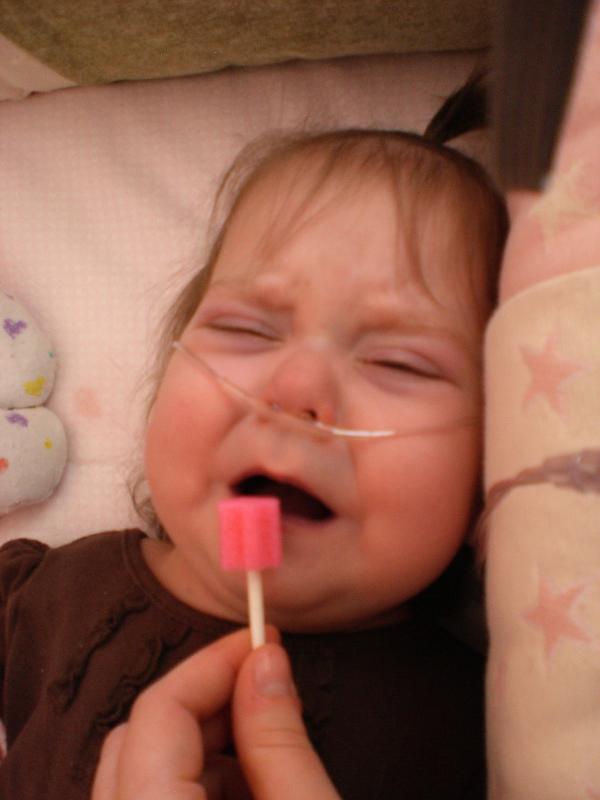 You can see by the picture above how the Bun feels about having things placed in and around her mouth. Kelly is doing a good job of trying to get Ella over her oral aversion. It's just going to take time.
Praising God for where Ella is today. It's so nice to have her feeling well overall.
Tina is enjoying a small party at our neighbors house while Kelly and I hold down the fort. It was a busy week and I'm glad the weekend is finally here.
Oh…and I knew better than to show my face as Santa Claus to my little girl. She currently freaks out if I'm wearing a skull cap to cover my bald head. I'm sure the day will come when she gets to meet him…looking forward to that day.
Thanks for continuing to check in on us.
Psalm 40:16
But may all who seek you rejoice and be glad in you; may those who love your salvation always say, "The LORD be exalted!"
P.S. Please continue to pray for Olivia and the entire Bassett family.
Lord Jesus, bless the Bassett family and may your healing hand touch Olivia. Send them your comfort and peace Heavenly Father. Amen.