Ella had a fantastic day. I did too because I got to spend some quality one-on-one time with my girl while Tina and her mom did the mother-daughter shopping thing.

When I arrived at the NICU, Ella was asleep. To my surprise, her CPAP pressure (peep) had been weened down from 6 to 5. She's still on 45% oxygen. Originally Dr. Kays said that he might ween her on Monday, but she's looking so good, he decided to do it a day early.

It was amazing to see this little girl of mine, resting so comfortably. Looking at her cute little face, eyelashes, nose, mouth, arms, hands, fingers, (I could go on), it just doesn't seem possible that she's come through everything that she has…but she has, and what an inspiring testimony it is. I'm just in awe that she's my baby girl.

I sat beside her pondering this, when she began to wake up. She gently opened her eyes and gave me some smiles. Such a precious girl. I figured she needed changing so I took care of business. Fortunately for me it was a "nice" diaper.

Then, Nurse Marla took Ella out of her crib and got us both settled into a reclining chair. Things were so comfy for both of us that we nodded off. Nurse Joy snuck a picture of us sleeping together. Ella was peaceful and seemed so comfortable. This is definitely the best I've ever seen her look.

During shift change, I bumped into Liz and asked how baby Par was doing. Overall it sounds like he's doing good, but he experienced some feeding issues today. We hope that this is just a bump in the road and that Par will get back on track in the coming days. Please pray that Par's feeding will improve and for Liz and Rusty's peace during those times of feeling helpless.

I was also able to catch up with Jasmine. Jonathan is recovering from his repair surgery. It turns out that his CDH was more severe than expected. For this reason the surgery had some complications, taking around 10 hours to complete, but Jonathan is fighting hard and he is making forward progress. We praise God that he's come through surgery and continue to pray for his kidneys, liver, overall healing, and positive steps forward. Please continue praying for this special boy.

After talking to Jasmine I went back to see our girl and was happy to discover that Nurse Janet has her tonight. It's so reassuring when a core nurse is taking care of her. I was able to help Janet with Ella's "hands on", and afterwards starting calming the Bun down in preparation for bedtime. When, to my surprise, Tina walked up. I guess her and Grandma had to stop by and see our girl too. Upon seeing her mom, Ella was no longer interested in closing her eyes. I then went out to the lobby to let Grandma go back and see our girl while I put the post together.

Thank you for your continued prayer support for Ella and her friends.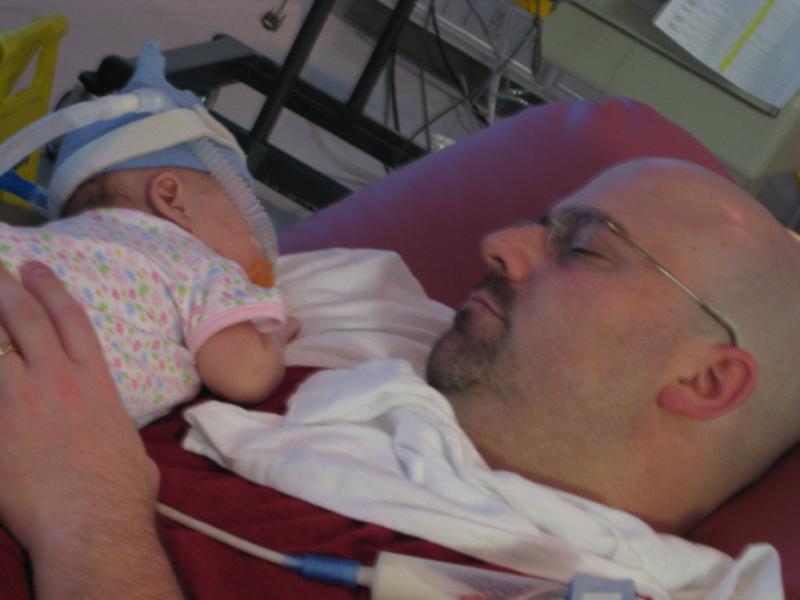 p.s. I had a good trip out to California see my Grandmother. It was great to surprise her with my visit, and the look on her face alone made it worth it. She totally lit up when she saw me. It was amazing timing too because she was telling the nurse that morning how much she wanted to see me and my little girl. She settled for just seeing me, but I was able to share some videos of Ella with her as well. Currently, she is stable in the Cardiac Care Unit, but her lungs are not improving like we would hope. They'll be using an endoscope tomorrow to explore her lungs to determine what other treatments she may need. We're praying for her lungs, heart, and kidneys, and for her pain to be eased.