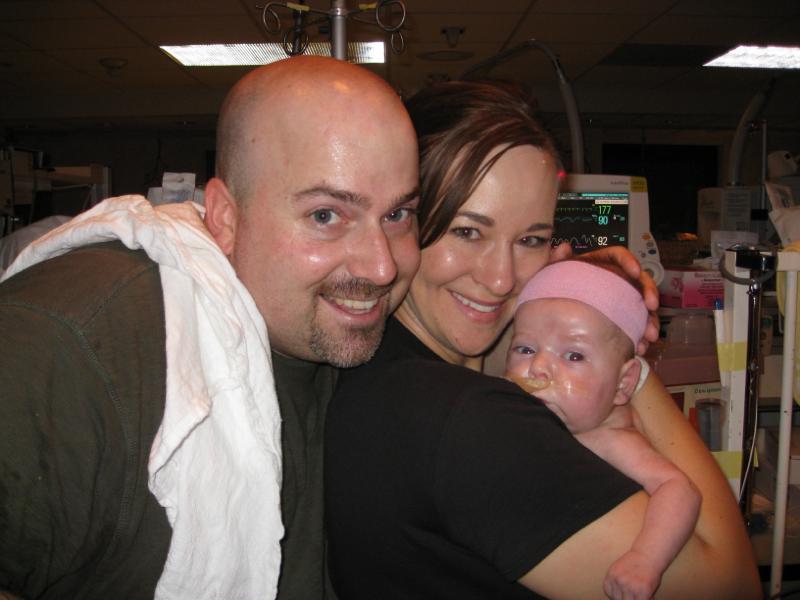 Ella had a pretty uneventful day. This is a good thing. We want her to keep taking these steps forward with minimal "events".
The Bun has been eating pretty steady too and they've upped her feeds from 60ccs to 64ccs. She's being fed over an hour period at three hour intervals. Our girl is putting on some more chub as well. She's now weighing in at 9lbs 7oz.
Her CPAP pressure is currently at 3, which Will (a respiratory therapist) commented on being the lowest he'd ever documented. Ella looks good though, and this gives us hope in her taking the next step to the regular nose cannulas (hopefully Thursday).
We had one of the NICU graduates come visit us today! Baby Evan and his mom Tamara stopped by to see us to drop off some early Christmas presents. Evan looked FANTASTIC! He was so engaging and bright eyed. It's so encouraging to see these other CDH babies doing so well. What a true blessing.
When we arrived at the hospital tonight, Liz and Rusty were both with Par. It's nice to be next to our friends in NICU 2, plus it's comforting to know that Liz probably has at least one eyeball on Ella most of the time.
Tina and I did get a chance to talk to Jasmine and Chris tonight. Please continue to pray for baby Jonathan. He is still in a critical place. We ask that the Lord's peace be upon his parents during this time.
We know that many of you have followed us on this journey in spirit, but have not posted a comment. Just know that we appreciate your thoughts and prayers that are lifted up for these precious children even though they are not done so in a public manner.
God Bless all of you.
Psalm 9:10
Those who know your name will trust in you, for you, LORD, have never forsaken those who seek you.