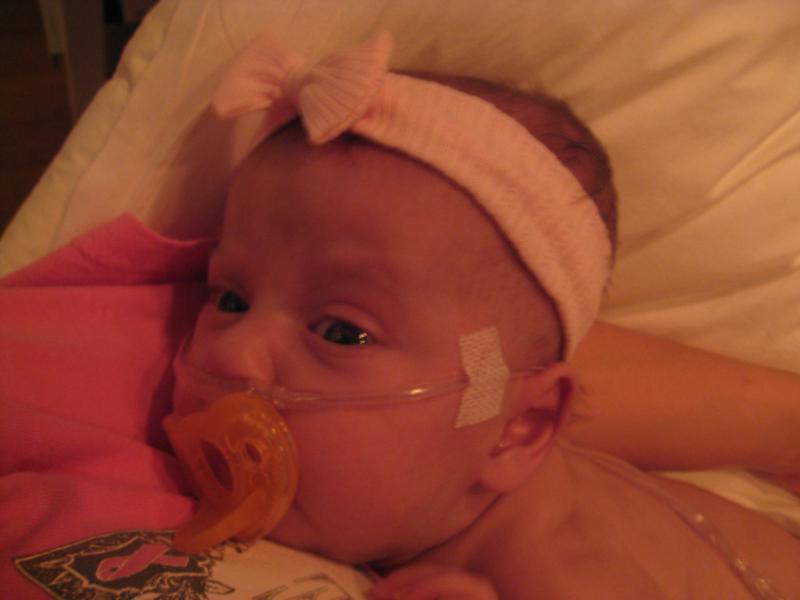 For some reason, Bun did not sleep that much last night. This morning, she was wide awake and had a great time with Nurse Andrea. About noon, she became fussy and overtired. Also, she had a slight fever most of the day (temperature of 100). While she had the fever, her heart rate was elevated to about 180-200.
Finally about 6:30pm, I was able to get her to a solid sleep. The good part is that once she really fell asleep, her heart rate dropped to around 150, which is more normal for her. That was the first time I had seen that all day.
I'm not sure why she had a fever today. We will see how she does overnight and whether or not it was a fluke (there was a time before when she was getting unexplained fevers).
Besides the fever and being overtired, Ella's saturations looked great today. They were pegged at 100 solid all day. This means that her lungs are feeling better. She stayed at 750ml of oxygen.
Dr. Kays came around and asked about her progress. She is still fighting off the fever, so he opted to leave everything as-is for now. He mentioned that she is supposed to have labs again in the morning. If she is looking more like she was before this recent set back, he may look to wean her oxygen again.
Par made it home safely last night and Ella is missing him! She even put on her cute bow tonight, hoping that it would lure him back. It didn't work, but at least we enjoyed it.
We are so excited to take the Bun home some day. Please pray that day will come sooner versus later. We think she will make so much more progress in the home environment versus the hospital.
Thank you for your continued prayers.