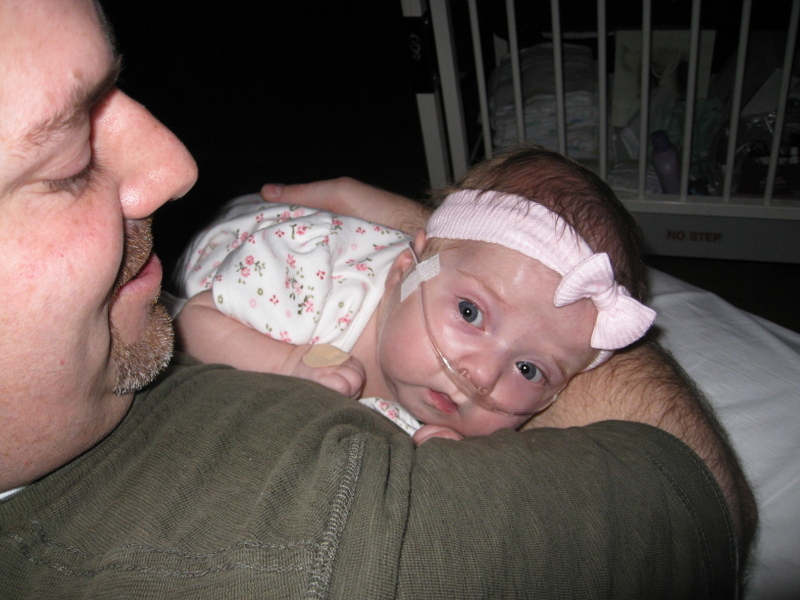 Tina and I spent most of the day with Ella and she looks good. Ever since she was put back on her regular dose of diuretics via her IV, she has felt more comfortable, and her numbers have improved.
The only issue over the last 48 hours has been her elevated temperature. Ella's heart rate also increases when she has a fever, anywhere from 20 to 30 beats per minute. I saw it hover between 200 and 210 beats while I was holding her. Probably not a good idea for her already very warm father to be holding her. I can help her if she's cold, but I don't think I'm helping her out when she's this hot.
They ran another round of tests (CBC, etc.) and all came back negative. It doesn't look like she has an infection. We think she may be showing signs of teething again, which she did a few months back when she spiked a fever (something a few of you have suggested). She doesn't really seem more agitated either, which is also a good sign.
Tina and I are getting more comfortable with her G-Tube. In fact, when we're there, we try to get involved as much as possible with her care. Ella had a new nurse today, but it was great because she was really open to learning more about our girl (her likes, dislikes, her fav sleeping positions, etc.).
The nurse was also very encouraging by letting us take charge of feeding Ella, which is great practice for when we go home. Venting her G-Tube before feeds, setting the pump for the feed, venting afterward, administering her PO medications. This is all stuff we'll be doing at home, so why not let us start getting the full hang of it now.
After putting Ella down for the night we had dinner with a family that has a CDH baby in the NICU as well. We had a great time hanging out with them and their boys for dinner.
I so want to take our baby girl home. Knowing that the day of being released from the hospital is so close, is making every day we continue to be there even more tiring. We do trust in God's perfect timing, and there is peace in that, but my flesh is also weak, and I want to be done with the hospital. I can't wait for the sunlight to fall on my baby girl's face for the first time and have her see the world outside.
I know the day will come, but right now it just can't come soon enough. Until then, we will continue to rejoice in the Lord for all he has given us, and for the blessing of so many other CDH babies going home. We also mourn the loss of those who have left to be with Jesus, but take comfort that they are in His arms.
Praising God for this day, and the many days to come with our baby girl, Ella Renae.
Thank you for your continued prayers, and God Bless.