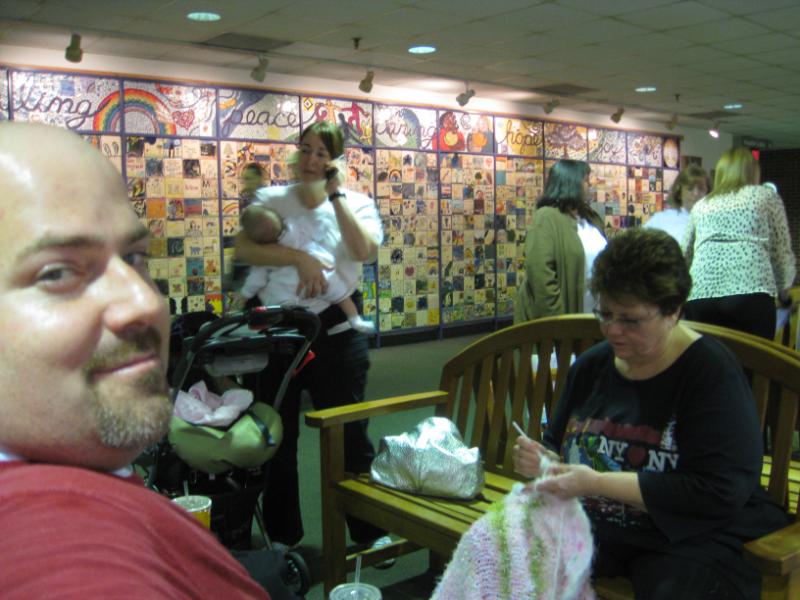 Yep, you guessed it. The state of Florida had a day of severe thunderstorms and tornado watches. When Josh woke up and watched the news, concern set in.
The Weather Channel showed that we had about an hour before the storms truly hit Gainesville. The reports indicated that there was already one tornado just east of Tallahassee and 2 people had died. They were urging people to take shelter since the storms were going to be heavy.
Looking around in our second floor apartment, there is not a real safe area to take shelter. In addition, the last time we had heavy storms, the power went out. Fortunately, it came back on within an hour. But remember that when this happens, we have to scurry to hook Ella up to a portable oxygen tank.
So knowing that a heavy storm was approaching and that if we felt in danger and needed to leave, that would not be an easy task with Ella and her garb.
Our best idea was to go to the hospital. It is close, has a basement and would have oxygen and anything else that Ella might need.
Once we decided, we were on a mission and began running around the apartment to gather all our necessary items. We made it to the hospital just as the storm began to get heavy.
We hung out in the atrium of the hospital. Without knowing it, they have free live music on the first Friday of each month. So, we ended up sitting in the perfect spot. They played jazz type music and Ella just loved it. She ended up falling asleep as they ended their presentation.
With wifi available, we did our best to work with all the craziness. Fortunately, we were both able to get our obligations completed. For me, it was my last day at work…how strange.
We ended up coming home around 5pm, safe and sound. What an experience…
Reflecting back on the whole day, the highlight of the hospital visit was a lady named Eve. From the moment that we walked into the atrium, Ella was alert and checking everyone out. She spotted a lady at the coffee stand. From across the room, they exchanged a gaze. Next thing I know, she walked over.
Josh did the talking as I was holding and entertaining Ella. Eve expressed to us the beauty that she noticed in Ella. She confirmed the sweet spirit in our baby girl.
We told her about our journey from Colorado and how we spent 6+ months in the NICU. All in all, we simply shared that Ella is a miracle and that it has been an amazing experience. It ended by us sharing the blog, so she could read about our entire story, if she wished.
She mentioned that she would pray for us and that she would share our story with her church, so that others could pray for us too. By the time we settled into the atrium and logged onto our computers, she had already posted a comment and subscribed to email notifications!
I am not giving it justice by my description, but the entire experience was almost surreal. Here a complete stranger decided to walk up to us and ended up being blessed by Ella and her story. But more than that, we were so blessed by Eve and the comments that she had to make about our girl. Josh kept affirming that if the encounter with Eve was the sole reason for us being prompted to go to the hospital, then it was all worth it.
It is amazing how the Lord can use our baby girl each and every day to bless others and remind us of what is truly important.
Exodus 9:16
But I have raised you up for this very purpose, that I might show you my power and that my name might be proclaimed in all the earth.