We're home but it has been tough.
Ella doesn't feel great. You can just tell. It makes it seem like we should not have left the hospital. We were just was tired of being in the hospital setting and pushed to come home.
Last night, she seemed uncomfortable. We decided to skip her nightly dose of diuretic since a) she has been too dry and b) she missed a bunch of food during the day. This morning, she was still not acting like herself. We called the docs, explained what we did last night and how she was behaving. Without hesitation, they opted to not give her the morning dose of diuretic (Aldactazide). They asked us to monitor her closely and to resume our regular schedule of medicines tonight.
She's just not acting like herself. We miss our girl so much – – the one that feels good and is playful with lots of smiles. We had a small taste of that last week for a few days. But our theory is that she became too dry and is now uncomfortable. For example, today we could get her to smile but it took lots of coaxing just to get anything.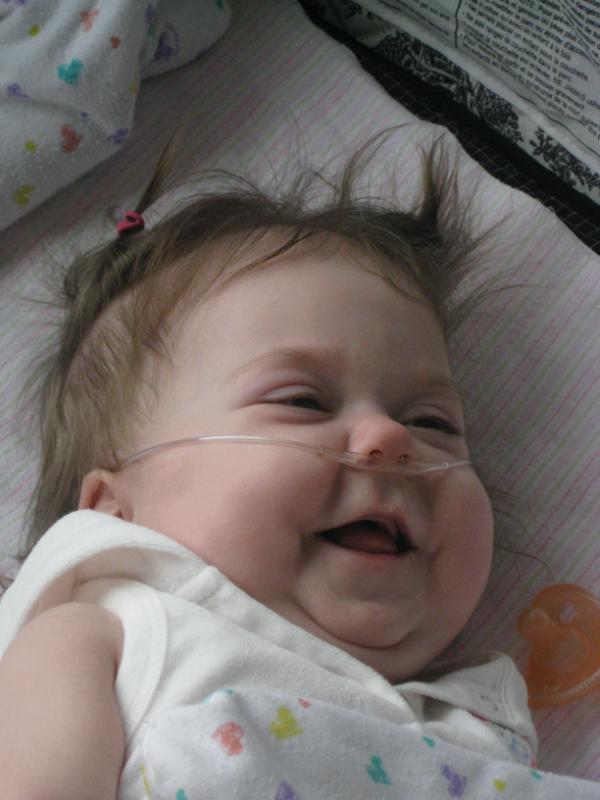 Now, the docs want us to go to the Children's Hospital and get labs on Thursday, plus get on the scale. I was hoping that would be a 1x/week situation, but Ella is just too fragile.
Please pray for strength for Ella's body. Our hearts desire for Ella to be feeling good and more like herself.