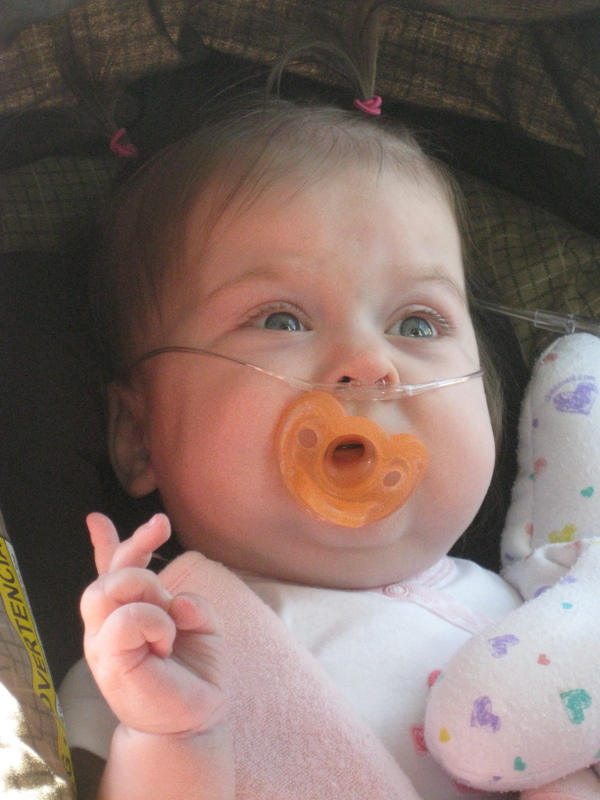 Ella's night was restless and she was not comfortable.
From midnight until 4am, she did not stir much. When she did and I ran into her room, I noticed that her food pump was not running (flow error). Ahh…that is why she has been so quiet the past few hours. As soon as I turned on the food, I was up every 30 minutes thereafter.
We had a visit from a nurse at our house today. We requested this service when we were in the hospital and insurance approved it. She will come once per week to assess Ella, weigh her, etc. Also, she will be able to administer shots. This will be great, especially for synagis shots this winter season.
The nurse was listening to me describe all of Ella's feeding issues, and then she asked if we had tried a farrell bag. I had never heard of the term. Apparently, you can get a extension set that fits into Ella's g-tube. At the top of the tube, there is a "Y" connection. The food bag connects to one side with a farrell bag attached to the other side. The farrell bag allows for venting while the food pump is feeding. It sounds good because air/gas is one of the biggest problems that we are having right now. Especially overnight, I am venting once every 30 mins – 1 hour. For those of you that do not realize, that is a lot of venting! Maybe this new set up will help Ella. Unfortunately, it will take a few days for it to arrive.
Ella was fussy most of the morning. She did not like the nurse visit (she weighed in at 7.88 kilos). Overall, she was feeling lots of discomfort from the 26 calorie food and therefore was simply unconsolable.
We got into the car to drive to the Children's Hospital and Ella seemed relieved at the change of scenery and the fact that she was not eating! We went to get labs done. It took two sticks to get what we needed. Her BUN is 27. Much better. Going the right direction. She weighed in at 7.8 kilos on the pulmonary clinic scale. So, she has lost weight this week but I am not surprised considering how much less food she has received.
When we got back home, we made the EleSure with less concentration at 24 kcal and started her feeding continuously again at a rate of 25ccs/hour. She started to do really well. Kelly played with her and she was in a great mood, smiling and all. We haven't seen this behavior in days. I think the food is a huge deal; less dense food is better for her these days. The wrong food can just make her really uncomfortable and extra fussy. We'll see if the farrell bag solution will help her overall, especially when we try and move her towards a normal feeding schedule.
It was such a nice reprieve to see Ella feeling better this evening. We pray that she continues to heal and tolerate food.
Psalm 25:4-5
Show me your ways, O LORD,
teach me your paths;
guide me in your truth and teach me,
for you are God my Savior,
and my hope is in you all day long.