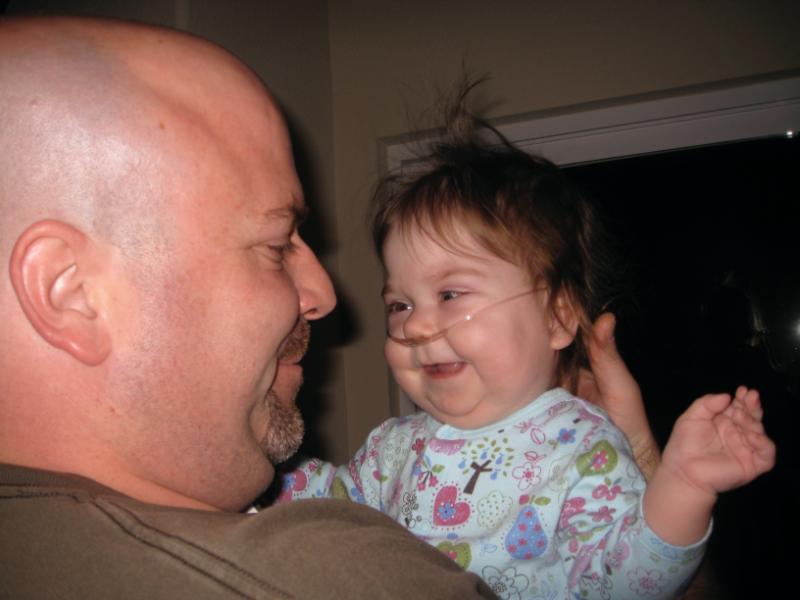 Ella had another good day.
It was a little rough because we had to return to the hospital. More labs and another weight. She melts down and despises the whole experience. And you really can't blame her. She likes getting in the car and having the change of scenery. But once she realizes where we are and what we are doing, the meltdowns begin.
As of tonight, we are not sure what her labs look like. Hopefully, we will find out tomorrow. Regarding her weight, she lost more again. One week ago on discharge, she weighed 7.9 kilos (17.4 pounds). Today, she weighed 7.7 kilos (16.9 pounds). She has been tolerating the 24 kcal at a rate of 25ccs per hour (600ccs total volume of formula), but this is a significant amount less than what she was receiving the past few weeks.
Although I have not seen the labs, I decided to try and increase her rate to 27ccs per hour starting at 7pm tonight. This will give her 48ccs more formula in a 24 hour period. We'll see if she tolerates the change overnight.
We had our first physical therapy appointment in our home today. The last one was in the beginning of August. Before that, it was several weeks prior since our physical therapist switched. Bottom line: the last time we were on a consistent schedule was Gainesville which was May 2008.
This physical therapist is willing to come to our home 4x per week. We're excited about that because Ella has so much catching up to do. The session today was one of the best I have seen. Ella did great – – she was tolerating a lot and having a good time with stretching, kicking, grabbing. Kelly was able to watch and catch on to some techniques that she can use each day when handling Ella, things that will help Ella get stronger.
It was a great baseline session to measure her future progress and it provides an assessment of her overall clinical picture. When she is feeling good, she even tolerates and has fun with PT.
We did not receive the Farrell bags today, as promised. But we're hoping that we get them tomorrow and that the increase in food volume will not cause too many problems. Our goal will be to get in touch with her pulmonary doctors tomorrow to review the labs and our current food & medicine strategy.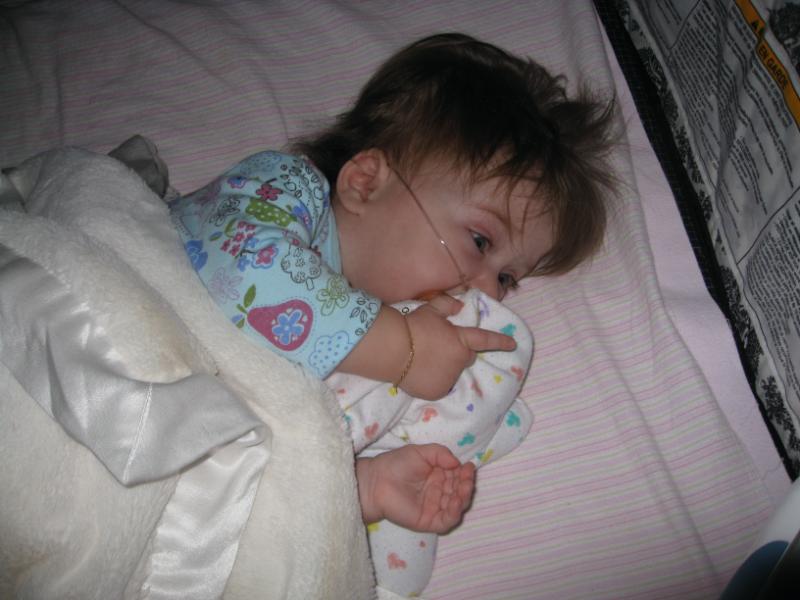 We've enjoyed the past few days with Ella feeling well. I know that there is no promise in her continuing to feel good as we adjust her feeds and medicine. But it is my hope and I cling to the truth that God is in control and choosing to use Ella's little life in whatever way brings Him the most glory.
Thank you to all of you out there that check on our girl and pray for her – – you know who you are. It means so much to know that Ella's smile can be shared and enjoyed by many who are looking to make the most of each day.
Psalm 40:8
I desire to do your will, O my God;
your law is within my heart.