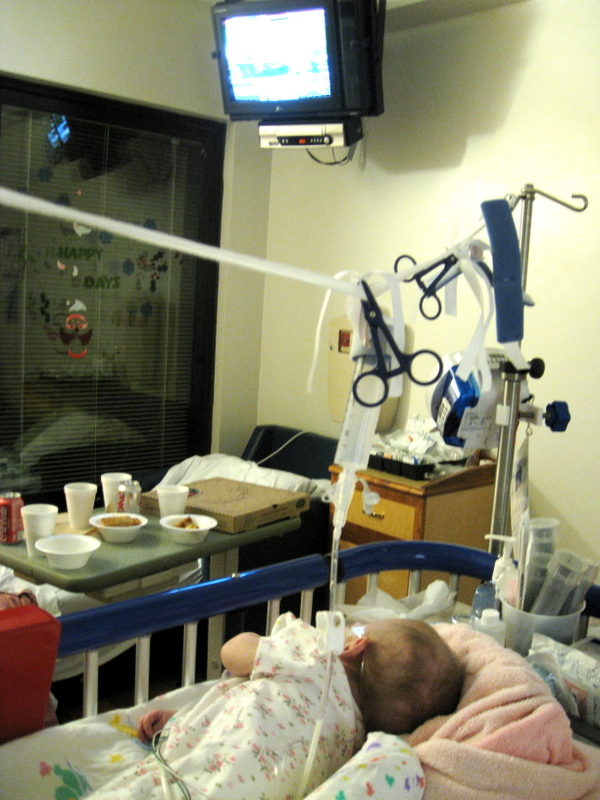 We had a Superbowl party in her hospital room. Yes, Ella enjoyed lounging in bed with her blanket and binky watching the New York Giants fight for the championship.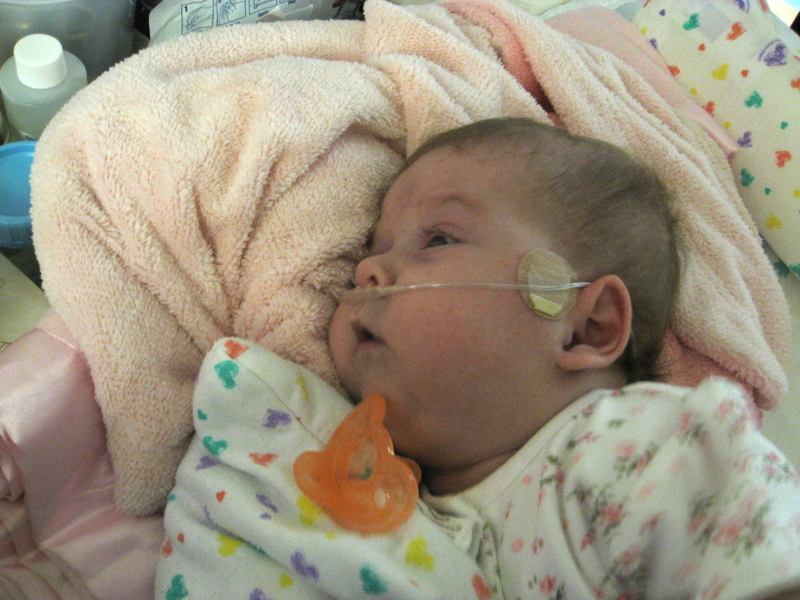 Up until the Superbowl, it was a pretty uneventful day for her. The pediatric surgery team rep came to see her this morning and talked about how she continues to retain fluid (positive 120 each day). Yet, they need to get her dry so they are considering a dose of IV lasix. At the end of the day, it was decided that they would wait and see what her input/output numbers are today. Please pray that her IV in her foot will remain viable, so that IV lasix is an option.
Ella slept on and off all day and was fussy at times, mostly due to teething and/or gas in her tummy. A couple of times, it required an increase in oxygen.
Her poor nose is also still congested from the cold she got a few weeks back. Sometimes it gets so bad that she can't suck on her binky (babies only breathe through their nose at this age, so it will literally get so bad that she can't breathe). When this happens, we have to suction her nose and she hates that process. I can't imagine that any baby enjoys the suction process, but Ella will get so mad that she will turn bluish-purple if her oxygen is not increased. Please pray that her congestion will be relieved as it is certainly not helping considering all her other issues.
Ella seems to be tolerating her new food although it has been giving her tummy some grief. This happened last week when she was switched to Similac. We hope that since it is supposed to be easier to digest, that benefit will kick in soon.
We had a friend drop-by today that lives locally that we met in the NICU 2. Him and his wife are just so sweet – – they brought me a comfy pillow to sleep on at night (I have been sleeping overnight in Ella's hospital room), a really soft blanket for Ella and some sweets to cure any hard day. Such a blessing to be surrounded by those that love and care for us during this time.
We are anxious to see the nurse practitioner and/or Dr. Kays tomorrow, so we can hear the updated plan. They need to figure out a way to get Ella dried out. Not sure what that will be, but interested to hear it.
Please continue to pray for Ella's strength and for wisdom and discernment from Dr. Kays and the entire pediatric surgery team who is overseeing her care.