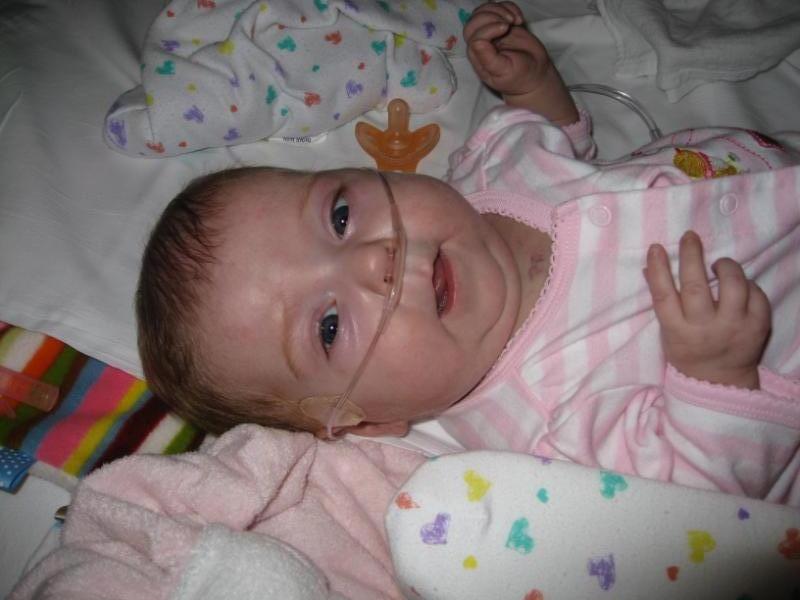 Today was much better for Ella.
Dr. Kays came by early this morning to check on her. I explained that the food switch has been tolerated well. We started the new food last night with the 9pm feed. By this morning, I realized that the Alimentum comes at a standard of 20 calories.
Since Ella is fluid restricted, she needs to have more calories. Dr. Kays had completely forgotten and was glad I mentioned this to him. He wrote a new order and as of 6pm tonight, her feeds have been adjusted to 28 calories.
I hope that the denser food will not cause any problems. Along with no tummy pains or fussiness related to food, she has stooled twice today. Finally, I have not had to administer any gas medicine with this new food. The next couple of days will truly let us know, however the initial signs are good.
The labs were drawn this morning. Poor Ella was in a deep sleep and the tech woke her up with bright lights and a needle in her arm. I did not see Dr. Kays for the rest of the day, but I am sure he will be around tomorrow to discuss the results. My curiosity got the best of me and I asked the nurse to look in the computer. It looks like her BUN is 17, which is an improvement from 12 nearly one week ago. But if I remember a prior discussion from Dr. Kays, he would like to see a BUN of 20 or greater before letting her go home.
I think that she may be at a point where more and more of the fluid is coming off of her. Even tonight, her face looked way less puffy. The mystery in all of this is how to keep her fluid issue under control, especially when we go home.
In the mid-morning, Ella enjoyed her ride down the hall in her bed and into the elevator down to Ultrasound. She tolerated it real well and the nurse practitioner from neurology came by this afternoon to discuss. She charted Ella's head circumference since birth and all is within normal range. Also, she compared the ultrasound to the results of the MRI in December and noted that she has not seen a change. If you remember, they were consulted to see if Ella had to much pressure on her brain from fluid retention (hydrocephalus). At least we got the information today that indicates that there is nothing to be concerned with at this point.
Since I did not see Dr. Kays the rest of the day, her g-tube was not replaced. As long as it is replaced before we leave the hospital, I am satisfied.
Ella had four friends from the NICU come and visit her bedside today. That was great for me, so I could run for coffee and take a shower. Plus, Ella was feeling better and was flashing the grins. I think that is therapeutic to her NICU friends. Plus that smile is part of what makes Ella so charming. It was nice to see her feeling better.
Ella was up for a total of approximately 3-3.5 hours the entire day. Last night, there was another baby in the shared space that was quite noisy until 5am. Then, the room was not replaced with another patient until 2pm. Since Ella was still catching up on her beauty sleep, we had a nice stretch where we both caught up on our zzzzzs in the middle of the day. Seriously, Ella slept so much today. I think she is catching up from the prior days where she slept in short little spurts in between pain and crying episodes.
While Ella was sleeping today, her heart rate and saturations looked so much better (heart rate got down to 120-135 and saturations at 100). I have not seen that low of a heart rate since the NICU. Maybe the increased sildenifil is making a difference. Her breathing is looking less labored and she is starting to act like herself. She did have a few moments where she required a boost in oxygen, but they were short and she was able to recover pretty quickly.
Please continue to pray for me, Josh and Ella. We would love to see her continue to dry out, find a food that works for her and go home! Also, please pray for wisdom and discernment for Dr. Kays, as he is going to make decisions on her care over the next couple of days.
Thanks for all the thoughts and prayer support. Although the day provided challenges, it was much better and I felt covered in prayer by all of you.
The Serenity Prayer
God grant me the serenity
to accept the things I cannot change;
courage to change the things I can;
and wisdom to know the difference.
Living one day at a time;
Enjoying one moment at a time;
Accepting hardships as the pathway to peace;
Taking, as He did, this sinful world
as it is, not as I would have it;
Trusting that He will make all things right
if I surrender to His Will;
That I may be reasonably happy in this life
and supremely happy with Him
Forever in the next.
Amen.