Ella got lots of beauty sleep last night so I caught up too…that was a nice change.
Although Ella slept a lot, she was fussy most of the day. She had moments where she was very happy as I captured in the pictures. But her overall mood for the day was not great.
For feeds, I could only get her to take 10ccs twice today, for a total of 20ccs via bottle. After that, she was not interested. I tried rice cereal again and she would have nothing to do with it. At this point, it is hard to tell if she doesn't like the experience as a whole, or if she truly doesn't like rice cereal. Since she has tolerated rice cereal for a few days and it does not appear that she has an alergy, we'll probably be able to try something else soon. Either way, we'll try to see if we can entice her orally again tomorrow!
Before it became too warm, I took Ella on another walk today. She was tolerant and lasted for 25 minutes. There were moments of fussiness, but I seemed to be able to appease her with the binky and/or covering her completely from the sun (she gets warm easy and it makes her sweaty and uncomfortable). I hope that we can stretch out the time longer and longer.
Nurse Janet had planned to come over this afternoon to see Ella. Unfortunately, her plans changed and she was unable to come over and hang out with us. But, she still called and offered to bring over lunch. That was so unexpected and so sweet. The food was incredibly good and we were just in awe over her generosity.
Janet was able to run upstairs real quick and take a peek at Ella. She confirmed that Ella is looking good. She embraced and held her and after a few seconds, Ella started crying…and not a little cry, but a hard cry.
So, Ella is definitely getting stranger anxiety. If you remember, Ella did the same thing to Nurse Michelle last week. I know it is a normal baby response to have a preference for a parent, so in some ways, it is good that Ella had this response. It demonstrates a developmental milestone. At the same time, it is a bummer. These nurses love Ella and she would always smile at them before, so it is a good thing and sad thing at the same time.
We're hoping that tomorrow is a day of progress forward for the Bun. As I type this, she is resting peacefully.
This afternoon, I took the time to reflect back on some photos of Ella. Can you believe that this is the same baby? This was when she was only 10 days old.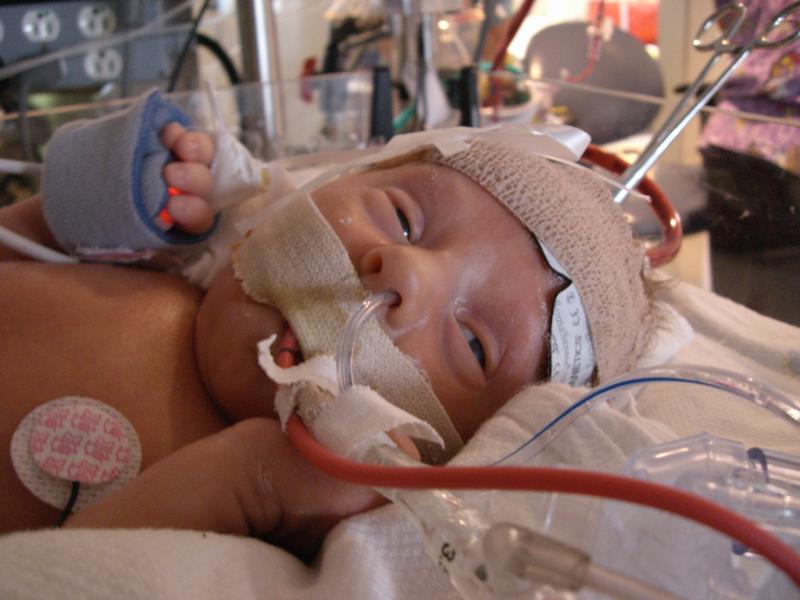 It is just amazing to look back at her story. And the story continues to get deeper and richer, yet already looking back, it is hard to believe all that we have been through since her birth.
We are so thankful for Ella Renae. She is a true miracle and the Lord most certainly has plans for her life. We hope that she reads this story someday and has confidence in the Lord, knowing that she was created perfectly in His image.
Jeremiah 17:7-8
7 "But blessed is the man who trusts in the LORD,
whose confidence is in him.
8 He will be like a tree planted by the water
that sends out its roots by the stream.
It does not fear when heat comes;
its leaves are always green.
It has no worries in a year of drought
and never fails to bear fruit."