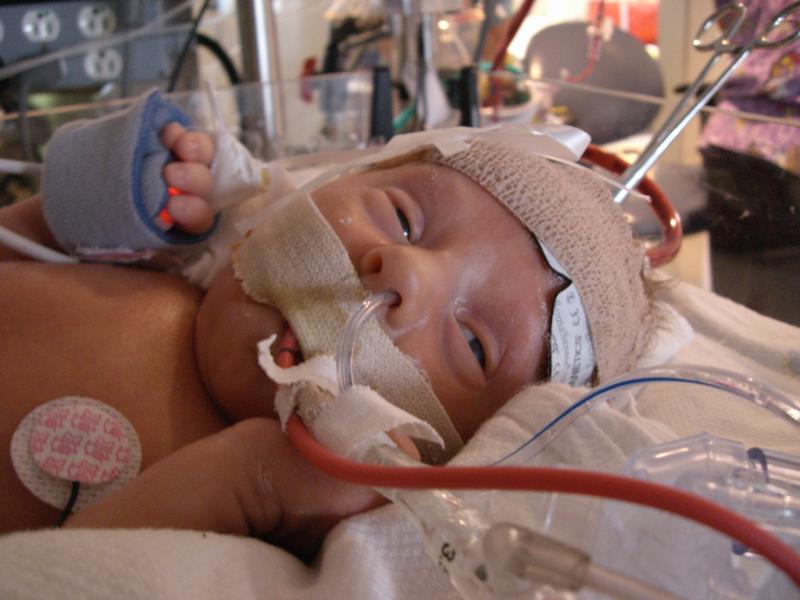 We had a bit of an early morning scare with Ella today. Something woke me up around 2:30am this morning, and I decided to go check on Ella. Her heart rate was fluctuating between 145 and 155 bpm and she wasn't saturating that well (upper 80's, low 90's). She also felt a bit warm to me.
Normally I would go wake Tina up and get her thoughts, but because I tend to overreact in these kind of situations, I decided that it wasn't critical enough to justify waking her up. I continued to check on Ella for about an hour, and then finally fell back to sleep.
Tina went in to check on her around 6:15am and I could hear Ella in the monitor. She began to cough, and then she began retching. It sounded like she couldn't catch her breath, and then she started getting real upset. I went into the room to see if I could help Tina.
I immediately became alarmed because her heart rate was over 200bpm! We've seen her do this before while she was in the hospital, but not since we've been home. My anxiety was compounded by the lack of sleep so what started as good intentions to help Tina, turned into Tina having to take care of another upset individual.
Of course I was thinking worse case scenario at this point, even invisioning her just having a heart attack or something. I was also feeling guilty because maybe I should have done more earlier that morning.
Well, after Tina calmed Ella down a bit, and talked me out of rushing her to the Children's Hospital, she reminded me of something I had thought of, but had since forgotten.
Ella did have her vaccinations about a week ago, and I thought this might play a part, but previously she would spike a temp within 48 hours or so. Tina then told me that the doc said we might see this happen in a week or two. Ahhhh….maybe that is what's going on.
I went down to the kitchen to get some Tylenol for Ella. We gave her one dose then and another a few hours later. By noon her fever had broke.
We all got out of the house today and ran some errands around town and did some repairs on our rental properties.
So my scare this morning reminded me of last year when Ella was still very sick in the NICU. Man…talk about perspective. As you can see from the picture above, it's still a very long way from where she used to be.
Praise God we have our little girl here to love. She is such a miracle.