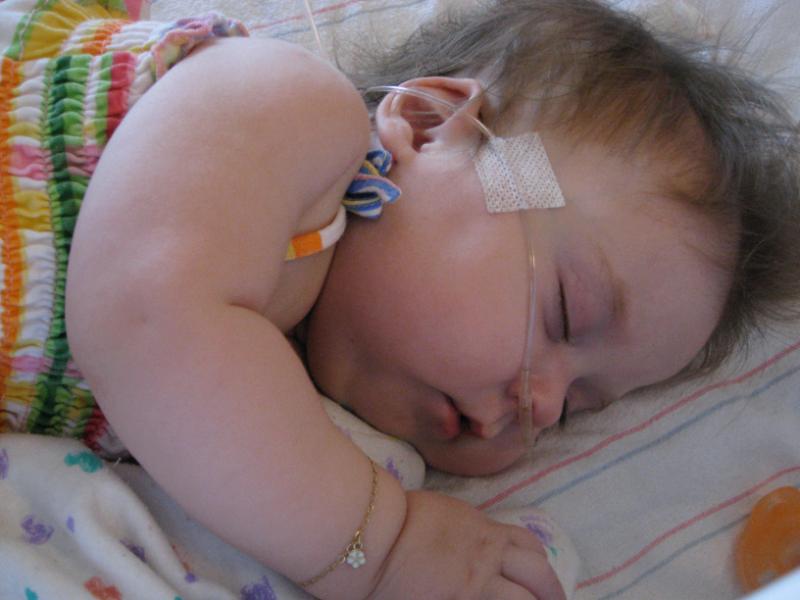 …I love ya tomorrow, your always a day away.
Ella was up again all last night. She finally went to bed at 5am and we both slept until about 7:30am. I'm hoping that tonight is better, but I don't think it will be. Those steroids do a number on her. They will be over in a couple of days – thank God.
Today was a good day for Ella. She made steps in the right direction. Her oxygen was at 1.5 liters most of the day and she remained stable. I decided to take over the weaning of the oxygen. I felt like they were weaning too fast and I could start to see the signs early when they were being too aggressive. Right now, Ella is taking a nap (I just fed her and administered the steroids so they have not kicked in yet!). Since she is sleeping, she is totally relaxed and requiring less oxygen. She is at 1 liter and saturating 100%, which is good. I expect that I will have to increase the oxygen while she is awake and fussy tonight, but I can tell that she is getting stronger. It will just take her awhile to get lower on her oxygen requirement. The good news is that we don't have to stay in the hospital to make that happen.
She was poked again today for her labs. All her levels were reasonable, including her BUN which was 23. So, her BUN went from 14 on Monday to 28 on Wednesday (after being given megadoses of IV lasix and Bumex), and was 23 today on Friday after adjusting her Bumex dose for her weight.
The other observation: since she really dried out over the past day or so, she has not had a lot of secretions. We were getting to the point where she was having such thick secretions frequently and she did not know how to manage them. Therefore, she would cough, gag, retch. She was doing this 10-40 times per day. The interesting part: she has not been retching hardly at all since she has dried out.
Ella has been letting me know the past 2 days that she is dying of thirst. Finally late today, we got the okay from pulmonology to give her 4-8 ounces of water per day, as she desires. It's been hard because I have been unable to give her anything via mouth. Yet, she is asking for it by opening up her mouth wide and complaining. Along with it being dry in Denver, the steroids can cause dry mouth. As soon as I could today, I gave her some water. She was a happy girl; she wanted it so bad. She took 4 ounces without a problem. Another highlight: she never retched. She has been retching with oral intake of fluid for the past few weeks, so it was very promising to see. Could this mean that retching is tied to secretions which is better/worse depending on how wet/dry she is at any given moment? Hmmm…
Grandpa visited her today. He has been tired too, so I caught him catching a few zzzs while I was talking to the in-house physical therapists.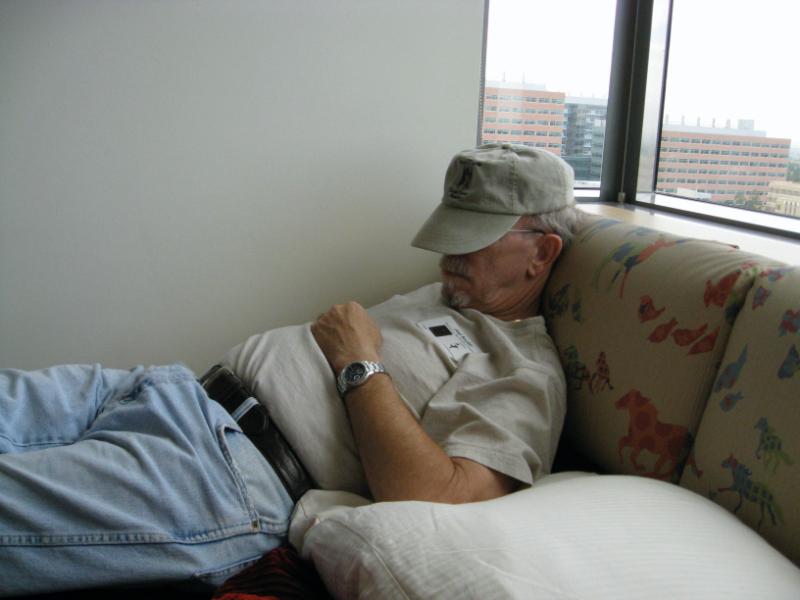 As long as Ella can remain stable tonight, even though she is at a way higher oxygen requirement, they will discharge us tomorrow! This means that we can go home, let Ella get better and slowly wean the oxygen as we see necessary. Josh went out of town this evening and will be back late Tuesday evening. He was a bit hesitant to leave his girls, but I convinced him that we would be okay. Plus, we have Grandpa and lots of friends we can call on if we need help.
With a discharge from the hospital, it will mean that we have to come back to the hospital early next week for labs again. They will want to check all her electrolytes as well as her BUN to make sure that she is staying dry on her increased dosage of diuretics.
After speaking with the surgeon tonight, it is looking like we will need surgery to repair Ella's nissen. If you remember, she has a nissen fundoplication (she underwent a surgery that took the upper part of her stomach and wrapped it to the lower part of her esophagus. This is a permanent surgery that was completed last Nov 2007 and was done to prevent her moderate to severe reflux as well as help prevent aspiration).
The upper GI results from the other day show that she has a hiatal hernia.
Mayo Clinic describes it this way:
"The exact cause of hiatal hernias isn't known. Your chest cavity and abdomen are separated by your diaphragm — a large dome-shaped muscle that's responsible for a major part of normal breathing. Your esophagus passes into your stomach through an opening in the diaphragm called the hiatus. Hiatal hernias occur when the muscle tissue surrounding this opening becomes weak, and the upper part of your stomach bulges up through the diaphragm into your chest cavity."
Her nissen wrap has migrated above her diaphragm into her chest cavity and is currently pushing into the side of her esophagus, thus causing difficulty swallowing, gagging, retching and a potential over time to begin causing reflux.
This is not a surgery that is critical and needs to be done ASAP. We should wait until Ella is stable with her lungs and fluid issues. But there are consequences for waiting too long: the hiatus hernia can get bigger and portions of the stomach can migrate into the chest cavity too. Also, it is likely that Ella will continue to have the cough, gag, retch and swallow difficulties. They don't really want us to pursue oral feeding therapy until it is repaired. With this in mind, we should consider having surgery in the next few weeks.
We are still waiting to get a second opinion from Dr. Kays. Based on what the surgeons here are telling me, she does not have a subtle hiatal hernia. It is easily noted on the radiology images and therefore, it is likely that Dr. Kays will agree with their recommendation(s).
Again, please pray that Ella continues to go the right direction and that she can strengthen. We would really like to go home tomorrow, if possible. Also, that Josh and I will have wisdom and discernment to make the right decision for Ella concerning her surgery, down to every detail.
Lamentations 3:22-23
Because of the LORD's great love we are not consumed, for His promises never fail. They are new every morning; great is Your faithfulness.