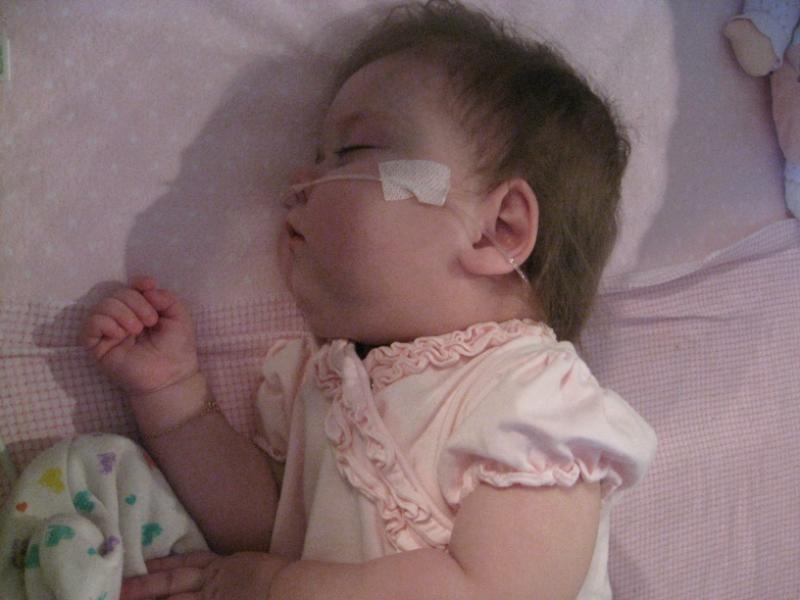 Ella seemed more fussy today.
When we woke up, her numbers looked good on 1 liter of oxygen, which is what she slept with overnight. But within 1-2 hours of her being awake and trying to breathe, her heart rate increased and saturation decreased. Sure enough, I increased her to 2 liters and she has been stable, no different than the past 2 days.
She has been more fussy – I can tell because it is hard to get a smile when she doesn't feel great. Also, she seems to have a lot of secretions that she is trying to manage. The secretions started a few days ago and seem to be getting worse. This does not make a lot of sense considering that her labs on Tuesday showed that she is very dry and does not have any pulmonary edema. But wherever the secretions are coming from, they are making her retch again, hard. That can't feel good, so I'm not surprised that she is fussy.
It has been hard to get her to take naps today. She just seems extra fussy and uncomfortable. That is not a good sign, so I'm hoping that things do not worsen over the weekend, when less doctors are around.
Still looking forward to Dr. Kays returning on Monday to see if we can get an answer from him. I know he is going to be slammed when he returns, but I'm still hoping we will hear from him on Monday or Tuesday of next week.
We will be meeting our new PT on Monday morning. Although Ella will not be up for much work, I figured that she could come to meet Ella and take down her history. It's always time consuming to start services with a new therapist, so I figured that I would get the ball rolling now. Our new OT called us too and has the first evaluation scheduled for Thurs, Aug 28th. So slowly but surely, those services from the Early Intervention Program will be in place. If you remember, we were only approved for services 1x per week for OT and 1x per week of PT. So we are still trying to also get OT and PT assigned through our insurance benefits too. Although it is not ideal to have multiple therapists, the more therapy, the better. We have so much catching up to do!
Please pray that Ella will improve over the weekend, and if nothing else, that we can continue to keep her comfortable until our pulmonology appointment next week.
Psalm 55:22
Cast your cares on the LORD and he will sustain you; he will never let the righteous fall.

UPDATE 8:45pm MST: Ella finally took a really long nap, like 3 hours long. She woke up with a smile. Praise God! Oh, and any thoughts on my fortune?