Ella had a pretty good day.
We met her new PT from the Early Intervention Program. When I opened the door to greet her, there was a man with her. I found out that they are a husband/wife team. I certainly did not expect two PTs, but that was a nice surprise. Things seemed to go smoothly, so I'm hoping that we have found a permanent, long-term match. If things go well on their end, there is a chance that they may start accepting our insurance. They will know in the next month or so. That would be great because it means that Ella would not be forced to use different PT therapists (one from Early Intervention and more frequent visits for a PT that accepts our health insurance). Only time will tell…
Ella is still requiring 2 liters of oxygen. It seems like her congestion is steadily getting worse. Her secretions are getting tougher and tougher to manage and thus, the retching has increased again. She retched 6 times, just during one episode in front of the PT this morning. I am sure anxious for the bronchoscopy. I want to know where these secretions are coming from and if there is something else we can give her to help, especially to eliminate the retching. We are back to 10-25 times per day. Before our last trip to the hospital, there were days where she retched 40 times in one day. We are not quite at that level, but pretty close.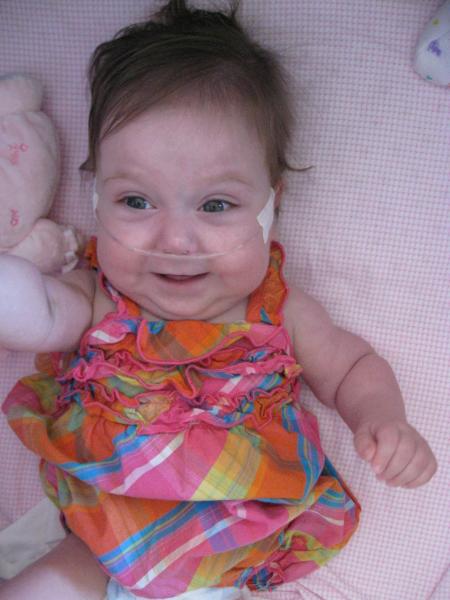 We still did not hear from Dr. Kays. I sent another email tonight, letting him know that I was still waiting for his thoughts. He knew I wanted his thoughts when Ella was in the hospital before his vacation, but he didn't have time. So, I just wanted to be clear that we still want his professional opinion.
Even though we have not heard from Dr. Kays yet, we are exploring the surgery schedule at the Children's Hospital. I would really like to hear from him, but at the same time, waiting is getting old. We need to take the next steps for Ella, so we have more information to treat her and her symptoms lessen. I am hoping to hear back from the Children's Hospital tomorrow. And of course, still hoping that Dr. Kays will answer us back too.
Shush…shhh….shhh. As I quiet my spirit, I hear this truth: His timing is perfect. So, I'm taking a deep breath, trying to be still and letting the truth resonate my spirit: He is God. He is in absolute control of every detail in our lives.
Psalm 46:10
Be still and know that I am God.