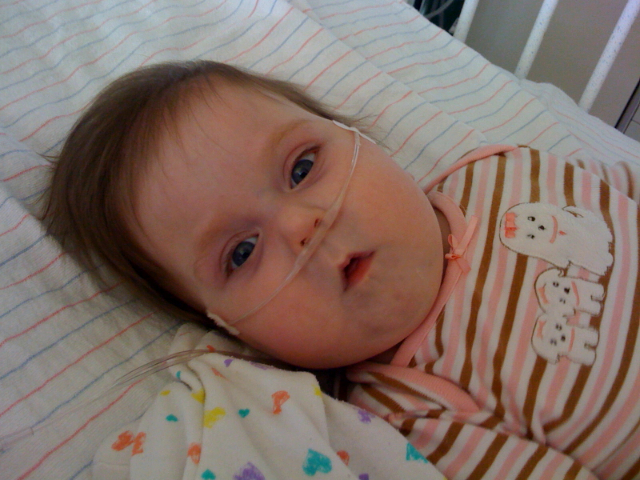 We did not go to bed until 2am and managed to get a few hours of solid sleep. Ella was up a few times when the nurse would arrive for vital signs and/or to administer the IV Lasix. So it wasn't the best sleep, but we're hoping for much more tonight.
We were looking for 3 things to see if she was getting more dry: clinical signs, her urine output and weight.
Clinically speaking, Ella seemed like she might be getting more dry. She seemed a little less congested and a bit more comfortable. The nurse this morning was fantastic – – she went and found the right person to stick Ella; it happened on the first try. Her labs came back with a BUN of 22 (they were 18 yesterday). Finally, she lost a good amount of weight which is the first time since admission. She went from 7.67 kilos down to 7.43 kilos.
Consistent with her history, this means that the IV Lasix is an effective tool to get the fluid off Ella. We're glad that we pushed for it yesterday, even though we received an indifferent disposition from the doctor. This time, they delivered 2 mg per kilogram per day of IV Lasix and that seemed to have the effect we want. We think that she might need another 24 hour period of the IV Lasix before she is at the optimal point for her before surgery.
We hope the IV can remain viable. That is always a challenge for Ella. This evening, we may have lost it. Fortunately, it seemed like the positioning of the catheter. We're hoping that there will not be a problem when we go to administer the 2am dose of IV Lasix. Also, we hope to see her BUN higher from her labs in the morning along with a bit more weight loss. The dryness in her lungs will help the secretions to simmer down, lessening her overall congestion and allow for ease of breathing and lower heart rate.
Today is the first day that Ella is not getting prednisolone. She was on a 5 day course of the steroids and now, is getting the dosage every other day until surgery. Hopefully, that dosage schedule is enough to maintain her until surgery.
My heart leaped this afternoon when I heard my email notifier on my MacBook. I looked down and noted that Dr. Partrick replied to my email that I sent earlier in the week:
Hello Mrs. West, Just wanted to let you know I did talk with Dr. Kays in Florida today. As you know, he remembers Ella well. We reviewed in detail Ella's studies and her operative history out there. I now have a better understanding of her anatomy after the CDH repair, and can plan accordingly for the OR here next week. I will also plan on sending Dr. Kays a copy of my operative note from here. I will try and touch bases with you this coming Monday (when I am on call) or Tuesday before the surgery Wednesday. Have a good weekend!!
Although we know that the Lord will be watching over the entire procedure, it just made us feel good that our new Denver surgeon took the time to have a consult with Dr. Kays. And that Dr. Kays took the time to advise on Ella's history.
We'll see if tomorrow brings a more dry Bun. That's what we would like to see. It's a bummer that we have to spend the holiday weekend in the hospital. But we're so thankful for Ella Renae.
We're doing our best to focus on Him as we head into surgery week. Hanging onto words that embody the truth.
Colossians 1:9-14
For this reason, since the day we heard about you, we have not stopped praying for you and asking God to fill you with the knowledge of his will through all spiritual wisdom and understanding. And we pray this in order that you may live a life worthy of the Lord and may please him in every way: bearing fruit in every good work, growing in the knowledge of God, being strengthened with all power according to his glorious might so that you may have great endurance and patience, and joyfully giving thanks to the Father, who has qualified you to share in the inheritance of the saints in the kingdom of light. For he has rescued us from the dominion of darkness and brought us into the kingdom of the Son he loves, in whom we have redemption, the forgiveness of sins.