Hi, I'm Tina's friend Terri and for the last 72 hours, I have had the honor of being part of the West family. We've had a great time visiting, and I've had an awesome time getting to know the Bun. This morning I asked Tina if I could write the blog this evening…a strange request, but one my best friend and her adoring husband allowed.
Let's address the business of the day before I being the muse. Ella had a good OT session, which is evident by the condition of Tina's shirt. Food was everywhere!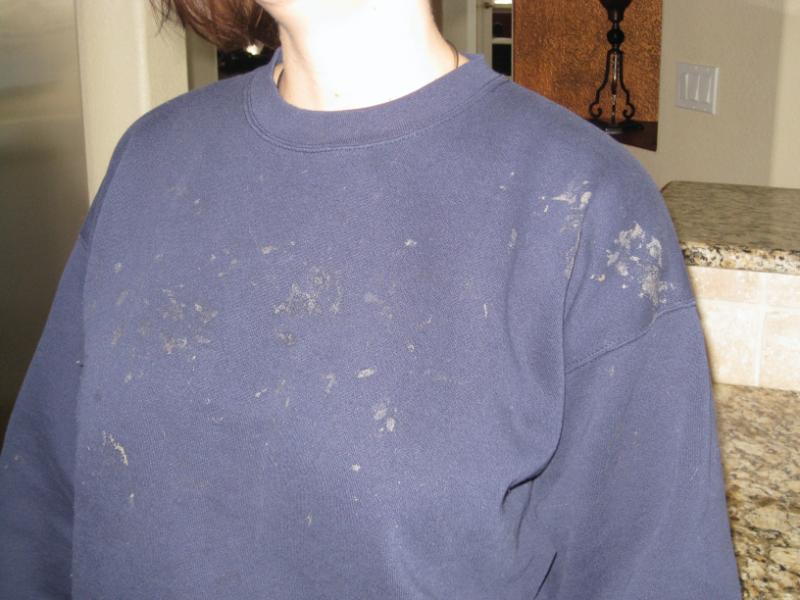 After nap time, the girls headed out for another shopping excursion. She does so well in the car and stores. Not a peep, cry, whine…I think she's thrilled to be out and part of the world beyond the crib. We actually had a great day, so good in fact that she allowed me to rock her for a while before she went to bed. That was the high point of my trip!!
So many of us follow this story on a daily basis, and have been given an intimate glimpse into the hearts and lives of this dear family. The work that God has done is obvious to us all. However, I know I've been guilty of reading the blog, viewing the cute photos and thinking that things are good. Little did I know the work and drama that goes on inside of this house on a daily basis. I thought I knew, but in reality, I didn't have a clue!
Tina has mentioned so many times the issue of congestion. Sure I think I understand congestion. I have nieces and nephews. They always have a runny nose or colds of sorts, so that's what I relate to. Newsflash, that's not the type of congestion this precious little one deals with. I can't imagine having serious congestion all the time and being unable to clear my throat or blow my nose. Hearing her gag and wretch over and over broke my heart, and watching her mother calmly support her was nothing short of amazing. The one mantra I now know by heart is, "Swallow Bun," which is literally said 100 times a day. What's cool is that Ella understands and is beginning to try and manage the severe retching.
The other thing I learned this week is that Ella really does require attention at all time. A serious scare for me on Tues, was when mom walked away for less than 45 seconds and in that time Ella became upset, stopped breathing and was on her way to passing out. HOLY COW!! That's when it hit me that they really don't have the ability to allow others to assist with her care. My every instinct was to hold her, kiss her, make her laugh, but that just not possible.
As I prepare to pack my bags and head back to Dallas, I'm reminded how much this family still needs our loving prayer and support. Things are far from normal, or "ok". It's been such a blessing to witness God's abundant love, visible and in the flesh in two people named Josh and Tina West. These guys are AMAZING! The love and patience I've observed over the past few days is similar to what I imagine from our Heavenly Father.
We are all blessed to be part of this journey.