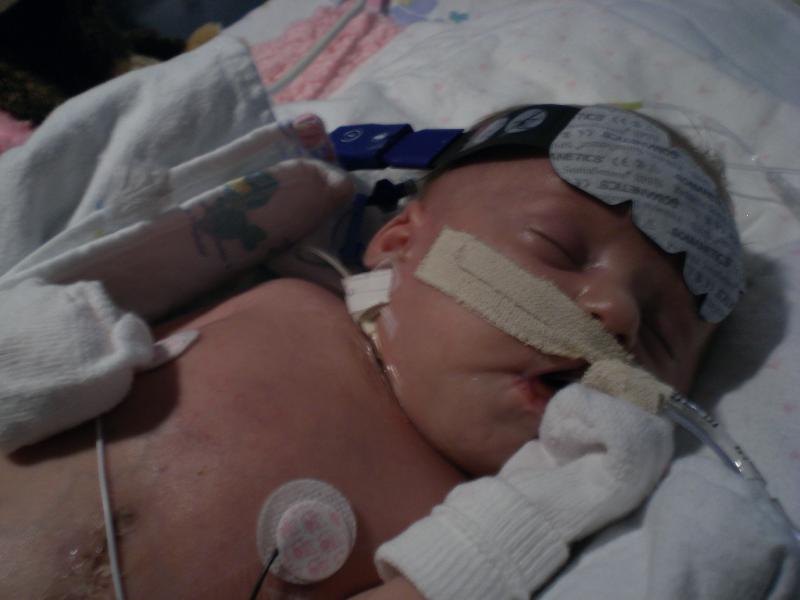 Not that I had any doubt about Ella being Tina's daughter (you don't see many "maternity" tests beyond what I've witnessed), but I'm not the one who sleeps with his mouth open ;-). I've teased Tina about watching a spider spin a web in her mouth, catch a few flies, and close up shop before she wakes up. They're both real cute when they do it though.
So…how is Ella doing?
Ella looks AWESOME! THANK YOU LORD! She has been rockin' stable on the standard vent. Her absolute cuteness has maintained as well =). We're both on a three day high of good Ella progress. We'd be happy if the rest of our days here continued in the same vein, but we have to expect some more challenges.
Tina helped nurse Michelle with the 8:00pm "hands on" by changing Ella's diaper, weighing her, and switching out her bed blankets. Ella tolerated it well without any major fussing. Once the needle came out for Ella's shot, I suddenly became very thirsty and wandered over to the drinking fountain in the other room. After getting the "all clear", I came back and Ella was sleeping again.
She was very active today. She was up for a few hours early this morning, and again most of the afternoon. I think that's why she was so zonked out while we were there tonight.
Tina's co-worker, Ani, came to visit us and see how our baby girl was doing. She picked a good day to see her. She looked for a monkey to bring Ella, but opted for a bear instead. I decided to name the bear Ina (eee-nuh). Do you see how I creatively flipped Ani's name around? Yeah…I got's me some talent. We really enjoyed our time with Ani.
Even though our baby girl is making good progress, she still has a long road ahead. Please continue to think of us in your prayers, they make a huge difference. We thank you for continuing to endure this marathon with us. God Bless you all.
Matthew 18:19-20
19 "Again, I tell you that if two of you on earth agree about anything you ask for, it will be done for you by my Father in heaven. 20 For where two or three come together in my name, there am I with them."

P.S. Something else to note…a minor crime has been committed in the NICU. If you remember our friends from Atlanta brought us a University of Georgia Mascot to join Ella's Zoo. Well, I thought something like this might happen but…Uga the dog is missing!!!! I think a gator may have gotten a hold of him, but we'll have to see. To be continued…=)