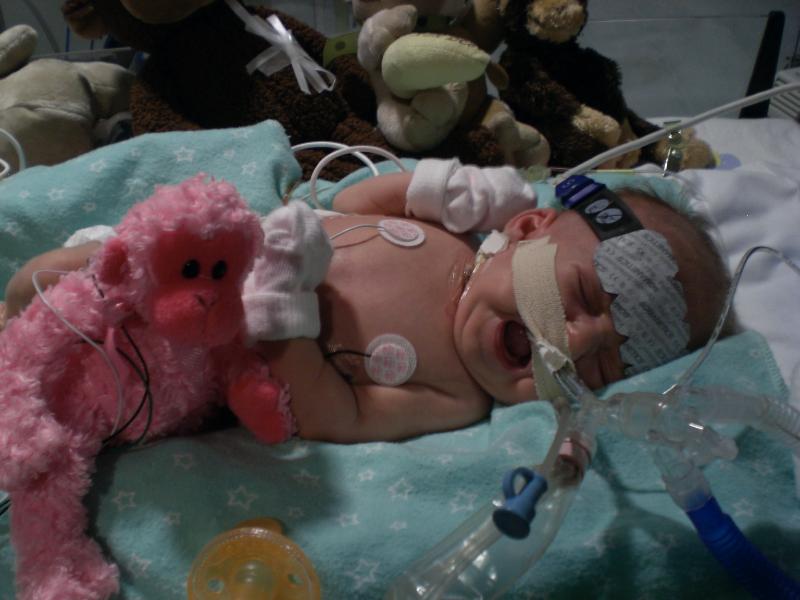 We thought you might appreciate seeing Ella during one of her moments. Yes, believe it or not, that is the loudest silent cry that you will ever hear. But it is reassuring to see her cry and fuss too…she is getting stronger and stronger as the days pass.
As of this morning, she is stable and doing well. Her latest blood gas was cO2=55, pO2=121. Dr. Kays has decided to hold off on any ventilator changes for today.
Praise God – – the additional amount of octreotide medicine seems to be kicking in. If you remember, her total chest fluid output for Wednesday was 105 and Thursday was 120. On Friday morning, the octreotide meds were increased and this brought her total for yesterday to 80.
Thank you for all the continued prayers. You are witnessing how He is answering them.
The Holy Spirit blessed us this morning:
Seek God, moment by moment, and live in His truth. May all of us be obedient and take a few moments to get away from the distractions in our lives, be still and listen. Drink in the truth of Him and the peace that He can provide. The world will not understand. It may not make sense by just looking at your circumstances. But God is sovereign and He is always in control of your life and all the details. Seek Him.