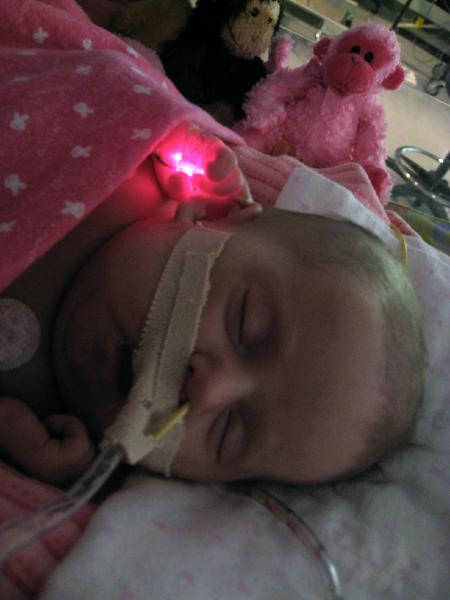 Ella had a good day. Her blood gas at 2pm was great, cO2=54, pO2=114. Plus, her chest x-ray looked improved since the surgery. Keep in mind that her total chest fluid output for yesterday was 165ccs. So it was not a total surprise that her chest x-ray looked better – – she was able to get rid of a lot of that fluid build up.
Based on her good results, Dr. Kays weened the ventilator from 60% oxygen to 50% oxygen this afternoon. Also, he started the Portagen feedings again at 4ccs per hour. These are good steps in the right direction.
Tonight, Ella was sleeping a lot and her saturations were at 100 mostly. When she did wake up a few times, she was quite fussy. Based on her high saturations though, it seemed like she was just extra tired (or upset that we woke her up from a great dream)!
Her blood gas at 10pm was cO2=60, pO2=90. At that time, her chest fluid output was only about 25ccs total for the day. This is significantly less.
At this point, we are not sure if that is good or bad. If her chest x-ray looks good in the morning, it is great news. It would mean that we are making progress with the fluid issue (her body is processing the fluid via her kidneys instead of settling in her chest cavity). If her chest x-ray looks worse in the morning, it means that the fluid is not draining as well and is still residing in her chest.
It is our heart's desire to have the fluid issue resolved, but we do not know what God has planned.
Thank you for continuing to pray for our baby girl.
As I was finishing this post, God just put this verse on my heart:
Psalm 46:10
"Be still, and know that I am God"