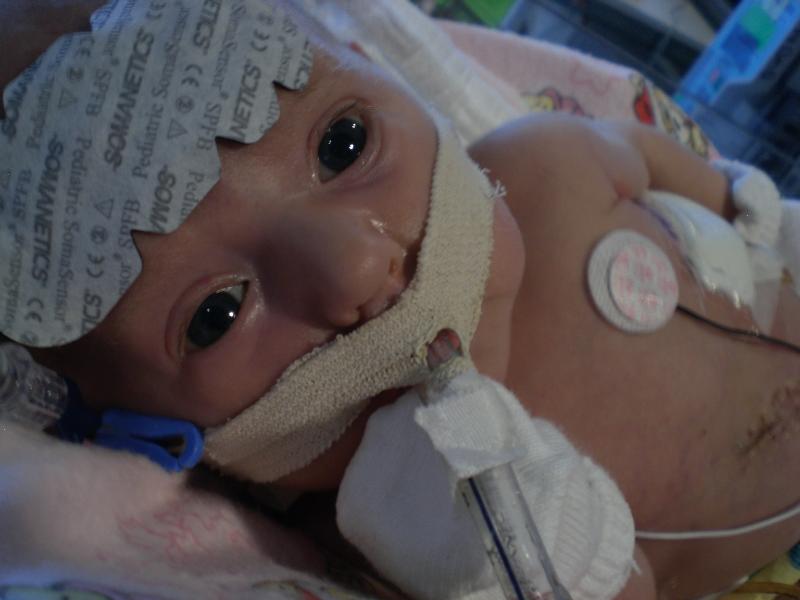 Ella had a great night with Nurse Janet. Now, she is under Nurse Andrea's care again today. We like it when the "Fab Four" are taking care of Ella!
Her blood gas this morning at 6am was fabulous (cO2=51, pO2=140). This is great news considering that the oxygen on the vent is turned down to 40%. Slow and steady steps each day. We will see what her blood gas is at 2pm.
Unfortunately, her fluid output increased from yesterday. It was 105 the day before and yesterday it increased slightly to 120. Although Dr. Kays has not given the order this morning, it is fully expected that he will increase the octreotide medicine soon.
Again, this is a bit of a mystery since Ella is the first CDH baby under Dr. Kays to have this much of a fluid issue since her repair surgery. Most babies have some fluid for a few days after the repair surgery and most resolves itself. If not, then typically the chest tubes resolve the issue. We are the first to try the octreotide under Dr. Kays, which has given us tremendous progress. Please pray that the fluid will go away with the increased amount of octreotide.
I think we need to revert back to Ella's cousin's chant. Using Claire's words during ECMO days, maybe we need to just update the lyrics, "Go Ella! Go Ella! No fluid! No fluid!"
Thanks for all the thoughts and prayers. They are invaluable to us during this time.