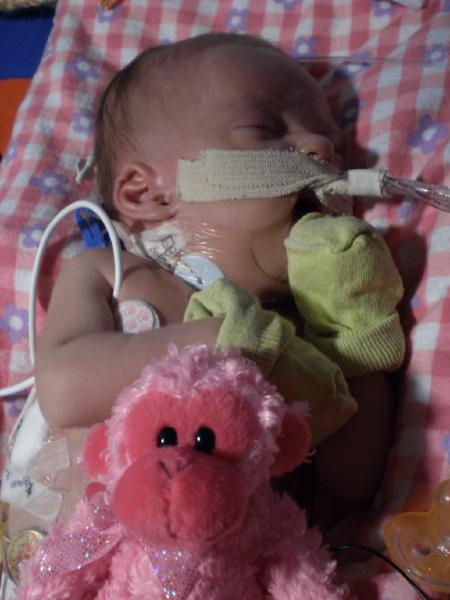 I held off on posting this morning in the hopes that I would have more news to share. But decided that I have kept you in suspense long enough!
At this time, Ella progress has taken a bit of a step back. Her latest blood gas was okay this morning (cO2=60, pO2=105). Also, she did have a chest x-ray to see how the fluid accumulation is affecting her lungs, but we have not received an update from Dr. Kays yet.
Her fluid output from her right chest tube was only 5 yesterday, however they are attributing the reduction to the fact that they kept her on her left side all yesterday. If you remember, they did this because she was having a hard time breathing and getting her stats to remain stable.
Even as of last night, you could see the puffiness coming back into her face, neck and head on her left side due to the increased fluid accumulation from the left chest tube being removed.
We know that the fluid reduction is still the looming issue. We are hoping that it does not require for the chest tube to be replaced on her left side, but that is still a possibility.
Right now, we are not too sure of the next steps. As we have more updated information (hopefully sometime today from Dr. Kays), we will update this post.
Please pray for this fluid issue to resolve and for Ella's strength to continue. Also, for the Lord to give discernment and wisdom to Dr. Kays on the next best steps. Finally, perseverance for Ella's parents.
We love all of you and thank you for the support.
UPDATE (3:45pm): We still have not had a chance to speak with Dr. Kays. We are told that we should hear from him within the hour. When he called and heard about her declining stability and stats, he mentioned to the nurse that that he is most likely planning to put the chest tube back on the left hand side.