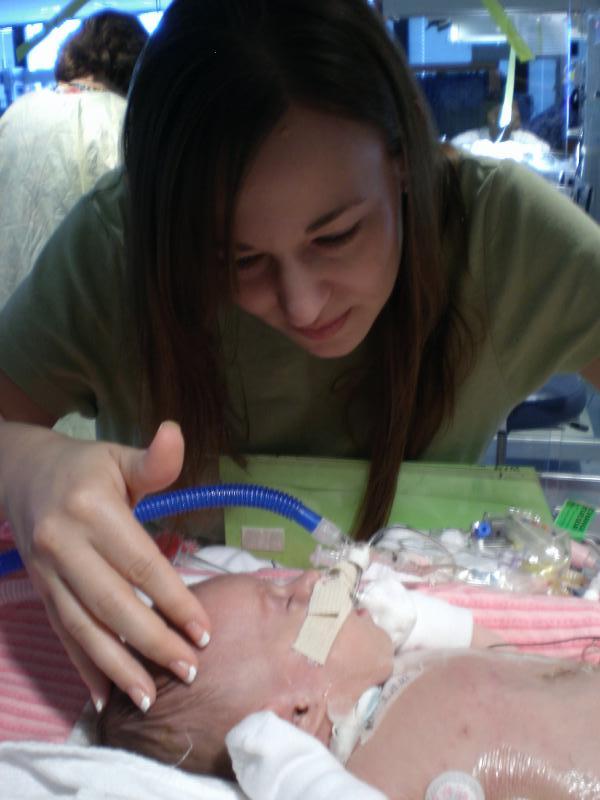 Our little bun had a pretty good night. Her stats were stable and she behaved herself.
Dr. Kays called this morning to bring us up to date. He confirmed that she is making forward progress, albeit slowly. He wanted to replace the right chest tube again in the hopes of draining more fluid.
I asked if this will be our course for now, and he confirmed that it's one of two options. We either continue what we have been doing, using the chest tubes to drain her fluid and wait on the body to get better, or pursue more aggressive steps with surgery.
As much as we would like to see her get better quickly (Dr. Kays would like this too!), we're content to be patient and let Ella's body do what it needs to do. She is taking baby steps forward again, and it's evident in her latest chest x-ray as well.
Dr. Kays also indicated that he might discontinue her subcutaneous (anti-coagulation) shots in the next few days. We're all for her not getting shots, so this would be good news.
We followed up again with a call to the nurse this afternoon and the chest tube replacement went well. Ella has drained another 32cc from her right side. Her blood gas this afternoon looked good too (cO2=57, pO2=118).
Ella is now getting a continuous feed of Portagen into her stomach (1cc / hour), up from 1cc every three hours. This is good news too because he feels this is not contributing to her fluid issue, and she's tolerated the digestion process well.
Tina and I will be heading in this evening after work to see our baby girl. Nurse Michelle is on tonight which makes for a good time as well.
A passage of Scripture that spoke to Tina and I this morning while listening to a message from Charles Stanley:
Isaiah 41:9-13
9 I took you from the ends of the earth,
from its farthest corners I called you.
I said, 'You are my servant';
I have chosen you and have not rejected you.
10 So do not fear, for I am with you;
do not be dismayed, for I am your God.
I will strengthen you and help you;
I will uphold you with my righteous right hand.
11 "All who rage against you
will surely be ashamed and disgraced;
those who oppose you
will be as nothing and perish.
12 Though you search for your enemies,
you will not find them.
Those who wage war against you
will be as nothing at all.
13 For I am the LORD, your God,
who takes hold of your right hand
and says to you, Do not fear;
I will help you.