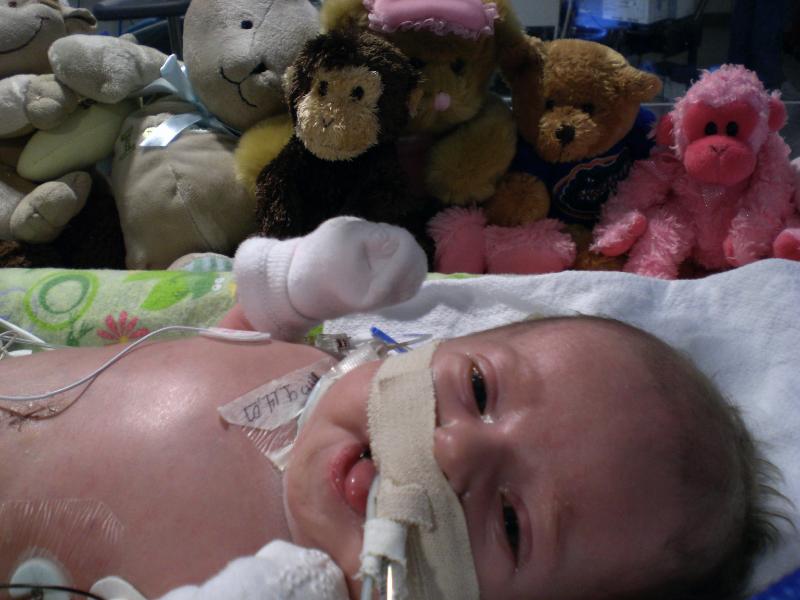 In case ye did nay know, today be International Talk Like a Pirate Day.
Ella be doin` well today. Th' monkeys an' bears be keepin` th' lass' company. An`eyeball that smile o' hers!
Her last blood gas at 4am be cO2=67, pO2=73, nay quite as good. Nurse Michelle did mention that she be fussy near th' time th' blood gases be performed, so maybe that be part o' th' lower numbers.
Nurse Angie be takin' care o' th' lass' today. Th' lass' next blood gas be at 12 high tide (12 noon). Hopefully them numbers be better although Ella seems t' be fussy well into this mornin' too.
Aye, we guarantee ye, that Ella tends t' be more fussy when she be less comfortable. So, we be nay sure if she be retainin' more fluid or why she might be more uncomfortable.
Nurse Angie reported that th' lass' stomach looks a bit more distended today. This be most likely due t' th' increased amount o' Portagen they started last high tide' (up t' a continuous flow o' 2ccs per hour). They be watchin' that closely t' make sure she be processin' th' formula an' nay havin' any other issues related t' th' digestion.
Her total chest fluid output fer last high tide' be 35 fer th' starboard side (right side) an' 38 fer th' port side (left side), fer a total o' 73. Since 7am, she has output 6 fer th' starboard (right side) an' 5 fer th' port (left side), fer a total o' 11ccs.
We be goin' t' assume that th' lass' chest x-ray looked good since Dr. Kays has nay gi'en any other orders. Stay tuned sea dogs an' land lubbers!
UPDATE (1:20pm EST): The nurse practitioner just called and Ella`s blood gases at 12 noon were worse. She has continued to be fussy. Also, she confirmed that the chest x-ray doesn't look as good as the one yesterday and that the chest tube fluid output has been minimal so far. Therefore, Dr. Kays is going to be replacing the right chest tube this afternoon.
This news is not surprising. When the nurses mentioned that Ella was more fussy and not recovering well throughout last night and all day today, we had the sense that this was because she was uncomfortable. This typically indicates a build-up from fluid in her chest. Now our inclination has been confirmed!
We ask that ye continue t' pray fer our wee lass'!