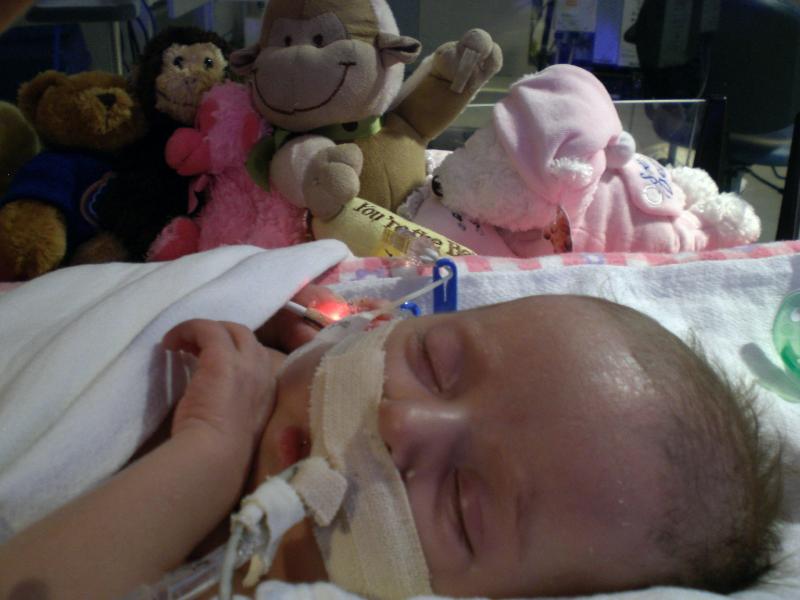 Sorry for the late posting!
Ella's day has been stable. Her blood gases are not great, but have slowly moved in the right direction. The 4am blood gas was cO2=61, pO2=75. Her blood gas at noon was cO2=55, pO2=71.
Her chest fluid output was 67ccs total for yesterday; 24ccs for the left and 43ccs for the right. The chest fluid output today as of 5pm has been 38ccs on the right and 5 ccs on the left for a total of 43ccs.
We know that she had a chest x-ray this morning, but have not heard from Dr. Kays so we are not sure if it looked the same, better or worse. We think it was probably the same or better since no other changes have been made today.
She is still handling her food well, so Dr. Kays did increase her Portagen intake to 3ccs per hour on a continuous flow.
The nurse made mention that Ella has been sleeping a lot, even on her right side! The only time she has been fussy is when she needed suctioning and then she has calmed right back down. In our world, we know that this means that Ella must be feeling better but there is always the possibility that she might take a wrong turn again.
If we continue to replace chest tubes and/or her stats remain the same or get worse (like they did yesterday), Dr. Kays will need to discuss surgical interventions. By the way, I did want to clarify: Dr. Kays is absolutely the best, most-qualified surgeon to care for Ella, even with this fluid issue.
Yesterday, I mentioned that he is not confident about fixing the fluid issue via surgery on the first try. This is because the technology does not exist to show or pinpoint to surgeons the exact damage or lesion area within the thoracic duct. Plus, the thoracic duct is complex and long, weaving in your chest area, spine, down through your abdomen.
Dr. Kays simply described that it is not a very satisfying surgery. You could go in, repair and find out later that there was a lesion or damage somewhere else within the thoracic duct. So, the success rate for surgeons in general is not high, but that is no reflection on Dr. Kays.
The next few days are critical for Ella. Pray for good chest x-rays (Go Ella! No Fluid!), stable blood gases and her overall comfort. Even if we can remain stable and have very small, minor steps in the right direction, Dr. Kays will continue to be patient and let Ella's body resolve this fluid issue.
Please continue praying for our sweet little bun!
This verse spoke to us this morning:
1 Peter 5:6-8
Humble yourselves, therefore, under God's mighty hand, that he may lift you up in due time. Cast all your anxiety on him because he cares for you.