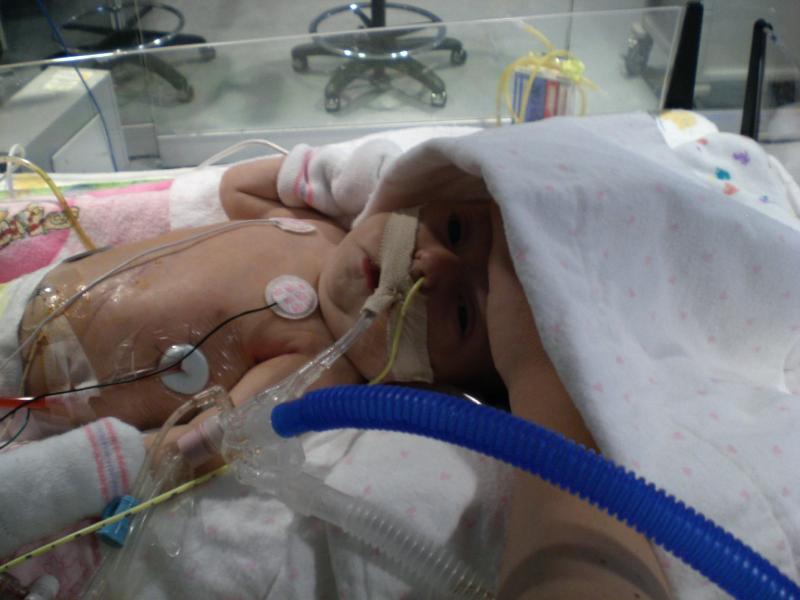 Ella was stable through the night, and overall is looking comfortable.
She had one moment of discomfort yesterday evening which required a dose of fentanyl, otherwise she's doing well.
Her stats look good too (ph=7.43, cO2=52, pO2=110). Knowing that her lungs function properly when given the right environment is so encouraging.
Ella continues her good behavior this morning. She's been alert, looking around, and resting comfortably. No changes have been made on her ventilator at this time, but her feedings should be starting again soon.
She had a significant amount of fluid from her chest yesterday (165ccs). Her output has slowed today but we're hopeful that this is a good thing. We're waiting on the results from her chest x-ray to know for sure.
Ella's weight this morning came in at 7lbs 3oz, up from 6lbs 7oz on the 5th. Some of this can be attributed to all the added stuff that's been attached to her, but you can tell she's put on some weight. Her little chicken legs are starting to fill in a bit more =).
We're not sure when Dr. Kays will be performing any additional procedures. Tina and I continue to hope that he wont have to do the scarring in her chest cavity, but we are fully expecting that it will need be done. I think it's just the concept of this procedure that keeps us in this place, but the truth is, we would rather her have it done then to slide back down this slippery fluid path without a resolution.
Thanks to all for your continued support. Your love and prayers are incredible.
God Bless