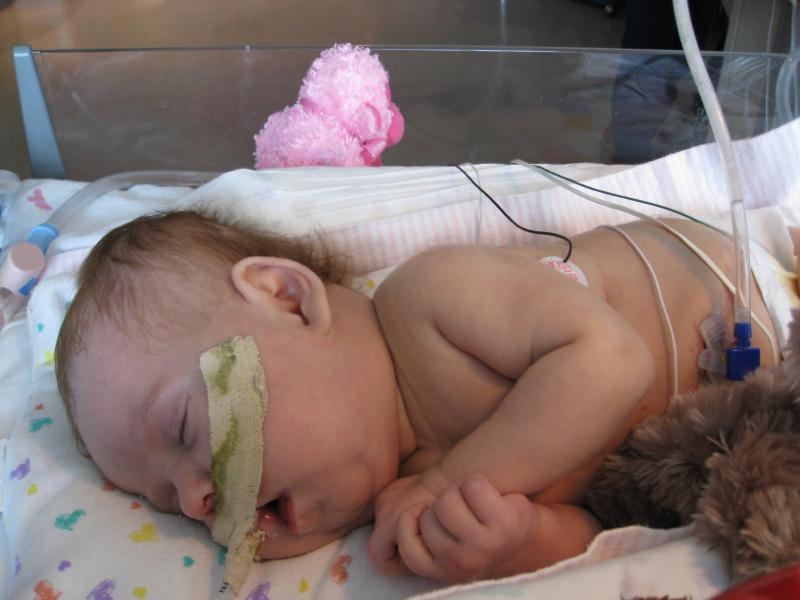 Another good day for Ella. She looks to be healing well. The swelling in her belly has gone down, and her scar is less inflamed.
The Bun spent a good amount of time sleeping today. Nurse Kelly had her sitting up in her chair for a couple hours today while interacting with her. She was so pooped out when we arrived that she barely woke up for us.
We did get about 30 minutes of awake time with her. During that period we switched her back to a regular crib. Once Kelly got her positioned in there, Ella zonked back out. Nurse Kelly is so great at positioning Ella and getting her comfortable. She says she envisions how she would like to be positioned, and just does that to the baby. Honestly, I just think she has a magical way with the beanbags she uses.
Dr. Kays saw Ella briefly today. He talked about extubation tomorrow and starting up her feedings. Tina thought that Ella might do better with just one change and suggested that maybe we just start feeds tomorrow, and hold of on extubating for one more day. Ella's nose still has a scab on it, and we'd like to see it heal just a bit more before we put her back on CPAP. Plus, she's doing so well, we'd rather push her a little slower this time versus making too many changes. Ultimately though, we trust in Dr. Kays wisdom and will be content with what he recommends.
We were excited for Liz and Rusty today. The were able to hold Par for the first time! What a wonderful gift that is. Thank you for your prayer support for this family. Praising God for this great milestone! We've not had any recent update on baby Jonathan, but we continue to pray for his liver and kidneys.
We do have a specific prayer request for Ella. She looks fine clinically, and she's behaving like she's very comfortable. However, her x-ray has not improved since Tuesday when she was intubated. We are not real concerned about it at this time, because it might be just a leftover indicator of her micro-aspirating from the reflux (might just take more time to clear up). That being said, we hope it is not actually a sign of anything significant (i.e. fluid issues).
Please pray that Ella's x-ray will clear up in the coming days and that her breathing will continue to grow stronger. With her reflux under control, and her food soon to be delivered via her g-tube, our main hurdle is getting her lungs better so she can breathe without the support of a ventilator.
Heavenly Father, we thank you for these wonderful children. They are such a precious gift from above. I pray that you will strengthen them, and that their lives will be a living testimony of your love.
We praise you for Par's progress and ask that he continue on this track. We lift up baby Jonathan and pray for healing in his liver and kidneys. We ask for Ella's x-ray to be clear in the coming days, and for her breathing to grow stronger so that she can be extubated with confidence.
We surrender all these things to you, knowing that your in complete control. We offer these requests in the Holy name of Jesus. Amen.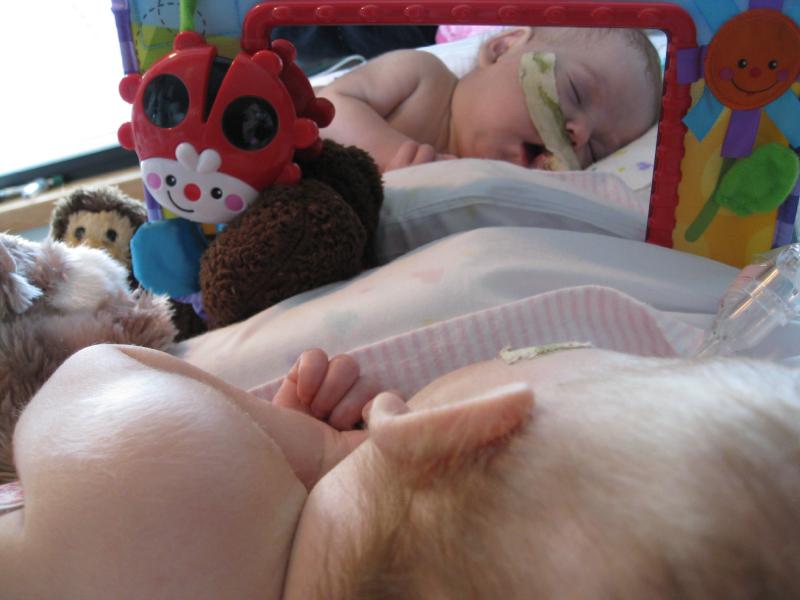 p.s. Can you believe Ella is four months old today!!! =)