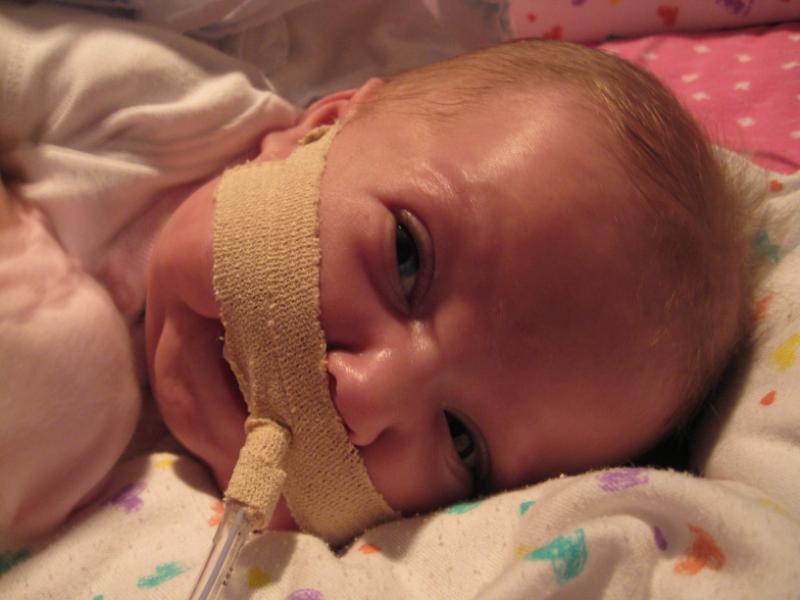 The Bun had another solid day of recovery.
She slept most of the night for Nurse Janet, one of her favorites. Then during the day, she spent a lot of time sitting up in her chair listening to her baby Christmas tunes and eyeing those that passed by her bedside, hoping to reel them in for some attention.
In the morning, her fentanyl was decreased slightly from 3.5 down to 3.0. Hopefully, they will wean this pain medicine just slightly every other day or so by .5 until it is discontinued. They have warned that since she has been on fentanyl since she was born, she may have withdrawal. On that note, we will be watching closely for changes in behavior.
Also, they decided to start Reglan and Zantac up again to help Ella digest her food and move it through her system. She was on both of these meds before the nissen surgery when they were feeding her, and just started them back today since she has reached full feeds. Her belly seems to be tolerating the full feeds of Portagen (20ccs per hour continous) and once again, we are happy to report several poopy diapers. This just means that everything is moving through her system as it should since her nissen surgery one week ago today.
Ella had another chest x-ray this morning, but Dr. Kays did not come by till around 2pm to assess and make any needed changes. The chest x-ray did look improved, but only slightly. He moved the vent settings down to 6 breaths per minute at 40% oxygen. His plan is to extubate tomorrow.
When I was visiting Ella, it seems about right to extubate tomorrow. We did not want this too soon, but at the same time, you can tell that the tube is becoming more and more uncomfortable for her. Although she was happy and we were having a nice time together tonight, she paused several times to gag on the tube.
We hope and pray that this is the last time that she needs to be intubated. Once we go back on CPAP, we would like to not look back and visit this stage again. It is just a matter of making sure that her lungs are strong enough and that she does not have any setbacks.
Par is doing amazing. In fact, he is doing so well that he will probably get moved to the NICU 2 within the next day or so. Today, his UAC line was removed and they had a chance to try feeding him with a bottle containing 1cc of formula. Although it was a bit different for him, he did seem to respond and swallow. Such great news. Please continue to pray that he can cruise through the next challenge of feeding.
Jonathan had surgery today starting around 3pm. When I left the NICU around 11:15pm, I could still look over and see Dr. Kays performing surgery with his team at Jonathan's bedside. That is a really long time for surgery. I ran into Jasmine in the waiting room and she filled me in. Apparently, his liver was in his chest which came as a complete surprise to Dr. Kays (not apparent on the x-rays prior to surgery). In addition, Jonthan formed blood clots in his chest around his lungs. So Dr. Kays had to spend extra time delicately removing the blood clots. Please continue to pray that having the repair surgery will make a big difference and his body can truly begin to heal.
Two more baby girls have joined the NICU that are in the "CDH area". We know one baby girl has CDH for sure, but are not 100% positive about the other baby. Either way, they are both on ECMO. We do not know the families or the baby's names, but ask that you lift them up in prayer as well. Being on ECMO means that they are both very ill.
Josh left yesterday afternoon to go and visit his Grandma at the hospital in Southern California. She has been having a tough recovery. Her diagnosis is congestive heart failure. This means that her heart is not pumping as well as it should to deliver oxygen-rich blood to her body's cells. It happens when the heart's weak pumping action causes a buildup of fluid or congestion in the lungs and other body tissues.
So, it is somewhat similar to what has been going on with Ella. Grandma's lungs are too "wet" and so they are giving her lasix to help get rid of the fluid. Earlier, they were not sure if her kidneys were functioning. Later tonight, we received a praise that her kidneys are functioning and therefore some of the fluid is leaving her body, making it easier for her to breathe. She still needs a lot of prayer. Unlike Ella, Grandma has an infection in her lungs which is making her recovery even more difficult.
Lord, help us to surrender and trust in you at all times, in all circumstances. You know the petition of our hearts. Help us to lay down everything in complete submission and wait on you for your direction, guidance and peace.
Psalm 9:10
Those who know your name will trust in you,
for you, LORD, have never forsaken those who seek you.